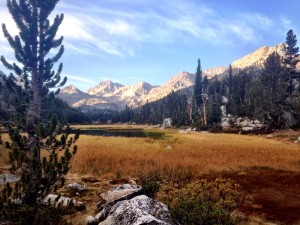 There is nothing like resting in the grass next to a babbling brook after a sixteen mile hike. This sixteen mile hike began at dawn and took us to summits above 11,100 feet and back down and up again and well all over the Little Lakes Valley.
I feel like we saw all the little lakes today.
The little Pugle rescue dog Carly made her way to her first mountain pass at over 11,150 feet this morning.
Even after summoning Morgan Pass and hiking to Big Morgan Lake below to check out the schools of rainbow trout that swim lazily in its deep Aqua waters, Carly was still not tired.
Fourteen miles into our day of hiking she was still making new dog friends on the trail; chasing golden retrievers and Labradors happily.
Of course now, fifteen minutes after the hike ended she inhaled two bowls of food than passed out next to the creek with me, one content, happy, lucky dog.
Today was the farthest into the Little Lakes Valley I have been exploring and this area is just so beautiful. I love this area for hiking as you walk by yet another alpine lake every few miles!
We began hiking a little after 6:30. We were up before dawn this morning. The camp site at the Old Gorge ( that's really what it's called; it's one hell of an old gorge!) took just a few minutes to pack up.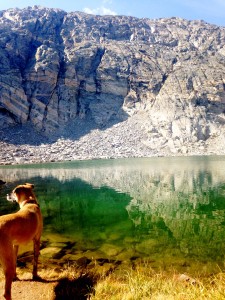 I grabbed my orange juice ( fresh squeezed at Schatt's obviously) and we began the short drive to Tom's Place and then up the mountain past Rock Creek Lake, its shores dotted with orange and yellow aspens. I could just see the trees shivering in the early morning breeze as the sun began to rise over the valley below.
I waited until we reached the trail head to assemble the camp stove to make hot coffee and muesli cereal.
Other hikers and back packers slowly trickled into the trail head parking as the sun barely made its way over the peaks of White Mountain to the east.
After a hot breakfast Carly and I were on the trail, me in shorts and my new Sarcoma running shoes on this brisk thirty-nine degree fall morning.
Things I'm thankful for today; Eastern Sierras vacation day four…
Patagonia Sweaters
Aspen trees in the fall
Muesli
Alpine lake glory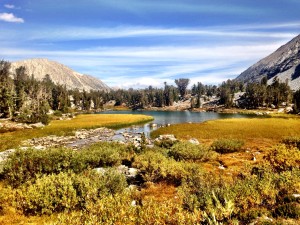 We summited Morgan Pass in under two hours. I managed to run the first two miles up hill but the trail was rockier than I remembered and running soon became to dangerous unless I felt like spraining an ankle ( I did not)
This has got to be the easiest peak or pass I have ever gone over. I still had so much energy after summiting that we continued down to the next lake
And than we saw this awesome little shelter.
I told Carly we would live here forever and as you can see she was not pleased.
Now please enjoy these pictures of me dancing with Carly.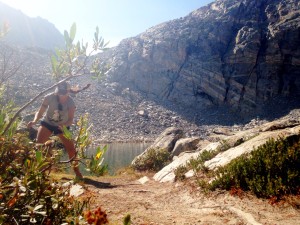 Yes, we had so much energy after this hike we had time for a dance off.
Probably thanks to the Black Cherry caffeinated Cliff Energy Bites. These things are great if you feel like ripping out one of your fillings.
They do however have caffeine in them and really helped us power our way through all sixteen miles today.
This is the kind of trail mix to eat during a hike up over and through a Eastern Sierra mountain pass.
Spicy Curried Nut Mix
1 cup shelled peanuts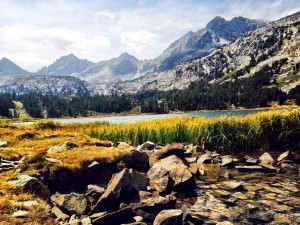 1 cup cashew pieces
4-6 Chinese dried chilies, diced up thin
1 teaspoon ginger root
1 tablespoon Madras Curry powder
1/2 cup golden raisins
1 teaspoon coconut oil
Preheat your oven to 350. On a baking tray lay out the nuts and the grated ginger root. sprinkle with the coconut oil and the curry powder. Bake for 10-15 minutes, stirring the mixture every few minutes. If the nuts start to burn at all remove from oven. Let cool and mix in the dried chilies and the golden raisins.
This is the best spicy trail mix for a hike like this!