The first week I was in Alaska the sun never set.
Every evening was a sunset that just wouldn't end. It was glorious. You know how sometimes you see those sunsets that are just so damn gorgeous you wish they would never last forever? That was one of my first experiences in Alaska and it made me fall in love with the forty ninth state from day one.
As my plane dipped into Anchorage and I stared down at glacier after snowy glacier below me and the Alaska Airlines flight approached Ted Stevens Anchorage Airport I knew this was going to be the vacation of a life time. The flight taxied in and I grabbed my carry on and noticed at once that as a Californian visiting Alaska I stood out on this flight. I was not wearing work boots. I did not look like I had just stepped out of Walmart. I was wearing an older SLO (San Luis Obispo) Surf pullover sweat shirt (It would be splattered with bloody dead mosquito smudges by the end of this trip) and a pair of jeans from The Limited, but these "Fancy Californian clothes" made me stand out as I excited the plane, collected my pack from the luggage carousel and met my friends and travel buddies in the terminal.
It was late afternoon and we went to a restaurant in down town Anchorage for pub food and some Alaskan Amber beer. One thing about Alaska, they know how to do food right and their microbrew craft beers are delicious. This was years ago, before IPAS were all the rage and you could still find a nice amber ale on most any pub menu.
Something other than airplane food in our bellies and it was time to watch the sunset… and watch the sunset and watch the sunset. We parked near Cook Inlet and saw that the sky was full of blues, pinks, reds and a magical twilight evening in Anchorage was happening. We hung out by the water side for an hour and just couldn't get enough.
Finally around ten p.m. we were on our way back to our B and B (Which was really just a guest room in some ones house) This was many years before Air B and B, back when bed and breakfasts were the original Air B and B. Our accommodations for the night meant that Ryan and I had to sleep on the worst hell of a pull out bed ever. I literally was sleeping in a hole in what was kind of a mattress and Ryan was sleeping in the hole on top of me. It was not pleasant, not for me at least and he had come out of the closet the summer previous so I'm assuming he got nothing out of the situation either, well besides a shit nights sleep.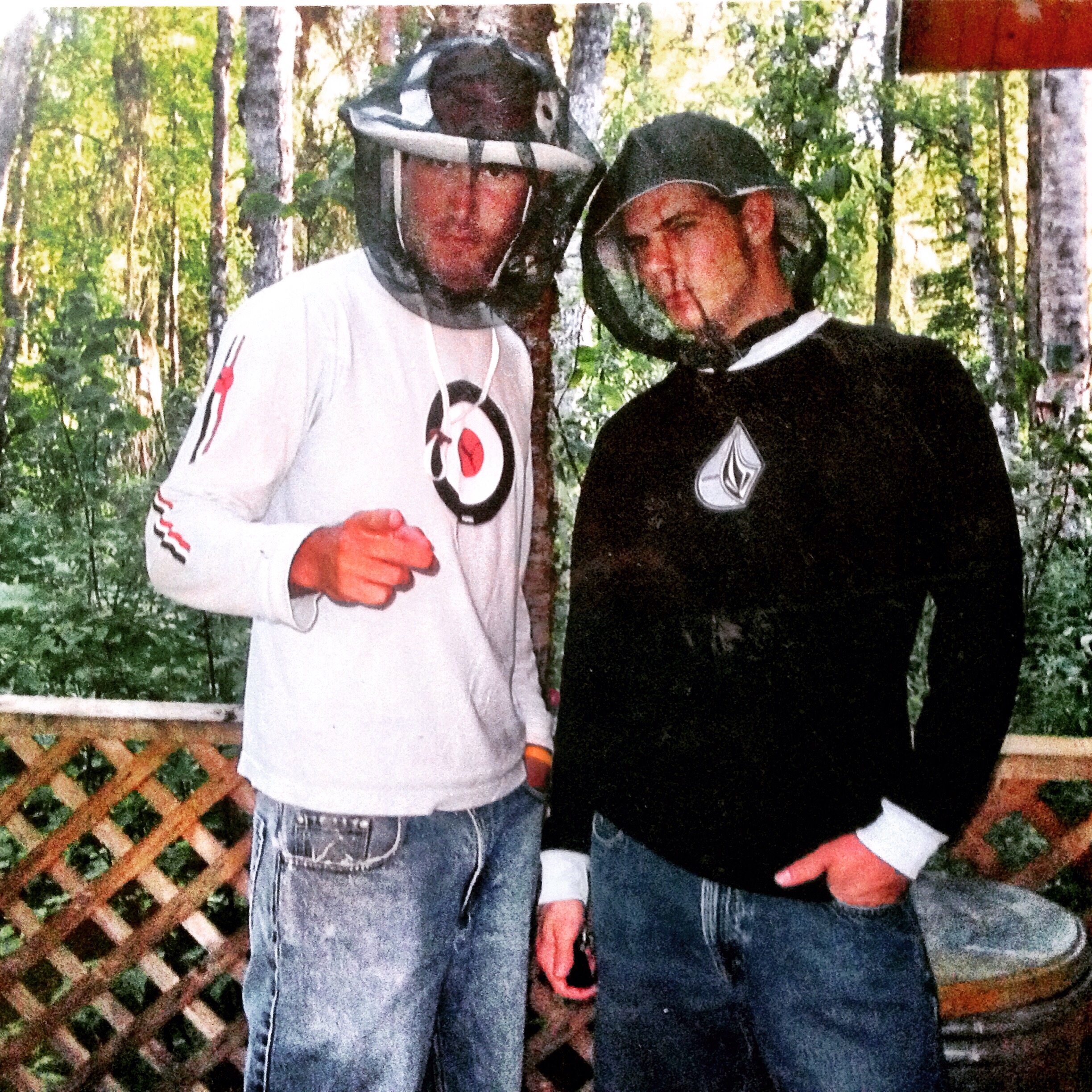 Our first full day in Alaska we woke up early to start the drive up the Glen Highway towards the Parks Highway and the bush eventually, past the suburb of Wasilla. It was an absolutely gorgeous drive, heading northwest for six hours past forests of black spruce trees poking out of the perma frost hardened dirt.  Our goal for the evening was to reach the tiny town at the base of Mt McKinley, Talkeetna.
Talkeetna Alaska is the town that was made for me. It is the cutest little small town I have ever seen. Besides that, every restaurant in this town was amazing. For breakfast on our second night in town I had Sour Dough Pancakes with Reindeer Sausage! Now that is how you start a morning in Alaska!
But before we would get to that most delicious of breakfast we had to check into our giant log cabin. As soon as stepped out of the car we were harassed by the state bird of Alaska; the mosquito.
I  blame Ryan for this.
I mean he was wearing this shirt with a giant target on the front!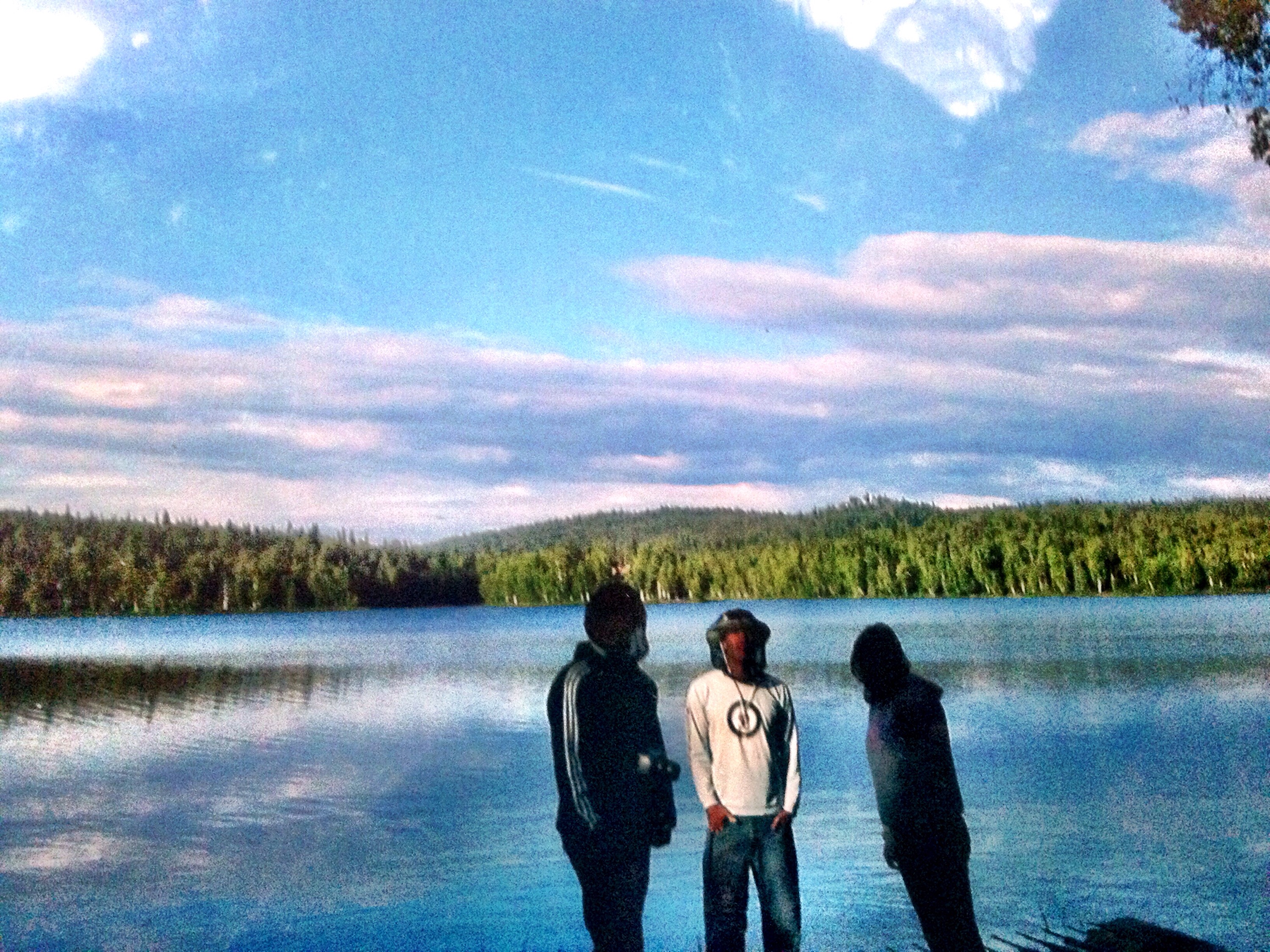 Once we were checked in and unpacked we donned our mosquito net hats and waked towards little Lake Christianson; just down the road from our cabin. We were able to use the kayaks there included in our stay at the cabin and we went out for a little tour of the lake. The few homes on this lake all had docks for their float planes; now that is how you commute in Alaska!