I've always dreamed of the bluegrass of Kentucky. Ever since I was a little girl of twelve years old watching the Kentucky Derby on my tiny vintage t.v. with the dial to change the channels. I dreamt of the day I would stand under the spires of Churchill Downs and listen to My Old Kentucky Home filling that antique grandstand. The girl of twelve years old growing up in a rural mountain town never imagined she would actually journey to Kentucky someday. She never ever imagined in her wildest dreams she would grow up to be a travel blogger and become obsessed with travels to India either! And the fact that I actually managed to wrangle myself a career in the horse racing industry, well some childhood fantasies seem too good to be true. So how do you have the best Kentucky horse vacation?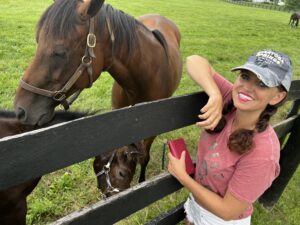 Here I am, July 2023, on a two-month road trip across the United States and last night our motorhome rolled into Lexington, Kentucky. I am just so ready for my Kentucky horse vacation! We have three nights booked at the Kentucky Horse Park and I have a lot of horse nerd plans. Kentucky racetracks, selfies with retired racehorses and yes that horsey smell might be coming from yours truly! I have a lot of horse nerd plans packed into two full days of the Lexington journey of our cross-country road trip.
My Old Kentucky Home, for three nights
With My Old Kentucky Home blaring from my Jeep's speakers we rolled into Lexington Kentucky on a Wednesday evening. We stepped out into Kentucky's bluegrass and fields full of glowing fireflies and the racket of raucous loud cicadas. No one warned me before we planned this trip how oppressive the humidity would be on the east coast in the summertime. No one told me my bra would be soaking wet for days on end. No one laughed in my face when I packed my natural deodorant that is so popular in southern California, a healthier area than the Midwest for sure.
Definitely, no one warned me how bad the traffic was in Lexington and how all the drivers out here drive like they are high, even at six a.m. in the morning. Apparently, stop signs are just a suggestion in Kentucky and if you stop at one, locals will honk at you! We had a three-night reservation to camp at the Kentucky Horse Park and I would survive Kentucky, even if I had to drive defensively around all these Kentucky drivers pumped full of hillbilly heroin.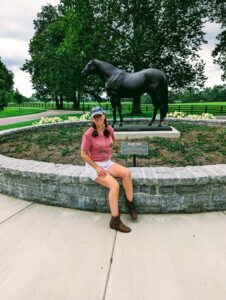 Kentucky horse vacation, Do it!
On our first full day in Kentucky, I had a horse nerds dream day planned. Of course, being that I am a forty-two-year-old woman and not a twelve-year-old girl with braces and big-ass glasses I stood out in the crowd of, well, twelve-year-old girls. I had a ten a.m. reservation for the draft horse meet and greet. And yes I would snuggle wuggle a draft horse or two even if I did look awkward being the only adult in the crowd. I'm so bummed my two favorite horsey girlfriends couldn't have made this trip with me because well we would have had an equine-centric good time. Also I wouldn't look like such a weirdo standing in line with forty-five twelve-year-old girls to pet a Suffolk draft horse at the Kentucky Horse Park.
A horse nerds dream day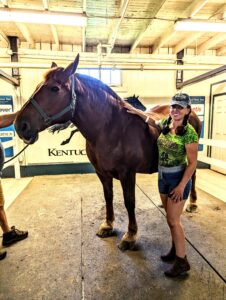 So you planned a horse nerds Kentucky horse vacation. What is the do not miss must-see horse things to do and see? I highly recommend staying at the Kentucky Horse Park. It is central to Spendthrift Farm. Spendthrift Farm does an amazing broodmare and foal tour. If you visit Lexington anytime from February to July this is a great tour to do to snuggle wuggle Thoroughbred foals. Spendthrift Farm is just fifteen minutes from the Kentucky Horse Park. Old Friends with every retired racehorse you might want to meet like Silver Charm, Touch Gold and Lava Man is very close to the Kentucky Horse Park as well. And you can even feed the retired race horses carrots too! On the way to Old Friends, you will drive by Jane Lyons, Southern Wind Equines Farm, where champion Flightline was bred and foaled. You drive right past Ashland Stud, Rood and Riddle and so many other world-renowned stud farms.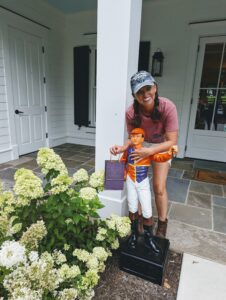 The first time I made this steak salad was in the dead of winter. Man, was this delicous after a morning of snowshoeing! Flash-forward four months to a sweaty humid summertime in central Kentucky and we are spending the summertime grilling up this healthy salad in our camp. Yes, like Californians. I'm pretty sure we are the only campers here in bluegrass country grilling up a salad tonight. I'm pretty sure that I may be the only person in central Kentucky who has ever heard of Gochujang sauce. Kentucky Bar-B-Que may be the go-to dinner in the summertime in Lexington but this Asian-inspired salad is just so refreshing on a humid summer evening after an afternoon of touring Thoroughbred stud farms all over Lexington.
A California Steakhouse Salad with Korean Red Chili Vinaigrette
1 pound of the cheapest steak you can find, or you can use rib-eyes
1/2 cup of sugar snap peas, trimmed
1/2 cup of radishes, thinly chopped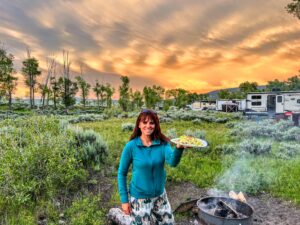 2 heads of butter lettuce
1/2 cup cashew pieces
2 teaspoons gochujang sauce
1 teaspoon sesame oil
1 handful fresh mint, chopped
1 handful of fresh basil, chopped
For the Korean red chili vinaigrette
1 teaspoon Gochujang sauce
3 teaspoons rice wine vinegar
2 teaspoons sesame oil
1 teaspoon grated fresh ginger root
1 teaspoon grated fresh garlic
3 teaspoons soy sauce
2 teaspoons mirin
Combine all the vinaigrette ingredients in a mason jar. Marinate the steak in half of this marinade for at least two hours. Set the rest of the marinade aside. When you are starving after a hard vacation day of snuggling retired racehorses in ninety percent humidity, grill up that steak. Cut up those radishes, lettuce and snap peas, mint and basil. Dress the salad with the rest of the dressing and garnish with the best spicy Gochujang Nuts ever.