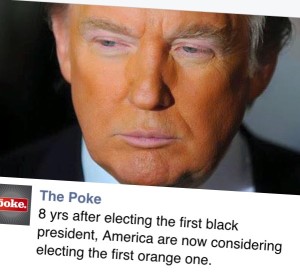 I read online this morning that Donald Trump is thinking about choosing Sarah Palin as his running mate.
That would work out really excellent for me as I can totally rock the Sarah Palin Halloween costume, and I even have bangs this year! If The Donald were to choose Sarah Palin as his running mate that would make my Halloween costume so much more relevant.
Otherwise I don't know how I am going to come up with a sexy Carly Fiorina costume.
This autumn this is my all time favorite sandwich. Any time we make steak the left over steak the next day goes right into this sandwich. If you marinate the steak in Wasabi Teriyaki Sauce before you grill it, it's even better.
Steak Panini with Wasabi Mayo and Pepperjack Yogurt Cheese
1/2 cup left over steak, sliced thin
2 slices pepperjack yogurt cheese
2 tablespoons wasabi mayonnaise
4 slices whole grain bread ( I use Dave's Famous seeded bread)
1 tablespoon butter
Spread the mayonnaise on the bread. Top with steak and cheese. Put a little butter on the outside of each piece and grill in a panini press.