I have a new addiction. Homemade sushi. If you are making your own sushi from scratch then of course you need to make homemade pickled ginger to go with it! With all my terrible food allergies I am finding these days there are very few foods I can eat that do not destroy my stomach.
Avocados, rice and seafood are some "safe" foods for me these days. The problem with eating way more rice, ingesting way more carbs than I usually do, well that means I have to snowshoe more miles.
Luckily snowshoeing is an incredible workout! Snowshoeing for an hour uphill burns almost a thousand calories! Do you have any idea how many rolls I can destroy for that many calories burnt? One thing about the crazy winter months in Big Bear Lake; between snow shoeing for two hours a day, stacking firewood every two days and massive snow shoveling workouts I am burning mountain calories nonstop!
So I try not to feel bad about inhaling ahi sushi, whole wheat toast smothered with lebna and delicious peppadew hummus filled wraps. How c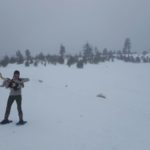 an you feel bad about anything when snowshoeing up and down these glorious mountain trails?​
Besides learning how to be a sushi genius this past week I have also broken out into the world of pickling my own vegetables and sometimes roots too.
Pickled ginger is one of those condiments that is so simple to make that after the first time you will think, why on earth did I ever buy this stuff?
Plus if you make it yourself you can buy organic ginger to start with!
A lot of people think that pink ginger tastes better and is less cheap than the white pickled ginger. The difference here is the pink ginger comes from young ginger plants which are easier to peel. Pink ginger is harder to find (You need to visit an Asian market to find it)It has a great taste and if you can manage to find pink ginger I would recommend that but buying organic white ginger root from Whole Foods was easier in my opinion. (And yea! Organic!)
The recipe I came across for the pickled ginger called for a radish to give the ginger its pink color. I tried making this with beets instead of the radish, because lets face it; pickled beets are just delicious!
Organic Beet Pickled Ginger
12 ounces fresh organic ginger ginger, peeled and thinly sliced
1 organic red beet, baked, cut into small pices
1 1/2 tablespoons kosher salt
1/2 cup rice vinegar
1 cup water
1 1/2 tablespoons organic sugar
Combine the ginger and salt. Let rest 30 minutes. Add ginger and beets in two jars, half in each. Pack jars tightly.
Combine vinegar, sugar and water in a saucepan. Let cook until at a boil and the sugar has dissolved.
Let cool and pour over ginger and beets.
Put lids tightly on mason jars and store in the refrigerator at least a week before opening.
Love this fantastic organic recipe?
Don't forget to pin it!