I grew up in a foggy place.
I learned to drive on twisting turning mountain roads where the fog was so dense sometimes you couldn't see past your windshield. On driving lessons, when the fog was that thick sometimes, you would have to drive with your head out the window just to see the highway. I bet they don't teach that when you have driving lessons in Stockport or somewhere like that! If the fog was really horrendous, growing up and learning how to drive in the wilderness near Lake Arrowhead, California, sometimes we would open our car doors to try to see if the car was still on the pavement or just how close you might be to veering off the rim of the mountain. As I'm sure you can imagine, it took people a while to learn to drive there.
Today in Baltimore, Maryland the second jewel in the Triple Crown was run in fog so dense I had to squint to tell if there were even horses on the race track.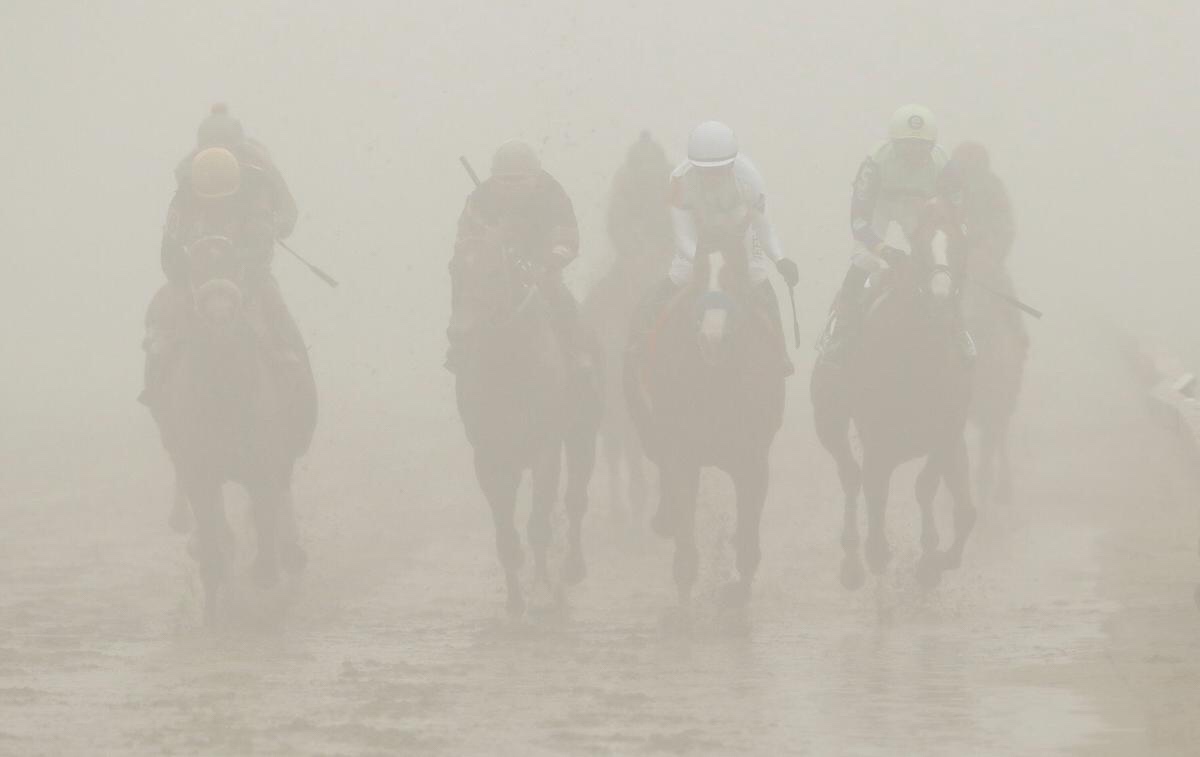 And then out of that fog I would see the white blaze of Thoroughbred champion Justify's face, his solid muscled chestnut body tearing through the fog, runner-up in the Kentucky Derby to this majestic red horse, Good Magic, glued to his flank, and I thought, whew, our Santa Anita Derby champion is still on the lead.
And then that bloody fog would roll back in and the voice of track announcer Larry Colmus would rise over the crowd of hometown fans in the clubhouse at Santa Anita, cheering for our Southern California horse and I thought to myself, how can this track announcer even see the horses in this pea soup fog? As the horses galloped slowly for a Triple Crown race on this majorly slick Pimlico sloppy track I just wondered what the hell was going on down the back stretch as racing fans across the country could not see a thing, just a screen of white and Larry Colmus's voice booming over the sound system.
And then out of the fog, as the horses came down the stretch…
I saw more fog.
Southern California trainer Mike Puype stood next to me as we waited for the big chestnut to emerge from the fog and we all, 23,000 racing fans in attendance, trainers, jockeys, fans and hot walkers, stood shoulder to shoulder, holding our breath, and we wondered, is our next Triple Crown champion about to emerge from the fog?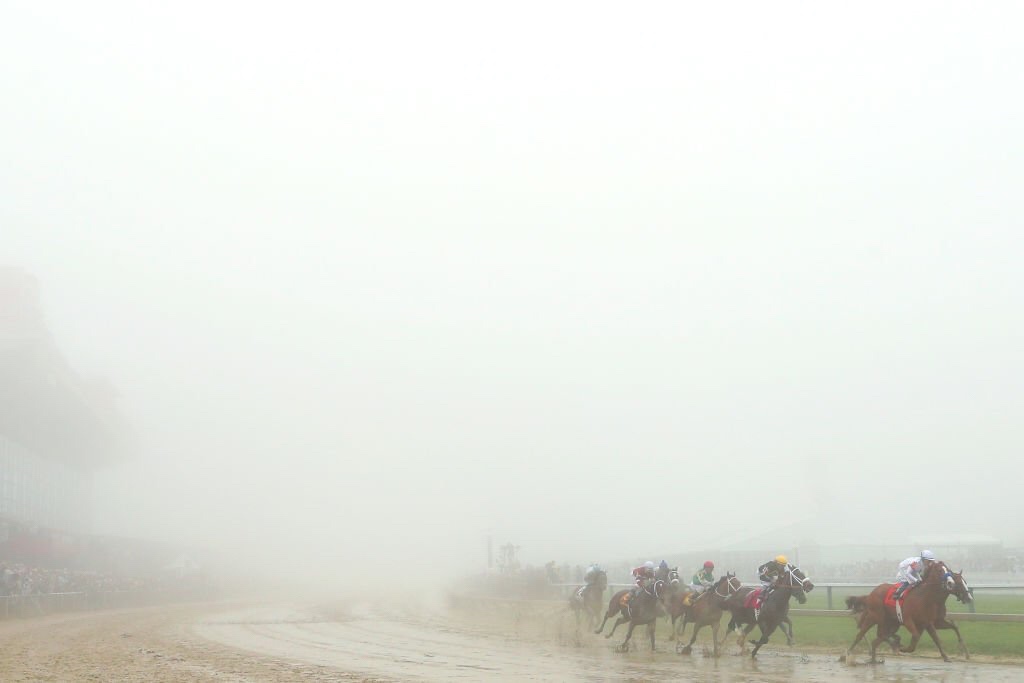 It was a magical and eerie moment and like no horse race I have ever seen in my life but as the horses approached the finish line that big beautiful chestnut with the white blaze down his nose was on the lead and holding on for the wire. I have never in my twenty years as a racing fan seen such an oddly spooky race and as a Southern California fan of Justify who has stood in the green Art Deco grandstand of Santa Anita Park and watched all of his dominant victories, this race had my heart pounding as it was so much more thrilling and mysterious than a regular horse race. I was raised in a land of thick pea soup fog but never experienced it like this, today in the 2018 Preakness Stakes.
The afternoon before the Santa Anita Derby was run in April, I stood next to the walking ring in the paddock and saw this chestnut beast, Justify schooling and was just in awe of what a gorgeous 1,200-pound animal he is. Trainer Bob Baffert said after the race in a post-race interview that "Justify is such a gorgeous specimen of horse that he would love to throw a western saddle on him sometime, and ride him in the Rose Parade" I love this qoute and I think it speaks to what a majestic horse he truly is.
It's been pouring rain sideways on the east coast for half a week now, but that didn't stop Justify today in the slop at Pimlico. I'm thinking someone on the east coast needs to build an ark and make sure you load Justify, our next possible Triple Crown, winner on first.