Kennedy Meadows felt like home. As I began the drive into the mountains after hours in the high desert and on the interstate getting back to the back roads and the pine trees sure felt good.
I've read so many books on through hiking the PCT (The Cactus Eaters is one of my favorites) and I know that for these crazy hikers who spends months of their year trail side Kennedy Meadows is a glorious sight… The gateway to the eastern sierras.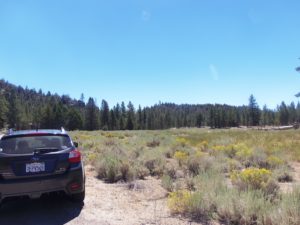 It's an area I have always yearned to explore and today as my little dog and I made our way up highway 395 into the eastern sierras we were not rushed at all for time and I figured yes, let's make a detour to Kennedy Meadows!
Carly had no opinion on the matter; she just wanted to be out of the car already after almost four hours of driving! (Well, sleeping on her part)
We had left the San Bernardino Mountains in the midst of a wild fire a little to the south of us that had left many friends evacuated.
As we drove up Nine Mile Canyon Road towards an eventual destination of Kennedy Meadows and the PCT beyond it we came around a highway corner and…
Burn…
Just burned pine trees every where.
It was not exactly what I expected to see and it shocked me for a second
The Chimney Fire burned through this area earlier in the summer and luckily the fire just burned towards the outskirts of this gorgeous area but it brought chills through my heart as I thought of the Silverwood Lake area burning up towards home and how it would take centuries for this area to recover.
Still thinking about the destruction wildfires bring, I continued up the highway past ranch land and meadows.
I passed a few old Cowboys in pickups who all waved. Kennedy Meadows is a small town in the middle of nowhere, where the sierras begin. It was so nice to explore it finally!
At the beginning of our eastern sierras road trip it really did remind me of home! Kennedy Meadows reminded me of Holcomb Valley, high up in the San Bernardino Mountains where we live. It would have looked really similar if only Holcomb Valley had a paved road winding through it!