We were driving away from the heat and humidity of Memphis last week in our motorhome, sweating no not from the God-awful hot wetness but from the Hattie B's crazy hot Nashville Chicken skins we were shoving at our faces. Seriously I could not stop, If you love spice they were the best thing ever. Yes, you can buy them on Amazon. Yes, they are stupidly expensive. Yes, they helped me forget just for a moment how wet, hot and awful camping near the Mississippi River in the summertime can be. I'm from California. It's a dry heat. That is basically our state motto. This summer was the first time I have ever spent quality time, I mean more than a few weeks of a tropical vacation, in heat and humidity. Turns out I kind of hate the kind of weather where I have to wring out my bra and my hair never dries after I shower. I did however fall in love with Nashville Hot Chicken while up in Nashville. I might have spent a week in Tennessee imbibing in a lot of cayenne pepper and I might have broken my spice lever and my body. And as this was happening, I was thinking to myself, I really hope someday, maybe, I can devour some Jalapeno Nachos again.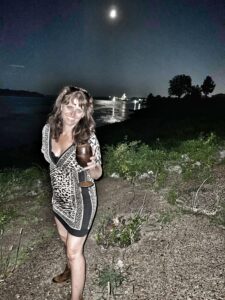 Being able to handle spicy food is supposed to be genetic but I am somehow the only person in my family who puts dried red chilis peppers in nearly every dish. I garnish most meals with my favorite yuzu hot sauce. I have to shove some Indian food at my face at least once a week. Capsaicin, the spice component found in chili peppers runs my life. Until last week.
As our motorhome rolled down I-40 finally, towards home two thousand miles away in California, Between shoving cayenne-flavored goodness at my face I bragged to my boyfriend about how I could handle spice. I was flaunting the fact that I never get heartburn and I said I hope I can always eat spice like this as we get older. Well, I jinxed myself. Obviously, the spice gods thought I was being a Capsaicin blowhard.
Capsaicin crowing
I've been a lover of everything spice as long as I can remember. Actually, I can remember my first addiction to spicy food. It was Tabasco with my eggs at my best friend's house when I was eight years old. I was trying to impress my best friend's dad and brother and prove I could handle spicy foods. I soon discovered I took pride in the fact that I could easily handle spicy condiments like Tabasco (And it is still the very best on breakfast eggs!)
We have been home for our road trip for a week now and I was unfortunate to have a very strange occurrence last week where my throat burned anytime I ate anything spicy in the least bit. What is a spice lover to do? Well, the smart thing to do would probably be to stick to smoothies and yogurt until my damn throat stops burning. But I just can't. Life is just too short to eat bland foods.
It was so uncomfortable and lasted for over a week. I literally ate nothing but smoothies and salad with blue cheese dressing for an entire week while praying my throat would heal itself. I don't know what the hell was wrong with my throat, I really, really have no idea. Acid reflux? Heartburn? I had plans to go to the doctor but praise the Lord I got better. And now I can shove Jalapeno Nachos at my face again.
Tex Mex. Who knew?
Two weeks ago we were traveling west back home to California in our 34-foot motorhome. We were trying to get through Texas and Oklahoma, most of the one-hundred-degrees-hot panhandle as fast as we could. But we did have to stop for some delicious hole-in-the-wall barbeque in OKC (Oklahoma City) And we stumbled into the best little Tex-Mex steakhouse in Amarillo while overnighting there. Seriously if you ever, ever make it to Amarillo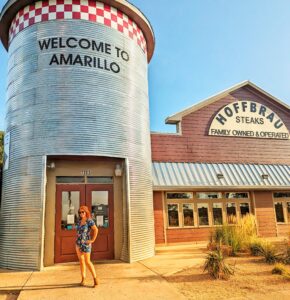 (They also have locations in Dallas,) You simply must try Hofbrau Steaks. I know, I know it sounds like German steaks but it's just the best little Tex-Mex steakhouse owned by a German family. Hofbrau Steaks is where I had Jalapeno Nachos and my life was changed forever. How did I never think of creating Jalapeno Nachos before?
Who needs tortilla chips when you have a deep-fried jalapeno ring? If you are a spice fanatic like me, these Tex-Mex nachos studded with Tr-Tip are for you.
Howdy partner! Have you ever been lucky enough to try Jalapeno Nachos? If you are a fan of Tex-Mex you have to try these nachos with tri-tip.
You can feel free to carefully deseed your jalapenos if you don't want them fiery spicy.
Jalapeno Nachos with Tri-Tip
6 jalapenos, roasted on the barbeque and sliced
1/2 cup flour
1 teaspoon cornstarch
1 teaspoon chili powder
1 teaspoon garlic powder
1 avocado, sliced
Salt and pepper
1 pound tri-tip, smoked, barbequed and sliced (You can totally use the Costco pre-cooked tri-tip to make this easier)
1 egg
1 bottle of canola oil
1 cup Colby Jack cheese, grated
Pickled red onions link I've been a lover of everything slice as long as I
1/4 cup ranch dressing
1 teaspoon sriracha
Whip the egg with a fork and set aside. Mix the flour cornstarch, salt, pepper, garlic powder and chili powder while your oil is heating.  Dredge your jalapeno rings in the egg then the flour mixture and fry the jalapenos well. When fried, layer them on a baking sheet, and sprinkle with the grated Colby Jack cheese. Bake in the oven at 375 for ten minutes until the cheese is melted.
While the cheese is melting, make your ranch. Mix together the ranch dressing and sriracha. Slice your tri-tip into bite-size pieces. When you remove the Jalapeno Nachos from the oven, stack the trip tip on top. Garnish with avocado slices. Salt and pepper the avocado slices. Drizzle the whole thing with Sriracha Ranch. Add the pickled red onions to the very top. Tex-Mex dinner is served!