Today my dog became terrified of gangly teenage boys. I swear, this mutt of mine has probably passed teenagers on the trails and paths of many forests in all her miles she has logged climbing mountain passes and jogging down pine needle strewn trails but today the stinky teenagers terrified her.
It must be the terrier in her. I blame every problem she has ever had on the terrier part of her brain that is never quite sure if she should go full maniac while running through a snowfield or if she should lick a disgusting pit toilet. (Note to self; Do not ever, ever let her lick your face) Suffice to say, I will never, ever get a dog part terrier ever again. Last night, during happy hour in our RV campsite under the pines of Mammoth Lakes, California my boyfriend mentioned something about pit bull terriers and I honestly never realized that the breed pitbull's are a terrier. So from now on when someone asks me what breed Carly is, instead of listing, pug, beagle, terrier I decided I'm going to label her, pug, beagle and pit bull.
Because she looks like a ferocious pit bull terrier, right?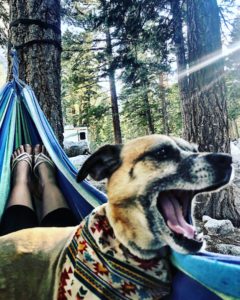 "I've been to countries and cities I can't pronounce
Not to mentions forests all over the Pacific Northwest."
Well, that is if you are speaking about Carly the maybe not exactly a Pitbull Dog and not the world-famous rapper who smoothly rhymes words like Greece and sweet.
Maybe this morning while fighting up the dusty switchbacks to Duck's Pass and Duck's Lake beyond the 10,000-foot pass, Carly was just tired from the early morning hike. When we set foot on this high Sierras trail at five a.m. on this Sunday morning I know I was exhausted. (And perhaps why I was rewriting Pitbull songs in my head for my ferocious pet pit bull) My legs did not want to power my tired body uphill, not one bit and I literally felt exhausted enough to take a nap between trailside boulders.
Except it was about forty degrees on the chilly mountain trail and I was wearing shorts and a very lightweight long sleeve top and if I laid down on the side of the trail I would be freezing in a matter of minutes. Not to mention the fact that the mosquitoes have been intense in this week we have been in the eastern Sierras. I was not at all covered enough to be attacked by mosquitos so uphill I trudged until the switchbacks gradually petered out just below Skelton Lake.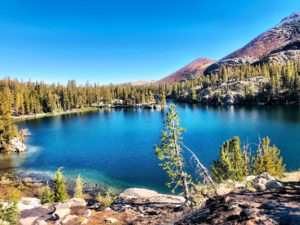 And then I was in the snow. Snowfields were every three hundred feet and it was just easier to put on my microspikes then to slide unsafely uphill towards the peak of Duck's Pass. I had not ventured up the Duck's Pass Trail in a few years and never in the snow like this. I honestly did not remember much of the trail and lost the trail multiple times in the snow as I reached the last lake and the final push up the snowy summit.
"Muevelo, Muevelo
Sin Parar! (Move it! Move it! Without stopping)"
Believe me, when you are struggling up a 10,000-foot mountain pass, whether you have a mountain goat or a pit bull at your side, you have to move it.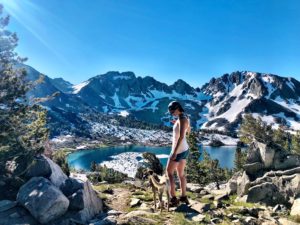 Order me another round, Homie
We about to climb, wild, 'cause it's about to go down
I know one little mountain goat who loves to climb things, like mountains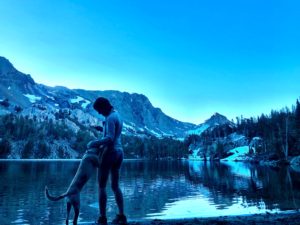 When I'm not rewriting Pitbull songs and hiking with a mutt who may or may not be a pit bull, I'm back at camp throwing together this easy tangy coleslaw salad, perfect for hot summer days camping by your favorite lake.
Coleslaw with Green Apple, Mint and Pickled Red Onions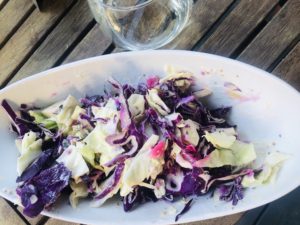 These pickled red onions are so easy to make and delicious. This recipe comes from Meera Sodha, my favorite Indian cookbook author. I use them the most with any Mexican dish I make, plus throw them into any protein bowls, tacos and breakfast burritos. They are basically good with anything.
For the slaw dressing
1 tablespoon mayonnaise
2 teaspoons plain Greek yogurt
Juice of half a lemon
1 teaspoon Dijon mustard
1/2 teaspoon salt
Mix all in a mason jar and set aside
For the slaw
1/2 a head of green cabbage, chopped
1/4 head of red cabbage, chopped
1 green onion, chopped
1 handful fresh mint, chopped
3 teaspoons pickled red onions
Add the veggies and green onion to a salad bowl. Dress with the Dijon dressing and serve.
Love this healthy recipe? Don't forget to pin it?