After a fifteen mile hike I crave a burger like you would not believe. You don't know how many hikes have ended with my racing back to the car and speeding down mountain roads, twisting and turning around curves hurrying to the Five Guys Hamburgers forty five minutes down the mountain from the trail head.
If I'm really starving for red meat I'll stop at the A and W in Mentone Beach.
Let me just start this blog by saying I very rarely eat red meat. I could never eat a steak again in my life and it wouldn't bother me a bit.
But I do enjoy a good burger from time to time.
If I'm going to indulge in a burger I prefer it to be a grass-fed burger. Hell, I barely eat GMO infested corn, let alone gorging on a beast that drowned itself in GMO corn fed-ness.
Not to mention the health benefits of eating grass-fed as opposed to corn-fed beef; less fat and more healthy omega threes.
These grass-fed burgers with fancy toppings like peppadew cheese, fried shallots and Black Forest bacon are absolutely amazing?
Grass-fed Beef Sliders with Fried Shallots, Black Forest Bacon and Peppadew Cheese
1 pound Grass Fed Ground Beef
4 tab steak sauce
garlic salt
Fried shallots (Recipe follows)
Cheddar cheese with peppadew peppers
black forest bacon
slider buns
mayo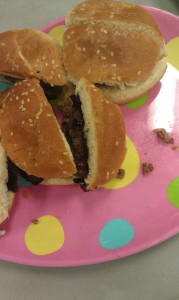 Make the ground beef into patty shapes, sprinkle with the garlic salt.
Cook the bacon and the Fried Shallots and set aside.
Grill each burger, basting with the steak sauce as they cook. After you flip them, cover with the cheese.
Brush the mayo on the slider buns and warm them slightly on the grill.
Assemble the perfect burger!
 Fried Shallots
3 shallot bulbs, peeled, sliced thin
1 cup buttermilk
1 tab hot sauce
1 cup flour
1 tsp garlic salt
1 tsp cayenne
1 cup Crisco, for frying
Mix the buttermilk and the hot sauce.
Lay the sliced shallots in this.
Mix the dry ingredients.
Dredge the onions in the dry while the oil is heating.
Fry the shallots on both sides.