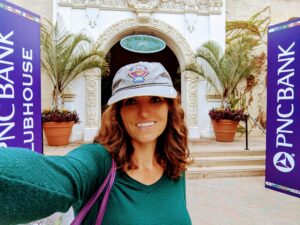 The first of November has me more excited than a little kid waiting for Santa Claus on Christmas Eve. Is it the fresh falling leaves and all the smells of autumn in the air perfuming our mountain forest? Maybe it is going for a woodsy stroll with my pup on a crisp November morning. Or it could be the simple peaceful fall feeling of the leaves crunching under my feet as I sip on a pumpkin spice latte on a chilly morning. Now that I have given up on ketosis and I can have carbs again I have a pep in my step for sure! But that's not it either. It just might be the smell of horses. It could be the fact that the Breeder's Cup, the world championship of horse racing is just one short day away!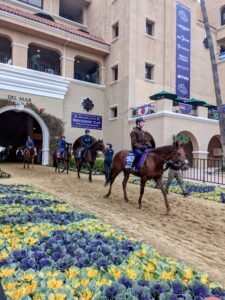 If it's that first week in November then it's probably the ponies that have me so delighted. And now that I have a last-minute trip planned to Del Mar Thoroughbred Club I'm bouncing out of my seat to hit the road and drive three hours to Del Mar Thoroughbred Club. I've never been so excited to sit in San Diego traffic!
We wake at dawn!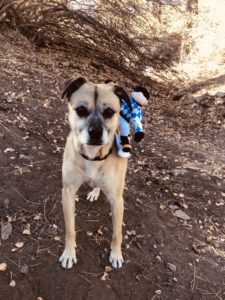 I was really hoping to bring my adventure pup with me to Del Mar for the morning workouts and daybreak at Del Mar but unlike our pony-filled home away from home, Santa Anita Park in Arcadia, mutts are not welcome at Del Mar. Probably because Del Mar is fancy. And if it's the world championship of horse racing being hosted by Del Mar in 2021 they have every right to be very fancy indeed.
Stylish sustainable fashion at Del Mar
This is why I have packed my brand new to me, sustainably shopped fall fashion for a cool November day at this beachside city in San Diego County. Last week I went on a sort of shopping spree for fall fashion at some of my favorite thrift stores near Los Angeles. I may have spent a little too much cash and had a little too much fun but I am ready for any occasion fall might throw at me now. Including a day out at just about the trendiest fall destination in southern California; Breeder's Cup at Del Mar Thoroughbred Club.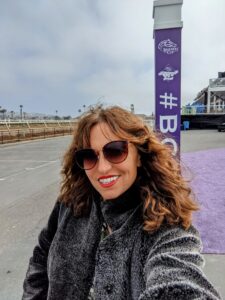 Thank the Lord I bought this amazing RSJ faux-fur jacket that I purchased at the Goodwill in Brea. I paid way too much for this jacket considering it came from the Goodwill but I needed it. I'm so going to wear this strutting right past the PETA protesters that lurk outside our racetracks in America. I'll have my racing form under my arms, as I strut past those grumpy jackals, scribbled with notes up the ying-yang, so excited I'm about to start skipping my way into the track! I'll have an ecstatic smile pasted on my face as I walk through the gates of Del Mar Thoroughbred Club. I have spent over three years away from the place where the surf meets the turf what with a global pandemic, terrible San Diego traffic, plus starting up my own guided hiking business. Well, life got in the way of my time spent with the fastest Thoroughbred racehorses in San Diego. Let's put it that way.
I feel so blessed to have a day off on this autumn morning to drive three hours from my mountain home and spend my morning photographing some of the most expensive racehorses in the world. It's going to be good times. And if I piss off a PETA protester so be it. If I make a PETA protesters poo themselves in anger even better.
The grandest fashion in San Diego County
You won't find me in the winner's circle at Del Mar this November in a Gucci dress. Well, mainly as my own personal racehorse is very slow. And also I don't do expensive designer fashion unless it's my favorite Steve Madden faux-fur vest that I purchased second-hand. Or this silk Banana Republic awesome blouse I scored for five dollars at my favorite thrift mercantile. Del Mar Thoroughbred Club is so well known for all the lady's fashion. The fashionable fillies come o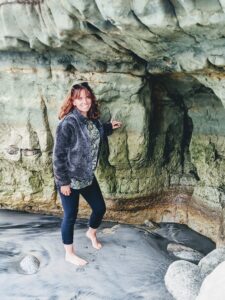 ut in droves to wear their biggest hat and fanciest Lela Rose dresses each summer day just painful Jimmy Choo heeled steps away from Del Mar Dog Beach.
As I lounged around the paddock on Thursday soaking in the splendor of million-dollar gorgeous equines like Kentucky Derby winner Medina Spirit, there was also one very fancy man celebrity in the most ridiculously expensive shiny outfit ever. As I don't watch TV outside of FoxNews or horse racing t.v. I have no idea who he was but he was definitely not Tucker Carlson.
So the question is, how do I personally dress for a pre-Breeders Cup day out at Del MarThoroughbred Club?  Especially when I am arriving at a foggy and chilly Del Mar just as the sun is rising and leaving Del Mar near sunset as the sun is crashing into the Pacific Ocean. It's a whole long fall day of sustainably shopped wardrobe choices. More importantly, just who should you bet on at Del Mar Thoroughbred Club on Breeder's Cup 2021 Friday and Saturday?
Let's start with Daybreak at Del Mar
I personally left my mountain home in Big Bear Lake, California at 4 a.m. on Thursday morning to drive three hours to Del Mar Thoroughbred Club in San Diego County. I was almost giddy with anticipation as I fastened my seatbelt, took a gulp of my hot coffee, powered up a horse racing podcast (Or 3) and cruised down the winding mountain roads towards one of the most gorgeous race tracks in the United States. I was planning to be at the track by 7 and I knew it would be chilly. The morning forecast would be about fifty degrees. Later in the morning, it would warm up to a high of 69. Gorgeous cool autumn weather for fall fashion!
I dressed in my brand new to me, thrifted and very warm Vintage Essentials fleece sweater. And of course, I was wearing my favorite denim jeggings. These jeggings are so comfy. They feel like leggings and I can hike in them all day. Or walk for miles all over a giant race track facility. On my feet, I had my super comfy flat Steve Madd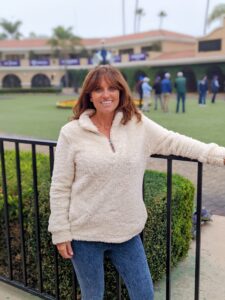 en booties. I can walk for miles in these babies but I always throw some Dr Scholl inserts in them just in case. I was warm, I was comfy and I was ready to photograph some of the most gorgeous racehorses in the world. And of course, I had a coffee in one hand.
I spent hours watching Breeder's Cup horses like Essential Quality, Hot Rod Charlie, Knicks's Go and Medina Spirit schooling in the paddock, jogging on the track and getting ready for the next few day's races. I talked to old friends who were also out at morning workouts and made a few notes in my racing form. My Vintage Essential sweater has two big pockets and was perfect to have my Pixel 5 phone in one pocket and my digital camera in the other pocket. Luckily morning workouts finished up at about nine a.m. and I made a beeline for the nearby French Corner for lunch before the races began.
I simply adore French food and delectable coffee drinks from the French Corner in Encinitas. I order a baguette with pate or a crepe or two at this boulangerie nearly every time I make it San Diego County. Plus its steps from the beach for a little beach walk after I spend a few hours working on finalizing my handicapping. After a quick beach stroll, I'm well refreshed to head back to the track for the afternoon races. I packed my (delicious) pate sandwich in my backpack to take back to the track with me for an easy lunch later in the afternoon.
After a beach stroll, I made my way back to the track. I changed into my way fancier for Del Mar Thoroughbred Club Sanctuary jeggings that I just purchased at the Goodwill in Placentia last week for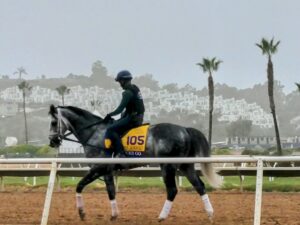 ten dollars. I was thrilled to save these skinny jeans from a textile death and recycle this clothing. I was also thrilled to start getting my bets in and enjoy a day, at last, betting on the ponies at Del Mar. It had been way too long.
In the summertime, you can definitely find me at the seaside Del Mar wearing a cute dress but it's a bit cooler at Del Mar in the fall. Cute jeans and a colorful top and maybe a light jacket for the late pick four in the afternoon is a great fall fashion choice. And boots of course. You have to wear boots in the fall. Or at least I do. How many pairs of autumn boots do I own? Well, that is an embarrassing question to answer.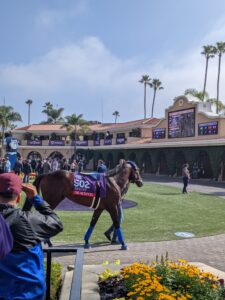 So on to the gambling!
Like how I changed the subject to my degenerate gambler ways so seamlessly? What a beautiful fall day in southern California to escape to the premier race track on the west coast. So you had lunch at the French cafe, ordered a cafe creme to go and you may be asking yourself, just which horses do I bet on in the Breeder's Cup?
All handicapping was done using TimeformUS, Andy Harrington's workout reports and Benny Southstreet's TripNote Pros.
Amber Exacta's Breeder's Cup picks at Del Mar Thoroughbred Club for 2021
Breeder's Cup 2021 Friday
Del Mar race 6 Go Bears Go, Armor or Averly Jane
Del Mar race 7 Juju's Map or Echo Zulu
Del Mar race 8 Pizza Bianca, Turnerloose, Bubble Rock, Malaveth, Consumer Spending or California Angel
Del Mar race 9 Corniche, Pappacap or OVIATT CLASS
Del Mar race 10 Modern Games, Albahr, Mackinnon, Portfolio Company
Pick 5
Race 6 7,3,8,11
Race 7 5,6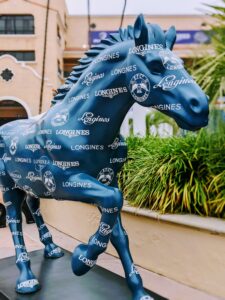 Race 8 1,4,5,7,12,14
Race 9 1,3,4,12
Race 10 1,2,6,10, 
$ Ticket $288
Best longshot Race 9 Oviatt Class Wow can this guy close! Check out the gallop out in the American Pharoah Stakes.
So which favorite is beatable?
Jack Christopher! He's not bred to go a distance whatsoever. There is so much speed in the race.
The best horse to bet it all on… Race 7 Juju's Map or Race 6 Averly Jane
Breeder's Cup 2021 Saturday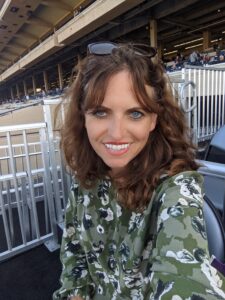 Del Mar race 4 Gamine
Del Mar race 5 Liutenant Dan or A Case Of You
Del Mar race 6 Silver State, Life is Good, Ginobili
Del Mar race 7 War Like Goddess, Love, Dogtag
Del Mar race 8 Jackie's Warrior or Dr Schivel
Del Mar race 9 Space Blues, Mo Forza, Got Stormy and Blowout live longshots in here! Don't go to sleep on these fillies!
Del Mar race 10 Letruska, Shedaresthedevil or Malathaat
Del Mar race 11  Tarawa
Del Mar 12 Let's cheer for Hot Rod Charlie or Essential Quality to win but Medina Spirit has a huge chance as well. And Art Collector is on the improve big time.
Late pick 5
Race 8 2,9
Race 9 3,6, 11
Race 10 6,3, 8
Race 11 13,14,11
Race 12 3,4,8
$96 ticket
Best longshot Hot Rod Charlie
So which favorite is beatable? Letruska
The best horse to bet it all on…  Gamine
Enjoy a fantastic autumn day at the Breeder's Cup 2021 this weekend! I so recommend throwing some of the longshots in a four-horse trifecta box or a five-horse superfecta. I simply adore betting trifectas and superfectas at the Breeder's Cup. Good luck and happy degenerate gambling!