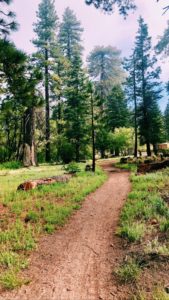 We live in a crazy world here in the late spring of 2020 and it's getting crazier and unreal by the day. This is why I am so enjoying my time alone in the pine forest of Big Bear Lake. Although even in our small mountain town it's getting harder and harder to find the peace and serenity that I myself crave. Every once deserted hiking trail is now filled with day hikers with off-leash unsocialized dogs, brand new Patagonia t-shirts and hiking boots they have never broken in before the pandemic. Yes, we are all free to explore this beautiful planet and these trails but our national forest is being treated more like a toilet every single day. Some days after a sweaty, trail congested hike, I just have to drown my sorrows in a healthy sushi protein bowl.
I used to pick up trash and broken sleds before COVID-19 just constantly but I'm sorry, I'm not going to risk my health to pick up after these slobs, the Snow Pigs who throw their Monster energy or Miller High Lite cans into the forest. Nope. I'm just not sacrificing my health for all these stupid, lazy assholes.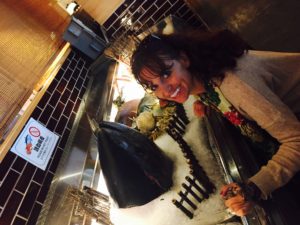 On one of my podcasts, I was listening to earlier this week, the speaker was saying all these protests are happening because people have been couped up at home too long. I think that's horse shit. These protests are happening, well number one because people are angry and fed up, but it has nothing to do with the self-quarantine going on for so long. Looking at these massive crowds on t.v. in New York City and in Washington, all I can think is wow these areas are going to have a second wave of the epidemic. How will we ever recover economically as a nation if people can not social distance and cannot be smart about going out in public? I just want to eat sushi again! Is that really too much to ask!
Every Monday I put on my mask and go to the local market for fresh veggies. And yes I judge everyone else not wearing a mask and there are more and more of them by the day. My health is a priority in my life. I want to stay healthy during this un-proceeded time in history and be able to hike fifteen miles on a Tuesday and not be one of those people overwhelming our small-town hospital.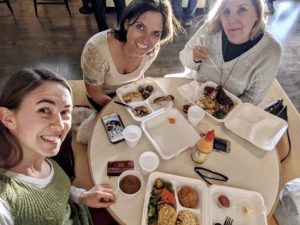 These days everyone ask what is the first thing you will do when the quarantine is lifted? Having a fresh sushi lunch has to be on the top of my list. Where I live in a rural area, the closest edible sushi is over an hour's drive away. The only real option for sushi during this quarantine is supermarket sushi from Von's. I'm just not that desperate for fresh sushi to breakdown and buy supermarket sushi but I am, however, craving a fresh fish protein bowl. Luckily I have high-quality imitation crab and Argentine shrimp in the freezer and with these two ingredients, you can make an easy homemade California Roll Protein Bowl. Two weeks ago I made the drive into orange county, two hours from our home for the first time since very early in March. I was so excited to stock up on Bulgogi sauce, oyster mushrooms, giant bundles of bok choy and so many delicious kinds of high-quality seafood. Now, I am officially ready to make my own at home sushi wanna-be protein bowl!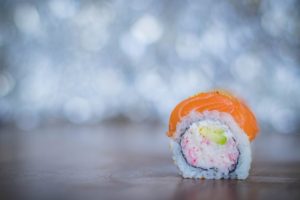 I love making this easy to make protein bowl with us in the evening on our boat when we go spring fishing. We may not have any trout or bass on the lines but we do have a delicious protein bowl in our bellies!
Deconstructed California Roll Protein Bowl
1 cup good quality imitation crab
1 cup argentine red shrimp
1 teaspoon chili oil
1 avocado
2 Persian cucumbers
very thin slices of lemon
1 jalapeno, sliced very thin
1/2 cup sushi rice, cooked
1 cup of your favorite coleslaw
For the protein bowl base cut up the imitation crab. In the chili oil, cook the Argentine shrimp until just cooked. In a bowl layer the coleslaw, cooked sushi rice, sliced avocado, sliced Persian cucumbers, shrimp, crab and sliced jalapenos. Drizzle the sriracha mayo over the top.
Sriracha Mayo Dressing
1/4 cup mayo
juice of half a lemon
2 teaspoon sriracha
Combine all these dressing ingredients together.