Curried eggs are an Anglo Indian delicacies most often enjoyed after a night on the town of Bangalore after "The Royal Challenge" Royal Challenge Scotch Whisky is the hard alcohol to drink when on vacation in Bangalore (Well for my boyfriend; I'll stick to the very rare bottle of Australian white wine I managed to find on the dusty back shelf of one grocery market.) A lot of things are different when traveling to India. Like ordering a cocktail for one thing. Yearning for a margarita? Nope! How about a beer cocktail because some states don't even allow hard alcohol! And this is how a monkey broke into our car while traveling through the jungles and went on a rampage when our hired car was searched at the border checkpoint and my last bottle of white wine was confiscated) But at least we got to yell at a monkey!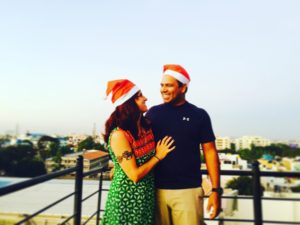 Now you can see why traveling through India leads to nights of many cocktails and many early mornings of Curry Eggs.
Are you celebrating the new year in a dry state or simply just trying to live healthier in the new year and drink less sugary delicious cocktails? A healthy lifestyle starts with breakfast; Obviously. This is my healthier version of Curried Eggs, one of my all time favorite breakfasts ever.
Curried Eggs with Sweet Potato Parathas
For the Sweet Potato Parathas
1/2 a purple sweet potato
1 cup masa
1/2 teaspoon salt
3 tablespoons ghee for frying
Mash the sweet potato and add in the masa and the salt with your fingers. Form into a dough and knead the dough well for a minute. Form into balls, the size of golf balls. Press out each tortilla in a tortilla press, then keep between sheets of wax paper until you are ready to fry them.
When ready, fry each tortilla in a little ghee. I like to use a pastry brush to brush ghee on both sides of the tortilla.
For the Curried Eggs
4 eggs
3 teaspoons half and half
3 teaspoons ghee
1 teaspoon minced garlic
1 teaspoon minced ginger
1 white onion, diced very thin
2 small serrano peppers, diced thin
1 teaspoon curry powder
1/2 cup water
2 teaspoons tomato paste
1/2 teaspoon salt
1 avocado
cilantro for garnish
Cook the onions and the chili in the ghee. Once they begin to brown add the garlic and ginger. Stir in the curry powder and add the water, stirring constantly as the spices roast. After the spices have roasted for a minute or two stir in the tomatoes, then the eggs that were whipped with the cream.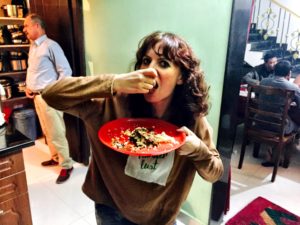 Add salt as the eggs continue to cook.
Serve with avocado, cilantro leaf garnish and the cooked sweet potato rotis.
Love this healthy recipe? Don't forget to pin it!