Last night I screamed that I never want to open another coconut again as long as I live! That was a full twenty four hours before I made my own homemade coconut beverage and yes, wine was very, very involved. This may have been after three glasses of chardonnay. Perhaps I'm not so reasonable with an oaky chardonnay coursing through my veins. Perhaps also attacking a coconut with a knife during a dinner party might not have been the best activity for my Sunday night but I survived to tell the tale!
I actually tried to milk and destroy the coconuts way earlier in the evening when I was still sipping on ice water and prepping our four Indian dishes for our dinner party in the evening hours. Unfortunately for me both our pre bought coconuts were sour and I didn't felt like introducing our guests to the sour coconut milk cleanse. (Of course they may have just blamed it on the Indian food) And that is how I ended up trying to milk a coconut at seven p.m. while our guests wondered when on earth this delicious Coconut Rice with Star Anise and Curry Leaves that I had learned to make while on holiday in Bangalore would ever arrive.
After I stabbed some coconuts repeatedly and broke at least one knife I had enough coconuts to grind up in the food processed for the coconut rice. That is when my boyfriend told me I should have bought a coconut grater and I was doing things the hard way.
Guess what I bought on Amazon this morning?
Last night I was cursing the name coconut and all the work I went through to make coconut rice.
Than this morning I woke up with way less wine in me and made homemade coconut milk and also a fresh and tasty coconut chutney and you know what? I think I love coconuts again!
In fact this homemade chai inspired coconut beverage is so tasty I might actually LOVE coconuts!
Cardamom and Star Anise Coconut Beverage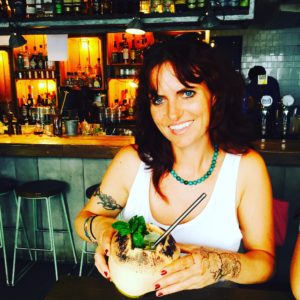 1 coconut, grated and juiced in a blender. I leave about a quarter of the meat in the coconut beverage because I use this in smoothies.
3 white cardamom seeds
1 star anise
1 date, seeded
1 cinnamon stick
2 cloves
1 cup water
After scraping out the coconut add the flesh with the water and the date in a blender. Blend until very smooth. Mix in the seeds, cloves, star anise and cinnamon stick. Transfer to a pot on the stove.
Simmer twenty minutes on low. Strain out the cloves, star anise seeds and cinnamon stick.