Wherever we go in the mountains, we find more jalapeno poppers then we seek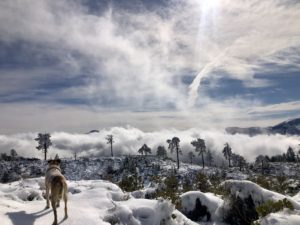 Powerful words were spoken by naturalist John Muir way back in the early nineteen hundreds. Okay this might not have been the exact quote. I may have thrown in the jalapeno poppers part. When John Muir trekked these eastern Sierra trails so many years ago this was way before the pandemic of the Coronavirus and stress eating.  I'm sure if John Muir was here today he might be thinking, will we have enough toilet paper to survive this thing? Do you think naturalist John Muir ever worried about a toilet paper shortage really? I'm sure he was worried about the Spanish Flu back in his day. But why would he be worried about the TP situation when hiking through a forest full of Mule's Ears or Cowboy TP as they are more efficiently known.
Trekking through the mountains is a great way to get away from the paranoia and hysteria we are all facing today here in 2020. In this insane world we now live in, in the mountains, we seek to find solitude, peace and hopefully no COVID-19. But jalapeno poppers, now those are something I would not mind finding. It's been said that eating spicy foods can help boost your immune system and in a world where everyone is trying desperately to not get sick I say, the more spice the better. Bring it on! Spicy foods and long-distance hiking; Now that is a combination to shake that COVID fifteen that I'm sure John Muir himself would have approved of!
If there is one thing we love in our household, it is jalapeno poppers. Especially when they look like Donald Trump. I used to make these delicious poppers way back in the day when we used to eat carbs. These days we look for a much more keto-friendly recipe like this easy bacon-wrapped extra spicy poppers.
Can't get enough Jalapeño goodness? Try these Bacon-Wrapped BBQ Glazed Jalapeno Poppers. Here is a little secret from my mountain kitchen; Cut these peppers up and throw them in a salad and they are so darn delicious!  Of course, if you don't feel like having a salad and being healthy there is always the party favorite, Jalapeno Popper Dip. Basically anytime recently I throw a backyard Bar-B-Que (Social distancing six feet apart of course) this is the pandemic snack everyone is requesting.
These awesome and easy jalapeno poppers are a great way to get rid of that extra rotisserie chicken in your fridge; Not to mention keto and gluten-free.
Buffalo Chicken stuffed Jalapeno Poppers
10 jalapenos, roasted, cut in half and deseeded
10 slices of bacon
1 cup sharp cheddar cheese
1/3 cup crumbled blue cheese
1 cup rotisserie chicken
1/2 cup of your favorite buffalo sauce (I know it's not politically correct but Hooters buffalo sauce is my favorite)
Mix the shredded chicken and the boob sauce. I mean the Hooters hot wing sauce or your favorite PC version of this red vinegary sauce. Stuff each pepper sauce with boob sauce chicken, cheddar cheese, blue cheese and then wrap in bacon. Bake in the oven at 375 for about twenty minutes until the bacon is crispy.
These are the best served with blue cheese dressing and celery