It was early February 2020 a chilly winter morning. I got up in the dark before the sunrise to go for a walk on the beach before work. Of course February Amber was not counting on her plantar fasciitis killing her once she put her toes in the sand. So instead of dipping my toes in the ocean I walked along the pier and enjoyed a southern California sunrise over the Pacific Ocean. It was a Saturday in Orange County and there were a good amount of people around in the sand, joggers, hippies doing yoga on the beach and photographers also taking advantage of the partly cloudy winter sunrise.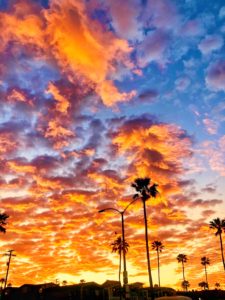 After my walk along the pier, I drove a few miles up the coast, parked by a parking meter that didn't work after I dumped all my quarters in it and cursed my luck. My luck was about to get so much worse. Just like so many millions of Americans, Wonky parking meters would soon be the least of my worries. I walked into a fancy coffee bar in an Orange County beach town a few hours before my workday would begin and ordered a cold brew fair trade oat milk venti something or other then sat on the veranda overlooking the ocean to finish my handicapping ( My pre-work homework) before making the drove through congested traffic and smog in Orange County and Los Angeles freeways to the job I loved.
I parked in the employee lot and said good morning to the three sibling Clydesdales munching on alfalfa in their enclosures, swiped in for my workday and made my way past smiling coworkers, giving each other high fives for our gambling wins the day before. I grabbed a cup of coffee from the coffee nook; Ignored the coffeecake sitting next to it and spent a good twenty minutes shooting the shit with my boss before heading out into the mint green grandstand of Santa Anita Park. It was a pretty typical weekend in the horse racing industry in California. It was a slow day at work, for me anyway, not any big events booked, no corporate events with coworkers shaking hands or eightieth birthday parties with everyone hugging grandma.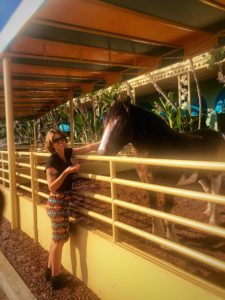 I made my way to the far end of the grandstand to the Chandelier room our swanky VIP room where so many people get married, high schools hold proms and in three months the grandest Kentucky Derby party this side of the Mississippi was scheduled for the first Saturday in May. The event I was working that day, which feels so long ago now was a fundraiser for the backside racetrack employees and was full of the who's who of California horse racing. There was a lot of hugging, a lot of laughing and definitely a lot of champagne popping. I spent my workday hobnobbing with the trainers and owners of some of my very racehorses. We laughed, we took selfies, we bet on live horse racing, yes maybe we sanitized our hands a little more than normal but life felt, well normal. 
Shit was about to get crazy.
That was my last day at work, almost seventy days ago now. I miss petting horses, I miss standing feet away from the most beautiful racehorses in the world as they gallop down Santa Anita's home stretch. I yearn to joke with my coworkers and I truly miss my workplace and being at the great race place. I miss doing my job, teaching people how to bet and helping people win money gambling on the ponies. I miss the little things; Sitting in the grandstand off the clock for the twilight race, with a cold beer and laughing with coworkers. I miss hanging out in the paddock and talking with friends as their horses are saddled up and brought out to the track. I miss the paddock gardens, fans hanging on the white paddock railing taking photos of horses with their iPhones and drunk girls in sundresses taking selfies by the apron of the racetrack. I miss hanging out in the winner's circle with my favorite security guard and gossiping about  horse racing stuff with jockeys valets and camera dudes. I miss seeing the grandstand packed with a roaring crowd as the horses race towards the finish line. I miss my uncomfortable and yet so cute work shoes that make my plantar fascitis ache as I walk seven miles a day at our giant facility. I miss my ass before it was huge!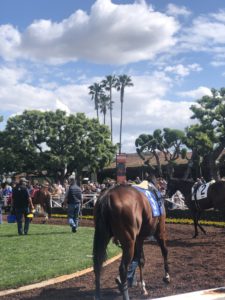 Early February 2020
That first week of February I walked into work and we had hand sanitizer stations everywhere. I love my workplace and I hate germs. The one thing that was missing from my awesome job all these years was the ability to sanitize my hands whenever I damn well felt like it. Besides the hand sanitizer everywhere, life felt normal at Santa Anita Park. I remember talking to one of my favorite tellers, telling her if this got worse I felt safer wearing a mask and she basically told me that was dumb, masks were useless. 
I finished up my shift and went out for dim sum with friends at our favorite hole in the wall tasty Chinese restaurant. I did not even hug anyone goodbye as we finished our dim sum and made our way into the darkening city of Los Angeles.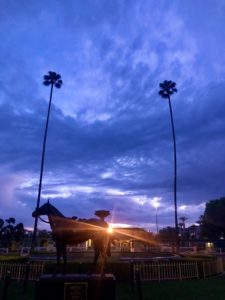 I had no idea that this would be the last social thing I would do in public for a third of a year. If I could go back and do it over again, I would hug my racetrack buddies super tight and maybe get a side of spicy house sauce to go. As winter turned to spring, there were no chances to hug friends. (And definitely no spicy authentic dim sauce to be had) I couldn't even hug my grandmother the day she turned ninety! I feel like when this is all in the past behind us I will never overlook a moment to hug a friend. I will never take for granted lunches with coworkers in the break room. I will always appreciate a high five for a job well done.
I saw a popular hashtag a few days ago and that inspired me to write;
#lastnormalphoto
What were the last normal things that I did in early February before being quarantined? That would definitely be spending time with friends not six feet apart. Or inhaling some sushi that I didn't buy premade at our local supermarket or driving to Whole Foods just to buy a salad. (The nearest Whole foods from our home is two hours to the west) And racehorses. I really miss racehorses.