Cauliflower; Even though it smells like a bag of farts we still love it. These days you can find cauliflower in everything; pizza crusts, crackers, rice even bread sticks (Link) When you are in the midst of training to climb a 14,000-foot mountain any day now, having the right amounts of protein, fats and a handful of carbs in your diet is very important. The right mix of veggies can definitely help you reach your outdoor adventure training goals.
Yesterday we summited a 12,000-foot mountain an intense twenty-one-mile day hike. Parts of the hike were a six hundred foot mad scramble up a scree covered mountainside mad extremely difficult by multiple snowfields.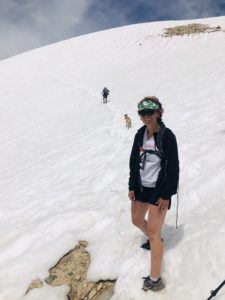 We have been stressing about the amounts of snow we are going to encounter on the Mt Whitney Trail next week in Inyo County. We had no idea that snow was going to be an issue here in southern California in the last week in June. The weather this winter has been nothing short of insane; I mean, for one thing, it was supposed to be sunny and seventy degrees on Saturday morning when we woke up at four a.m. and rolled out bed. We started the hike under thunderheads, rain sprinkles and a magnificent sunrise. This early morning cool weather, as surprising as it was, kept the dust down on the South Fork Trail, as we trekked past fields of purple Penstemon, rust red Indian Paintbrush and cream colored feathered yarrow. Then we came across just about the most useless forest ranger ever. He calmly informed us there was "A bit of snow" On the hillsides above us. We told him we had decided to leave out microspikes at home to cut back on weight and he told us we should be fine.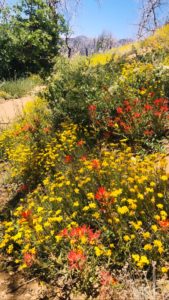 Hours later these words would reverberate in my head; They sound like Fake News.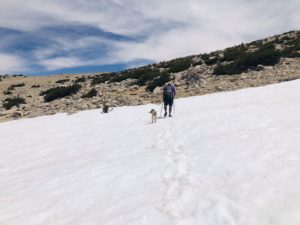 Did we make it to the summit?
Fuck yeah! Was it safe? Hell no! And that's how we ended taking the long way back down to the car, via Dollar Lake
What a perfect natural food to power your body for outdoor adventures; Especially this Baked Cauliflower, Tempura. When most people think crispy delicious tempura they think of authentic Japanese restaurants and deep fried battered veggies. Did you know you can make an easy baked cauliflower? And this batter goes great with many veggies; purple sweet potatoes, zucchini, or squash blossoms too!
Baked Cauliflower Tempura
1 bag of cauliflower florets, cut into wedges, carefully
1/2 cup cornstarch
1 egg
1 teaspoon garlic powder
1 teaspoon seasoning salt
1-3 teaspoons soda water
1 ice cube
1/2 teaspoon ghee
Preheat the oven to broil. Get a silicon mat ready and grease it with just a bit of ghee using a pastry brush. After cutting up the cauliflower, mix the remaining ingredients. The batter should be the same consistency as pancake batter. Add the cauliflower to the batter and mix until all pieces are covered.
Layer on the silicon mat and bake in the oven for 15 minutes until the cauliflower is browned just a bit. I love to serve this with Buffalo sauce or use your favorite dipping sauce.