This year for Christmas I decide to buy my boyfriend a sushi bazooka.
If I had one complaint it would be, I really wish the directions had come in English.  As in I am making Japanese sushi, why are all the instructions in French? I think I may have just made him foie gras. I would like to say the Sushi Bazooka is like Sushi Making For Dummies but I'm not sure how to say dummies in French (La Bozo?) Tonight was our first time trying out the Sushi Bazooka. Yeah for YouTube as not having the directions in English is a little none helpful.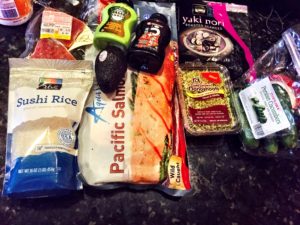 How Do I host a Sushi Night Party?
A sushi night party has to center around other dishes rather than just sushi. We live in a mountain town two hours from the sea. Fresh fish is hard to find unless it's catfish or trout we pull out of our local alpine lakes. Ever tried fresh water sushi? Don't. Just don't.  All these fish you catch in the waters of mountain towns that at one point had any kind of gold mining at any point are sally ripe with mercury from the 1800's. One more reason that trout and catfish are not popular sushi style.
Because fresh fish is so hard to find I try to spice up our sushi night menu with a Japanese style salad with a carrot miso dressing or sometimes I will make my famous Curried Tempura Purple Sweet Potato's.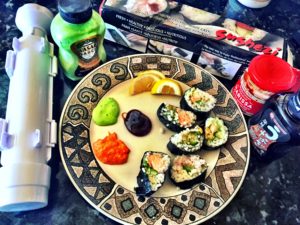 Being that we are just so far from the ocean here in our mountain resort town for us frozen fish is the way to go. The good news about using fresh ahi, salmon or albacore is it is usually all flash frozen and defrosts still in top quality.
I tend to do a few marinated aha rolls, a smoked salmon roll with avocado and wasabi cream sauce and a albacore roll with crunchy Persian cucumbers, avocado and eel sauce.
Marinated Ahi
2 ahi filets, defrosted and cut into bite size pieces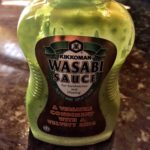 1 teaspoon sesame oil
1 teaspoon soy sauce
1/2 teaspoon minced garlic
1 teaspoon minced ginger
Juice of half a lime
Mix all the ingredients together and add the ahi pieces  last. Toss gently and refrigerate at least thirty minutes before eating with avocado and red cabbage poke style or adding to your favorite roll.
Harissa Mayonnaise
1/4 cup mayonnaise
2 tablespoons harissa sauce (I buy the Trader Joe's one)
Juice of a third of a lime
Combine all together and add to your favorite roll
How to Make Sushi Fun for kids
Well first of all you need a sushi bazooka.
I bought the sushi bazooka off of Amazon as a family Christmas gift because I thought making sushi would be a fun family event. It definitely has the means to become that but the sushi bazooka takes a bit for an adult to learn to use it. It would be extremely frustrating for a kid to learn to use! The patience to roll my own rolls makes me really appreciate sushi chefs! At our first sushi night party the rolls were all devoured about as quickly as I could slice them but I have to say some of them were not exactly the prettiest. But man did they taste good!
Having kids help to make the sushi (Even if they are just helping to pick out the fillings for each roll) is a great way to get the kids involved and get them to want to eat healthier. If they are old enough, you can have them help cut the avocados or cut up the Persian cucumbers. I even made up some leftover cucumber rolls for my boyfriends daughter to take in her school lunch.
For theses Crispy Rice Squares with Spicy Ahi I have my boyfriends daughter help shape the squares.
Crispy Rice Squares with Harissa Ahi
1 pound ahi, chopped into very small pieces
4 tablespoons Harissa Mayonnaise
1 cup sushi rice, cooked
1 teaspoon soy sauce
2 tablespoons butter
roasted ghost pepper rings (Optional)
Form rice into rectangle bite size pieces. In a hot skillet heat butter, add a splash of soy sauce. Add rice blocks and cook on each side. Let cool just a bite and top with a spoonful of the spicy ahi. Top with a roasted ghost pepper ring if you like it spicy!
Buying the sushi bazooka was such a fantastic idea for our family and friends! Everyone loves a sushi dinner party and homemade sushi is such a healthy dinner alternative!
Like this post? Don't forget to pin me!