To some people, autumn might mean sports ball and pumpkin spice lattes (maybe not at the same time.) If you ask me, autumn tastes like acorn squash with the smells of wood fires in the chilly air. Autumn means cold temperatures not minty degree days like when I journeyed to Orange County to Christmas shop yesterday. A perfect autumn day would dawn overcast with oak leaves flying through the air and the smell of rain as the sun is just barely coming up over the horizon. My perfect autumn day starts with running shoes crunching through oak leaves and sweating my way up a dusty mountain trail as the sun is just barely up and the clouds are just lovely colorful silhouettes in the distance.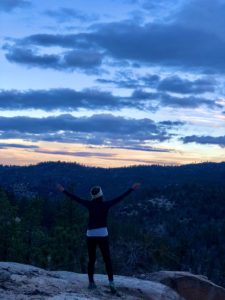 Of course, if you ask Uncle Sy, my silly old grey cat, any autumn morning I make waffles for breakfast and then leave them unattended is a great morning.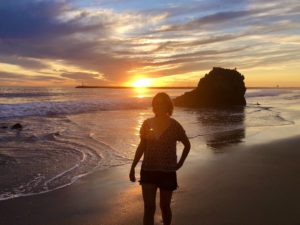 We have spent our Sunday morning, no not watching the sports ball and trekking trails, but frantically readying the back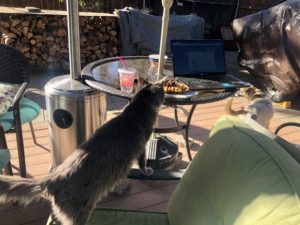 yard for our first snowstorm of the fall season. Mountain life; Yes, that means we stack the wood, get the snowblower ready, buy all the groceries, which means visiting a plethora of different stores; Whole Foods, Sprout's, Trader Joe's and the Asian market for fish and mushrooms. Whew, after all that, plus a quick stop to enjoy a fantastic sunset at the beach, okay now I am ready for winters first storm. We are stocked up, everything is put away outside and we are ready to not leave our mountain town for a week.
So it's a chilly autumn morning and you are looking for a gluten-free healthy protein-filled breakfast ideas. Look no further then this acorn squash filled treat! These acorn squash waffles are so tasty and full of healthy veggies and almond meal.
Acorn Squash Gluten-Free Waffles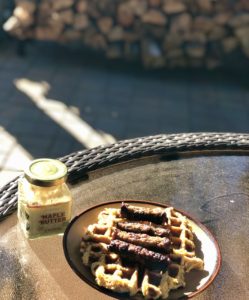 1 acorn squash, roasted, skin removed
1 egg
1/2 teaspoon cinnamon
1/2 teaspoon baking soda
1/2 cup almond meal
1 teaspoon coconut flour
1/8 cup candied ginger, chopped
1/2 teaspoon vanilla
After the acorn squash is cooled, mash it with the egg. Add the rest of the ingredients. Add the acorn squash batter to the preheated waffle iron.
Serve this acorn squash waffles with apple sausage and maple butter. Just for the fun of it, I'm linking up once again this week with meatless monday.

Love this healthy recipe? Don't forget to pin it!