I'm sitting in a Starbucks Airport in Honolulu sipping a Cappuccino and waiting for that Hawaiian sun to rise. It's December 31st, 2015 and this was how I began my New Year's Eve morning. A New Year's Eve that ended with me sleeping on the floor of the Sydney Airport one flight later. Might sound like a lonely way to celebreateNew Year's Eve but I was on my way, flying halfway across the world to celebrate he New Year on Fitzroy Island in Australia. The Hungry Mountaineer may not like sleeping on hard dirty airport floors but she loves eating fresh prawns pulled out of the sea hours earlier at her beachside cottage.
    Finally, I mean after all the flights and the hours of sitting in airports are over.
    I've been sitting here at Starbucks since four a.m. Yes the Cappuccino is chilly at this point. I really wish I was at the beach a mile away watching the Hawaiian sunrise there but check in doesn't open for an hour for my connecting flight and I don't feel like wheeling my giant suitcase on the beach.
     It's very tempting though.
     In my hometown across the ocean to the east it's winter today. My friends and family awoke to frosty roads and the promise of snow.
     It is winter, even though I'm this close to putting on a bathing suit and enjoying this eighty-degree morning so here is a recipe for some ridicules delicious soup, pefcet for a cold and chilly winters morning.
Philly Cheese Steak Soup
1 pound quick to cook sirloin
1/2 cup pearl onions
1 tab olive oil
1/2 cup crimini mushrooms, sliced
1 carrot, chopped
2 stalks celery, chopped
1/2 cup red bell peppers, sliced thin
1 1/2 cups beef stock
1 1/2 cup water
1 1/2 cup cheddar cheese with caramelized onions
1/2 cup heavy cream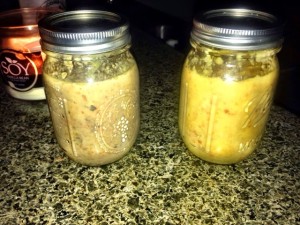 In the olive oil brown the celery and carrots and set aside.
When cool blend up in a food processor.
Add the sirloin to the original pan and cook for five minutes. Add the pearl onions. Add the pepper pieces as the onions are cooking cut up the sirloin with scissors into bite size pieces.
Add the mushrooms and the celery, carrots.
Let cook five minutes. Add the beef stock and water.
Let the soup reduce for one hour just simmering.
Add the grated cheese. Let cook fifteen minutes. Add the cream and serve.
Linking up again this week over at Kahakai Kitchen for another
souper
Sunday blog hop party.