Today it's snowing the way it used to snow in 1990. The only problem is it's mid May.
This is not June Lake high up in the Eastern Sierras. We do not get snow this late. Hell, this year we barely got any snow even in January! As soon as my boyfriend and I bought plants and put the boat in the water last week winter reappeared. I remember last mid May I had already spent three separate days swimming at the creek! It's almost Memorial Day and it's no where near sunshine and warm days!
I honestly can not remember a time in May that it snowed this hard.
I am so enjoying it! I have had a fire roaring away all day long, bundled up in my leggings, leg warmers and warmest Patagonia sweater. My felines are beyond happy that there has been a fire roaring all day and I do have a little eucalyptus  hardwood left.
At the same time I am really, really sad for what this unbelievable spring storm is doing to our local economy. Spring snow is supposed to be good, right? Well, yes, in March when the ski resorts are still ski resorts and have not morphed into mountain bike parks for the summer months.
This weekends plan was to watch the Amgen cycling time trials from the boat on the lake. Yesterday Amgen announced that the time trials are being moved to Santa Clarita instead. This is a giant blow to our economy up here. Most of the hotels in Big Bear should have been booked for the weekend and now all those tourists and cyclists are going to Santa Clarita instead
This recipe was inspired by the amazing breakfast potatoes my boyfriend makes. My good friend Lesandra gave me the hint to use sweet potatoes instead and boom! This recipe just got that much healthier!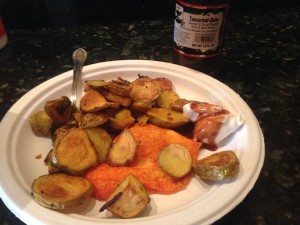 Mustard and Turmeric Baked Indian Style Sweet Potatoes with Eggs, Greek Yogurt and Date Tamarind Chutney
1 sweet potato
2 eggs
1/2 cup ghee (or coconut oil)
1 tablespoon mustard seeds, ground
1/2 teaspoon turmeric
1/2 teaspoon black pepper
1 clove garlic, chopped
1 tablespoon ginger, grated
3 tablespoons Greek yogurt
3 tablespoons date tamarind chutney
1 teaspoon parsley, chopped
Peel the sweet potatoes and cut into bite size pieces.
Fry the sweet potatoes in the ghee or coconut oil and drain the excess oil.
In what remains in the pan cook up the garlic and ginger with the potatoes. Add the spices until fragrant. Move the potatoes to the edge of the pan and fry up the eggs in the extra space. Garnish the whole thing with chopped parsley, Greek yogurt on the side with a drizzle of the tamarind chutney.
You can buy tamarind chutney at Ishopindia.com