Seven days ago I rolled my ankle real good while doing this.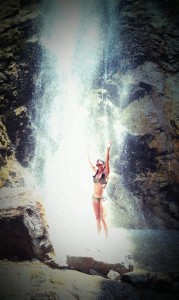 Yeah that is a massively awesome waterfall.
And yes, it is as cold as it looks.
This was pure snow run off.
It felt amazing.


The day we did this hike it was one hundred and ten degrees in the sweltering valleys below the alpine forest I live in.
I've had a goal in the last few months to explore the San Gorgonio Wilderness area of the mountains I live in.
In a way this is very fun; in another very frustrating, as you need a Wilderness Pass to go anywhere in the San Gorgonio Wilderness (And getting a pass is a huge cluster fuck of annoyance)
Last week Janette and I tried to find Forest Falls. We had both thought we had been there ten years ago and our good friend who lives up there in the tiny Forest Falls hamlet of two hundred people was suppose to meet us and be our wilderness guide.
He never showed up so we went out on our own.
We gave up after hiking up the river bed forever (Okay only two miles) on a ninety degree day. We ended up swimming and picnicking at Thurman Flats instead, which was nice on a not crowded Wednesday afternoon.
The pools at Thurman Flats are located less than a quarter mile from the parking area on the side of Highway 38 and I could see how this area could become hellish with Snow Pigs, litter and people partying on weekends.
But on a Wednesday the trash was minimal and so were the people.
The little trail is lined with fields of black berry bushes all the way down to the little rushing creek with pools of water about three feet deep around most bends in the stream.
We had a nice afternoon picnicking and swimming.
But we still had the need to find the falls.
So we tried again three days later.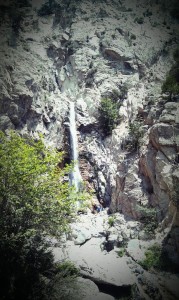 Sucess!

Janette and I were wearing out water shoes; we are experienced hikers and used to threading our way through streams. We do not jump rock to rock like the girls in their fancy Asic running shoes (Okay, I also wear Asic running shoes; when I run, not when I am creek splashing) After we made our way down the river bed and made a right into the thick forest of the San Gorgonio Wilderness we were able to climb up the falls very easily, not like the other people we saw doing this hike, who were skipping rock to rock, trying to not fall in, aka the hard way.
Halfway up the falls I discovered there is a trail that run along side the falls and yeah, much easier going, although not as cold and refreshing.
The water running out of Forest falls felt just amazing on the way up.
We hiked all the way to the edge of the biggest fall and had a great time there having a picnic lunch and jumping in the falls repeatedly.
I cant believe how many years it took me to discover this amazing spot that is really quite easy to get to!
I also can't believe how much my ankle still hurts and I am becoming so frustrated with a week of sitting on my butt!