On a humid summer's eve as thunderstorms drench our mountain villages this was a fantastic fig korma to whip up in the backyard under the canopy. We cook outside on the BBQ grill's stove in the summer months to keep our house nice and cool as much as possible on those hot summer nights.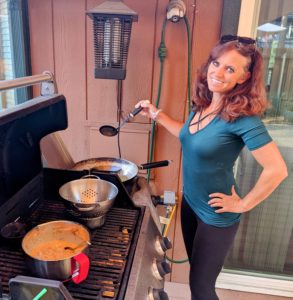 Of all the summer projects we worked on this June (And there were many!) installing solar panels on our RV, learning how to change brakes and rotors on the same RV, planting three hundred sunflowers in the backyard, of which my dog has now eaten 295,  one of the best changes we made to the backyard was giving our twenty-year-old barbeque a facelift. Grilling up fire-roasted pizza crusts on this propane-powered beast on a sunny Sunday afternoon as more thunderstorms are peaking on the horizon is a great way to prepare a simple Sunday lunch. This summer we have spent many an afternoon or evening cooking dinner al fresco in the backyard. This barbeque could be twenty years old but after we replaced all the innards with shiny new parts she is basically good as new.
Who wants to turn on the oven in the summertime?
Fun (And yet sweaty) fact! Most homes in alpine communities do not have air conditioning! It just does not get that warm in these mountain villages above 6,000 feet for the most part. It can not exactly be ideal on an eighty-nine-degree summer's day to not have air conditioning when you go to bed in the evening. Our summer days in Big Bear Lake with near-perfect weather do make up for that. But most Big Bear's chefs will do just about anything to avoid turning on the oven between June and September.
We have lucked out weather-wise this past two weeks as it has rained, poured and hailed every single day since we have been back from vacation. We have enjoyed every minute of every thunderstorm with a baileys and coffee in hand every afternoon. Is there really anything better than a thunderstorm roaring through your neighborhood on a random Tuesday afternoon, you are already done with work, have a good book in your hand and don't have to go anywhere?
Now if only the garden were not a flooded marsh…
Of all the fruit we have growing in our garden (Apples, peaches and plums) we do not have any figs growing in the garden. (And I don't think fig trees would survive the eight degree nights we get in February anyways) This summer season in our garden we have actually had more plants drown because of the crazy three inches of rain we got in just a few hours last week. In all my twenty years of being a gardener with not exactly a green thumb, I have never actually drowned any plants until the year 2021. Because obviously if shit is going to get crazy, it's going to happen in 2021! My three different kinds of fancy Whole Foods worthy tomatoes are still sitting in two inches of water after yesterday's monsoon event. I want to complain but I just love the rain so much and we see so little of it in southern California. So I will just bite the fact that I spent forty dollars on tomatoes this spring just to come away with four extremely expensive Whole paycheck tomatoes. They were extremely delicious though. Like candy but yet tomato flavored.
Nightmare on Fig Street
I used to be terrified of figs. True story. I had a traumatic childhood memory that involved figs, tears and my dad yelling in the kitchen. I swear all my most traumatic childhood memories my mom says she has blocked out. She does not recall one bit why I spent most of my life hating figs and Burger King Whopper's But as an adult, fig pizza with the help of many kinds of cheese helped me get past those suppressed childhood memories. When I threw figs in a korma then  I was definitely back on the fig bandwagon.
Getting over my Anjeer-phobia
Did you know that anjeer is the word commonly used in Indian cooking for a fig? You find anjeer in a lot of common Diwali recipes like this easy and delicious Fig and Walnut Halwa. It's almost like an Indian version of baklava. This fig korma is almost an African-Indian fusion of flavors with a bit of a Morrocan twist thrown in. You wouldn't find anything like this on any menu in touristy Agra in northern India where all the tourists flock to the Taj Mahal. You certainly would not find this kind of fusion in any hole-in-the-wall Indian restaurant in the United States. (Like this one; Our favorite Indian restaurant in Las Vegas, Nevada.)
Figs are obviously easier to grow in warmer subtropical climates like India. Not so much so in an alpine resort town like Big Bear Lake. We have kept a subtropical curry plant alive for three long winters now. This would give us hope if we ever got brave and decided to try and keep a fig tree alive through three feet of snow and eight-degree winter nights.
So did you invest in way too many figs at the farmers market?
Do you just love figs but not in a Newton cookie?
Are you looking for a different version of simple chicken curry?
Or maybe just trying to get past all those repressed childhood fig memories?
Fig Chicken Korma Curry
Try this delectable summer chicken korma! As summer cools down into autumn this is a fantastic way to use up the last of those anjeers in your fridge. The fresh figs that go into this curry make it a flavorful summertime dish. I even freeze figs at the end of the summer so I can make this savory curry well into the fall. I prefer making this korma with homemade lamb, beef or pork stock but you can always use chicken stock as well.
1 pound chicken thighs
2 red onions, chopped into quarter rings
1 serrano, cut in half
3 teaspoons ghee
2 teaspoons garam masala
1 teaspoon cumin
2 cups water
3 cups pork, beef or lamb stock
1 1/2 cups fresh figs, cut in half
2 cups Greek yogurt
1 cinnamon stick
1 teaspoon chopped garlic
1 teaspoon minced ginger
1 1/2 teaspoons salt
Heat up 2 teaspoons of the ghee in a wok. Roast the chopped serrano in the ghee until just browned. Add the onions and cook well until brown. Cook for at least 10-15 minutes. Mix the chopped bite-sized chicken pieces, garlic, ginger, and Grek yogurt. Put the chicken in the fridge to set until needed.
Let the onions cool and blend until smooth in a blender or Mixi. Return the onion mixture, plus the garam masala and cumin to the wok. Add water slowly half a cup at a time and roast as the mixture drys add more water. Roast at least thirty minutes, adding more water a little at a time. Add the cinnamon stick. Add stock slowly for the last ten minutes to come away with a thicker broth.
In a fresh wok, roast the figs in one teaspoon of ghee. Put aside until smooth then puree. Add the chicken/yogurt to the onion broth, adding more stock as needed. Stir and mix for at least thirty minutes, adding the salt and more stock to come away with a thick stew. Add the fig mixture and let reduce just a bit for another fifteen minutes.