I don't miss Target very often unless I happen to be in Bangalore India. Today as I lugged five bags of groceries through the ninety degree heat I was missing Target and the convenience of home just a little bit.
Part of that could have been lugging five bags of groceries through four different stores while dripping sweat from every orifice. Welcome to running errands in Bangalore, India. Traveling in India as a woman means wearing long sleeve and a long skirt even on a ninety degree day; that did not help matters.
Amazon Prime, man, did this make me miss you!
As pain in the butt as this was, the convenience of walking to a fresh fruit stand in our neighborhood of Bangalore, India where we are staying this month, each morning is fantastic for fresh, locally grown produce.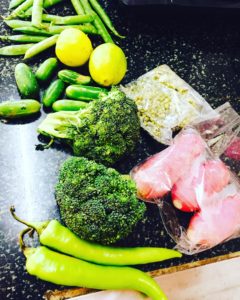 My boyfriend insisted when street shopping in Kammanahalli I needed to barter with the produce seller, but when I got my total for two days worth of produce it was only 100 rupees. That translates to $1.45 in U.S. dollars! How can you possibly argue with those prices! Of course if you want to become an expert on haggling check out this guide from Thebrokebackpacker.com.
After a sweaty and hot trip to four separate stores to buy groceries, aspirin and fresh veggies I was finally back in our little Kamma-Manhatten kitchen in Bangalore India.
As I stood there taking in all the farm fresh veggies I had just purchased I had two thoughts.
1. I have had no fresh veggies in nine days aside from Paleek Paneer. How am I still alive?
2. I have not actually cooked anything myself from scratch in almost two weeks! That has to be a Hungry Mountaineer record!
One thing about Bangalore India, it is nearly impossible to find anything healthy in this country! Paleek Paneer is about as healthy as it gets! I have been craving juice of any kind for the last nine days and every single juice you find in stores in this country is just loaded with sugar! Today at the grocery store I found Minute Made brand orange juice and I was all excited, thinking this is an American brand, it can't have a cup of sugar added to it! The issue here is unlike the U.S. food items you buy in the stores do not always have the ingredients listed on the packaging so there is no way to know that the orange juice you just bought has a cup of sugar added to it! At home I would just buy fresh oranges and juice them myself but for one thing the citrus is not in season here. I bought some tangerines that looked great the other day and they were beyond terrible. Number two I did not haul my blender or nutribullet across the country so I have no way to actually juice fruit I might find!
After I realized the juice I bought was a diabetic nightmare I set about chopping up veggies for this delicious and easy veggie Raita. I used fresh curd yogurt that they sell in India. It's the most amazing yogurt ever! But if you can't find this kind of yogurt use the best quality plain full fat Greek yogurt you can find.
Cucumber and Radish Raita
2 cups curd yogurt
1 Persian cucumber
1 bell pepper
1 large radish
Squeeze of half a lime or 1/4 a lemon
1 teaspoon salt
Cut all the veggies into very bite size pieces. Mix with the yogurt, citrus and salt and serve as a side to your favorite Indian dish!