If I'm going to enjoy delicious treats on the top of an Inyo County mountain pass, chances are it will probably have almond butter somewhere in the ingredients list. Recently I found myself enjoying one of those kinds of sunrises full of magentas and deep lavender hues you can only really find in the eastern Sierras.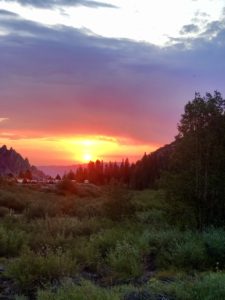 I was slogging my way up the trailhead to Kearsarge Pass, eventually at almost 12,000 feet. Thank God I had a cashew butter and collagen-filled protein bar clenched in my dirty hiker fist as my legs powered me up these unforgiving switchbacks. This sunrise on this end of August hike was a few hours of rainbow-filled beauty bright to me by days of monsoon weather, leaving behind the most gorgeous cloud trails and even bringing afternoon thunderstorms.
Not only did I witness epic sunrises, a few thunderstorms and run-ins with marmots and giant bullfrogs but I summited three mountain passes in three days of my Eastern Sierra adventure. And I'll say for sure that healthy snacks like these collagen and cashew butter bars definitely kept my body fueled for all those uphill treks up the Kearsarge Pass and beyond.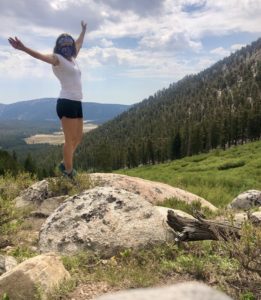 I hiked more than fifty miles in four fun-filled days from Cottonwood Lakes north to the Golden Trout Wilderness and found trailheads nearly big free, which is one thing I love about hiking in late August. It was so pleasant to not have to deal with insects but I did encounter the biggest insect of all.
I call them the All Trails Hikers. These are new to hiking hikers who don't understand how to be bear aware, rely only on their cell phones and can't read a map to save their lives. They are constantly stopping my upward progression on the steepest switchbacks to ask me trail questions because "There is no cell service here" I know, just shocking in the backcountry. They leave Gatorade and Red Bull trash in their wake and don't have words in their vocabulary like pee rag and leave no trace.
And obviously, ninety percent of these first-time hikers were not wearing masks as I enjoyed an eastern Sierras sunrise while they were still asleep in their beds Wednesday morning.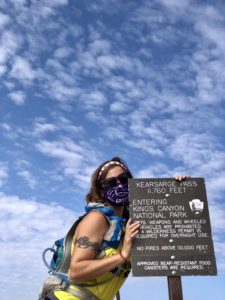 I always say, why are there not more almond butter and cashew butter products that really showcase this awesome nut butter. I am not a peanut butter fan as it just does not taste as good as either almond or cashew butter and it's usually chock full of sugar. I don't get how almond butter is so trendy but it's so hard to find delicious almond butter products.
Last week I made the mistake of buying GMO crap filled Snickers with almond butter because of almond butter! I was so excited! But Mar's let me down. These chocolate bars literally tasted like nothing. They were super disappointing.
Thank God at Sprout's market I found these delicious cashew butter delights. These are not only low sugar but they are the best tasting protein bar I have had in a really long time! Not only that but they are chock full of collagen which makes my thirty-eight-year-old hiker's knees so damn happy. But as much as I love these delicious cashew butter bars, I want to make my own homemade cashew goodness concoction. So into the Hungry Mountaineer test kitchen, I went.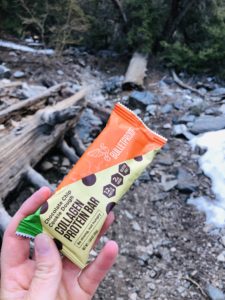 I recommend homemade grated coconut for this recipe. After you master desecrating a coconut it's quite easy to make at home. If there is one food I love to make from scratch it is homemade coconut milk and grated coconut. It's so easy (Once you do it a few times) that you will never go back to store-bought! Well, except for that one time that I tried to scrape out the coconut the old school way while hugging a gallon of wine, a sharp knife and crying. This was at a dinner party by the way. That was before I discovered frozen coconut chunks. Oh, thank God I discovered frozen coconut chunks. These babies made my life so much easier and I drink a lot less now. (And I don't cry at dinner parties anymore)
Cashew Butter Bars
1 cup vegan cashew butter
1/2 cup gluten-free oat powder
1/4 cup coconut flour
1 cup almond flour
1/4 cup Collagen powder
1/4 cup organic spirulina powder
1 teaspoon vanilla
1/4 cup shredded coconut
4 dates, seeds removed
2 teaspoons coconut milk
2 teaspoons coconut oil
3 teaspoon flax seed
2 teaspoon chia seeds
Put the chia seeds, dates, flax and shredded coconut in the food processor until well grated. Mix together the rest of the ingredients. Layer in a coconut oil baking dish and bake at 375 25 minutes until just beginning to brown. Slice into bars when cooled.
If you loved this healthy recipe don't forget to pin it!