Adventures on the Whitney Trail and a recipe for Camp Fire Sloppy Joe Stuffed Bell Peppers
This is why we crawl out of our warm sleeping bags at three a.m. It's to watch the sun rising above the trees in our dark camp ground. As we quickly enjoy our morning coffee in the dark, head lamps on our heads, this is why we brace ourselves against the chilly wind (even in late July!)
The coffee and the deserted forest sunrise felt hours ago as I had been hiking slowly and steadily uphill since just after dawn. I was already feeling the steady incline and this was just the first few miles! Sometimes as my calves start to hurt and my head aches just a little, a sign of the super high altitude, I think to myself, why am I doing this? Why am I forcing my body up another mountain?
Than I have mornings like this one; crossing creek after creek across slippery moss covered rocks and logs. I feel like giving up than like a scene out of a movie, so completely unreal, I realize there is a older baby deer in the middle of the trail just in front of me!
As I stood there in the middle of the single track trail I was amazed as the fawn began to walk towards me!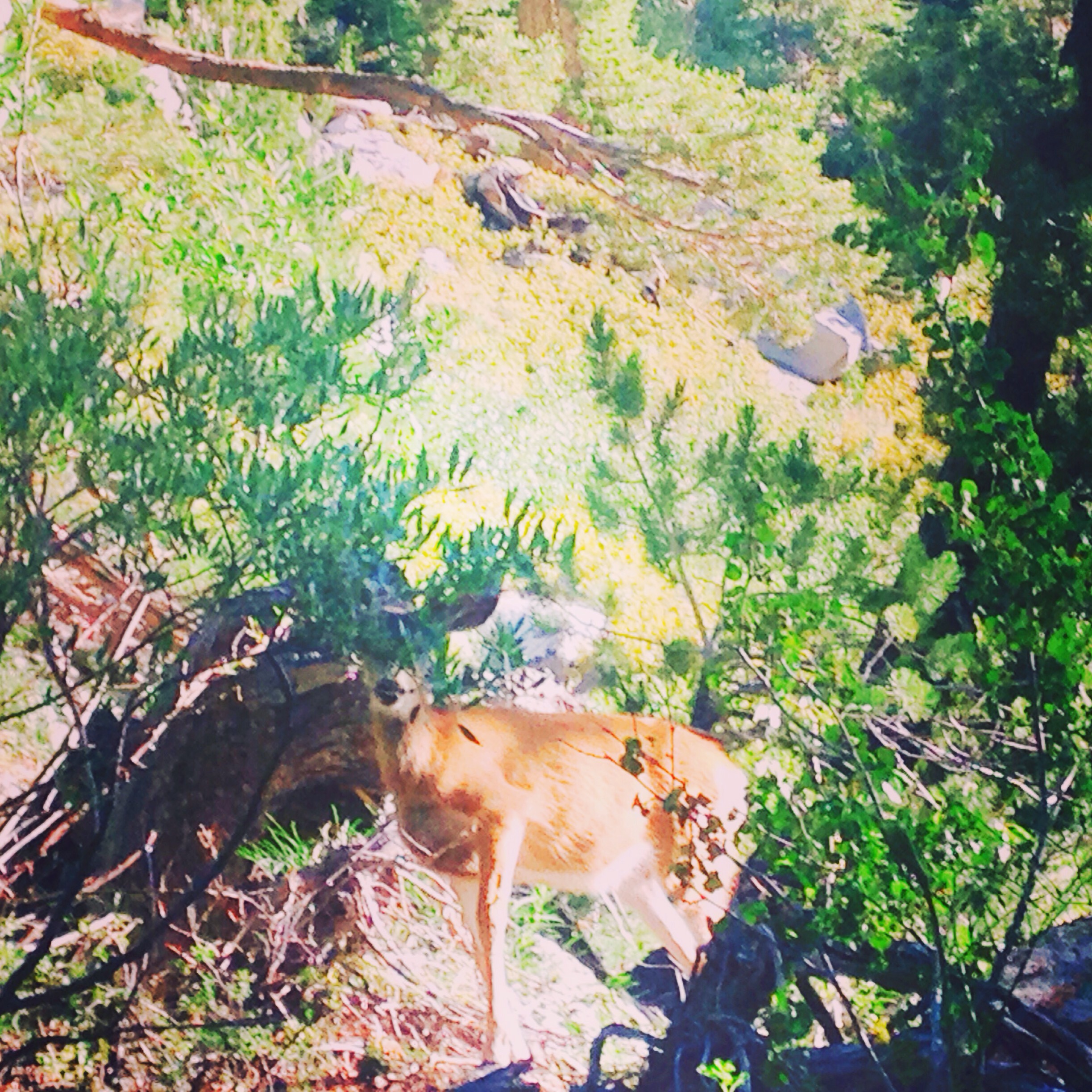 I was slowly, slowly reaching for my cell phone/ camera. There was a rustle from the bushes over yonder, I'm sure it was mom saying
"Hey Dumb Dumb! Don't talk to people!"
The little deer calmly sauntered to the side of the trail, still chewing on grasses and looking at me so curiously. He was so gorgeous and young enough to still have the spotting on his rear end but almost old enough to leave moms side soon.
This is why we do this; why we crawl up hillsides on our hands and knees sometimes.
It's for views like this.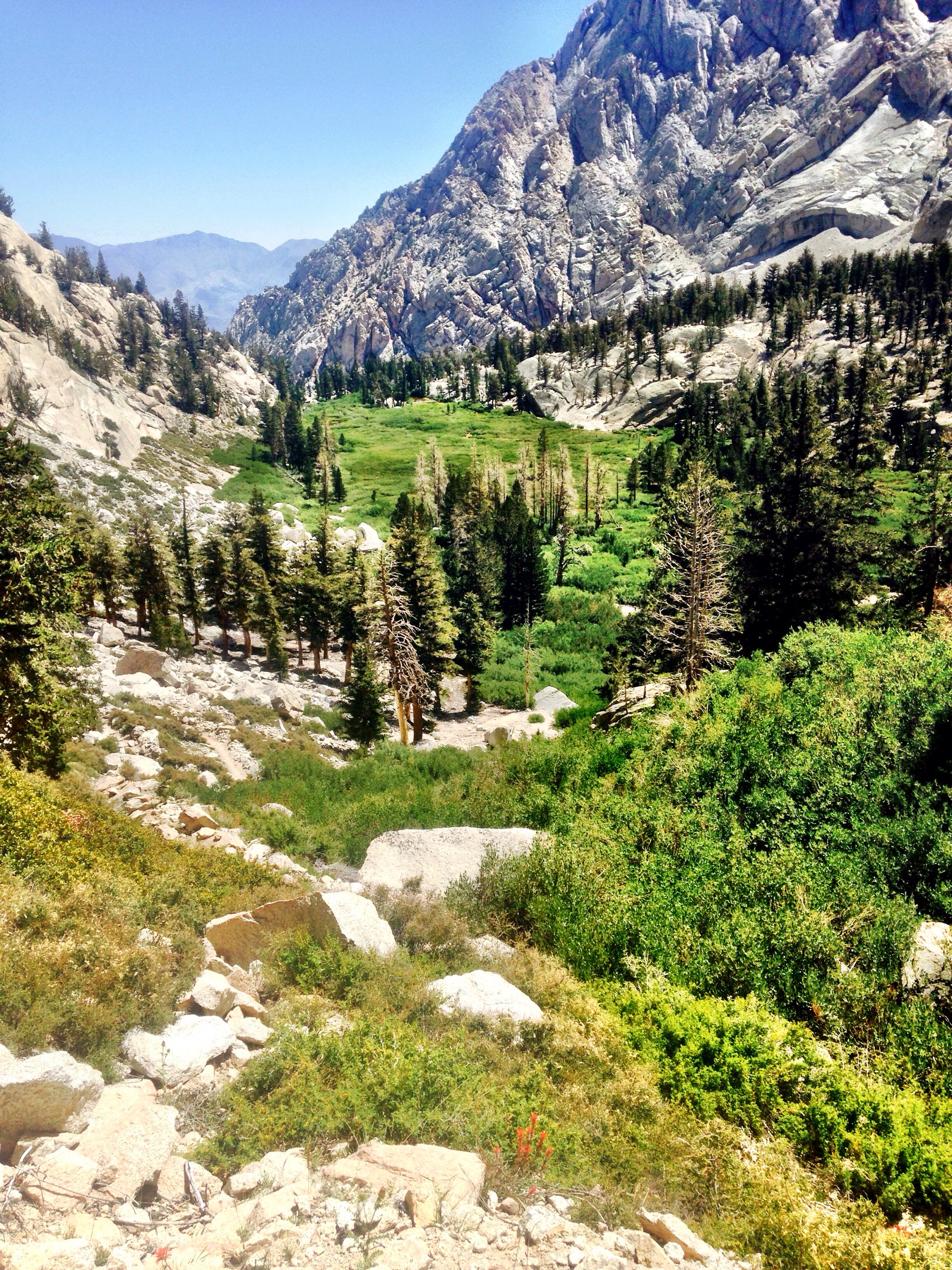 Oh and also because we really like to gorge ourselves on camp food with no ( okay maybe a little) guilt.
I was making dinner for a friend last summer who requested stuffed peppers. He had nothing in his kitchen as he just moved to this area, so I was trying to decide what I could make for dinner with just the most basic kitchen ingredients. This recipe was born. Making these great, easy stuffed peppers over a camp fire tastes even better!
    These turned out surprisingly amazing for just throwing them together.
Camp Fire Sloppy Joe Stuffed Peppers
3 large bell peppers
1 package ground turkey
1 package Sloppy Joe seasoning
1 package precooked brown rice
1 can tomato paste
1/2 cup shredded sharp cheddar cheese
Aluminum foil
Wrap the bell peppers in the foil. Put on the camp fire just at the edge for twenty minutes until the peppers are roasted. You may want to turn them a few times so they roast evenly.
Remove from the heat, take off the
foil carefully and let cool until you can handle them.
When cool enough cut off the tops and place up right on more foil.
While the peppers are roasting on the fire, on your camp stove, brown the turkey and add the tomatoes, the cooked rice and the Sloppy Joe seasoning. When the peppers are cool slightly stuff with the turkey mess, putting the cheese on top. Re wrap in foil and place back on the edge of the camp fire for twelve minutes.