Today was a fantastic gorgeous fall day to hit the trails of Big Bear Lake. We had a fantastic morning indulging in a few of my true loves; hiking with the pups, a little trail running and some outdoor fitness.
Sometimes while living in a ski resort town you find yourself using words like "stupid beautiful" Today was one of those stupid beautiful days. It was the kind of autumn day that is just to pretty for words. It's the kind of fall day that makes you want to throw on some Ugg Boots, a Free People Sweater and a matching scarf, order a pumpkin spice latté from Starbucks and go for a stroll through the woods.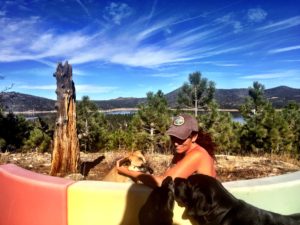 If that's your kind of thing.
Here in southern California our outdoor fitness adventures are a bit different. It involves a pack of farting hounds and the abandoned ski slopes we are climbing up, so steeply we are almost on hands and knees on the ascent. This would leave no fingers free to hold a latté no matter how pumpkin filled it may be.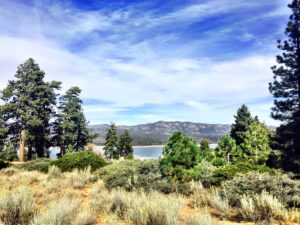 Today was the kind of day where I burned close to 2,000 calories between a morning Insanity High Intensity Circuit workout and than a seven mile hike/run. I had no time to stop at Starbucks and indulge in anything frothy and nutmeg spiced. How could I with this pup in the back seat, practically frantic as we approached Snow Forest, the abandoned ski resort from the 80's. Even though it was only forty degrees outside as we approached Snow Forest, Carly had her head out the window. She was shivering violently but she didn't care! She could see my two friends with their dogs in the cars ahead of us and she was so excited (Friends! Dog friends!) She was having a hard time controlling herself judging from the whining coming from the backseat area of my Subaru.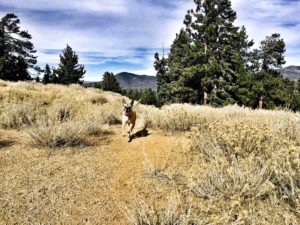 Carly was just dying to hit the trails with her doggy buddies and have a great day outdoors in Big Bear Lake. It was a morning full of hiking and outdoor fitness fun for not just us humans but also the canines; even the chubby ones! And I mean our pups; not us ladies! As we started hiking up the old ski resort I had no idea what a gorgeous morning we would be treated to.
It was one of those mountain mornings where you just want to take photos of everything. ( Well maybe not Smokey drowling) but most everything. As I ran back down the ski resort trails I was saying to myself, thank you Big Bear Lake for reminding us once again, damn, are we so blessed to call this mountain home!
Love my adventures? Don't forget to pin me!