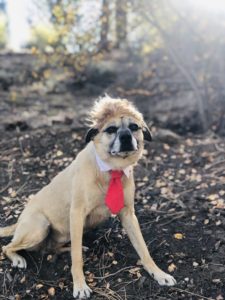 If it's Halloween 2020 then like us you are probably putting on your best blonde Kellyanne Conway wig, taping a bottle of zinc to your chest, shaking a box of kleenex and dancing around the living room. Is my boyfriend dressed up as Donald Trump, you may be asking? (Or assuming) No, but this dog is! Yes, this might be a spooky haunted October 31st in our family. Is it just me or is it scary the resemblance this dog has to Donald Trump?
If it's a chilly fall day in late October in our mountain town then I've been furloughed from work for over six months now. One can only hike their little heart (And cankles) out so much so yes maybe I have resorted to dressing up our mutt as the forty-fifth president. It's not animal abuse; It's patriotism! Does Carly not look proud to be an American?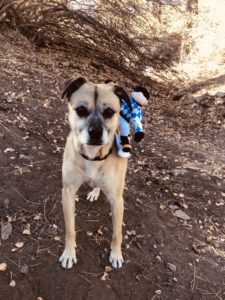 I personally wasn't very excited about Halloween in these germ-filled COVID times until yesterday when I found the most awesome costumes for man's best friend and also my cat. It was just sounding like another Saturday in October stuck at home and wishing I could be working and hauling in the tip money. Suddenly Amazon window shopping boredom happened and I found myself imagining the stretch calls as a tiny jockey rode my dog down our autumn leave covered street. (Yes, our neighbors do find us very entertaining.) Our rescue pup Carly may not be the champion racehorse Swiss Skydiver but she is very fast. Maybe my neighbors think I'm a bit nuts as I encouraged this kind of behavior with many treats and also screamed "And down the stretch, she comes" at least fifteen times. This is exactly what we do in our household instead of watching Netflix all day to relive COVID boredom.
Boo! Halloween Pandemic Style
In this crazy pandemic world, we are living in, who on earth actually feels safe going out trick or treating with kids just to get tiny snickers bars strangers could have sneezed on. There is not enough hand sanitizer in Los Angeles to find me ordering a Candy Corn Martini at a crowded bar while dressed as RBG with friends and coworkers in 2020. Champion drinker Ernest Hemingway may have coined the Halloween cocktail Death in the Afternoon but I don't know anyone who is going to sidle up to a bar and order one of these babies full of absinthe and champagne without knocking on wood during a COVID Halloween monster mash. This Halloween just like every other holiday in 2020 is just a different experience and one that feels a lot safer in the germ-free environment of my own home.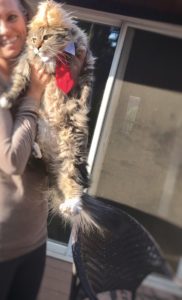 The last week in October 2020 is fast approaching and it started feeling creepy a few months back way before Halloween was on the horizon with houses decked out with pumpkins and cobwebs. We live in a world with murder hornets, an astroid racing towards the earth and a reality t.v. star running this delightful nation of ours. No thanks 2020, I really don't need to be scared anymore. But what I do need is cuddling with my cat in costume (Yes, she is a yuge cat)
So I'll focus on the wacky and the mundane instead, and keep on enjoying all those fall colors mother nature provides. I feel just fine doing Halloween my way this fall; Spending my days hiking colorful leave covered trails with my pup. Yes maybe sometimes all us hikers will be wearing costumes as we social distance six feet apart. It's a great way to enjoy the fall colors and think about how much candy corn and Gluten-Free Pumpkin French Toast we can inhale after sweating our buns off on a sweltering late October sunny day in these mountains.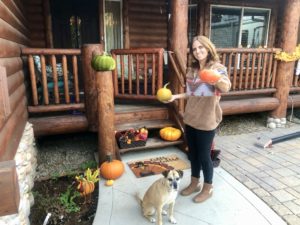 I do absolutely adore the cooler autumn days, especially when we are reveling in our organic garden of pumpkins we grew ourselves. So much blood sweat and tears went into spring and summer of planning and planting this garden. Without having a pesky job to go to every day gave me lots of time to tend to the garden and also spray paint some pumpkins awesome fall colors.
Was breathing in spray paint fumes for three days straight the reason I decided the pets would enjoy being dressed up as Donald Trump? That is a strong maybe. Having tons of time on my hands meant I could go deep into the woods to haul back bags and bags full of these Coulter and sugar pines for arts and crafts projects. Yes, it's basically like kindergarten here but with more spray paint fumes. Now that the paint fumes have dissipated and I have created a colorful rainbow of pine cones our front yard is feeling very fall-like.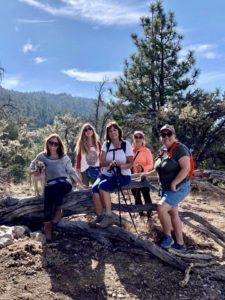 Halloween shenanigans as we once knew them might not be happening in 2020. Too bad for all those cheap sugary diabetic treats given out for free by most neighbors. I'll spend my autumn days out on the trails, in nature with my Donald Trump dressed pup, enjoying just about my favorite season to get outside, get sweating and climb some mountain peaks.