Here in our mountain town of Big Bear Lake, the autumn colors are finally changing and everything is a rainbow of yellow, oranges and reds. It's one of my favorite times of year to be out on the trails with my favorite trail pup and hiking companion. Now that the weather actually feels like fall I'm not longer terrified to turn on my oven. I'm ready to bake some short ribs while we can still afford to buy red meat in our household!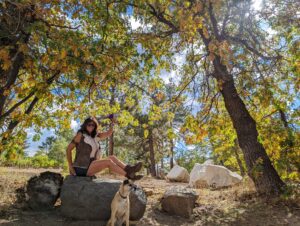 When we were in Las Vegas a few weeks back I accidentally ordered a prime rib as big as my face at Cornerstone Steakhouse at the Gold Coast. Don't get me wrong, the prime rib was fine (And the bacon jam I ordered as a side was fantastic) but this prime rib just did not live up to the prime rib my mom makes for holidays. Here we are in mid-September and I can't find prime rib at my local butcher and even if I did on sale it goes for twenty dollars a pound. Plus let's face it, prime rib is just huge! It's too much meat for our family of three. And I can't afford to be paying fifty dollars for a cut of meat for three people in Joe Biden's America.
Our mountain town actually enjoyed a dumping of rain this afternoon. It was so very pleasant and much needed. But I am praying for my friends in Fort Myers Florida this afternoon. The amount of rain Florida is predicting just sounds insane to my California lifestyle.
I know the peps I know in Florida are feisty, resilient and I'm sure capable of weathering many a storm.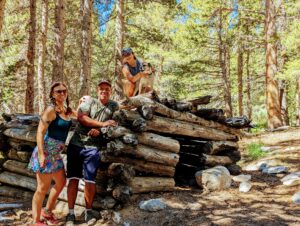 I would expect them to be building an ark out of Coor's Lite boxes just about now and sailing off to Alabama, a Let's Go Brandon flag held high for all the world to see! These are the same red state republicans who made it through three years of Joe Biden so far! From what I have seen from my friends who live in Fort Myers it seems like Fort Myers is a very conservative part of the country. If this storm takes down Mar Lago I assume the people of Fort Myers will just say it's part of those damn democrats and their weather machine!
Clearly, I started writing this blog, many, many weeks ago and my friends in Florida were one of the lucky ones to weather the storm with very little damage. So on to the short rib recipe at last! Now that I am actually posting this blog it is late October here in our mountain town and we are looking back on our summer hikes fondly, like to this hidden old cabin we found back by the Cottonwoods Lakes. In Joe Biden's America, we call this a little fixer-upper for just 100,000 dollars!
You know what they say, Nobody fucks with the Biden's. Except stairs. And Covid. Okay, now I'm really done with the Biden jokes and on to this delicious recipe. Let's all enjoy these short ribs while we can still afford to buy red meat. Red meat, it was what was for dinner. Before Biden was president and we couldn't afford to put it on the dinner table.
Horseradish Crusted Shortribs
4 teaspoons horseradish
4 garlic cloves
1 teaspoon coarsely ground black pepper
2 teaspoons fresh rosemary
1 teaspoon salt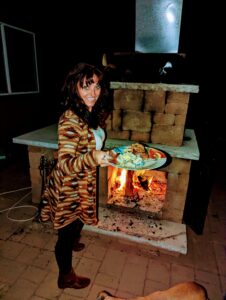 1 teaspoon olive oil
3 cups water
In your pressure cooker, steam the short ribs for twelve minutes. Let sit for half an hour and then release the steam. While these shenanigans are going on, make your meat rub in your blender or mixi. Combine the horseradish, garlic, ground pepper, rosemary, salt and olive oil until smooth.
Remove the liquid from your ribs. Reserve one cup to bake the ribs in. Freeze the rest for your stews and curries or use as bone broth for your dog. In a shallow baking dish, set the ribs in the one cup of the reserved water. Spread the top of the ribs with the meat rub and bake at 400 for at least twenty-five minutes. If the ribs are not tender enough to your liking you can leave them in longer, as long as it's not too long and the meat rub does not burn.