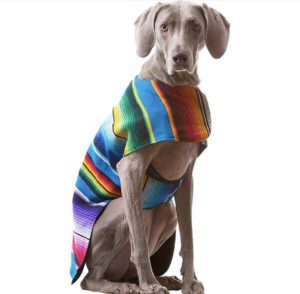 Autumn days in the eastern Sierra mountains mean ruby red leaves falling out of aspen trees onto dusty trails. The weather gets cooler and so pleasant to hike in. I mean until that old high elevation wind picks up at above six thousand feet. The weather can go from pleasant to blustery real fast, especially if you are standing atop of a ten thousand foot ridgeline looking down at scenic Mammoth Lakes down below.
By the time, hours later, the pup and I had hiked back into town, the power was out basically everywhere in the Mammoth Lakes and Silver Lake area. No Looney Bean delicious coffee, no new sweater at the pet store for Carly and no pizza rolls from John's Pizza after our fourteen-mile hike. Believe me, I'm very sad to not have celebratory pizza pepperoni rolls after surviving this gorgeous hike from hell. How have I hiked in Mammoth Lakes so many times and never hiked the Mammoth Crest before? The Mammoth Crest has to have the most gorgeous views of the Mammoth area by far and it seems to be a locals secret of a hike.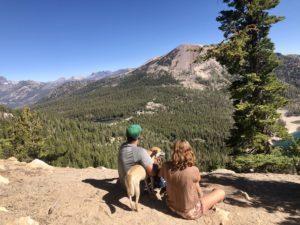 I've spent a lot of time in the eastern Sierra mountains and in Mammoth Lakes and never experienced a fall like last fall. Apparently, in these crazy times where massive wildfires are a huge threat to mountain communities, when the winds get to forty-five miles per hour in Mammoth Lakes the power company turns off the power. This is just in case the power lines go down in the windstorm, foreseeing forest fire season. I mean it sounds like a great plan unless you want to buy groceries or get gas or Pepperoni Pizza Rolls in Mammoth. Or take a shower at your campground during a five-day camping trip. (Obviously, I was a very smelly camper by day five)
Aside from not having working showers our campsite at Silver Lake also had one working bathroom for the whole campsite. It was not ideal whatsoever. And frankly, it's pretty damn ridiculous to close down the bathrooms because there is no power! This is camping! Can't we deal with peeing with no lights on? Although we feel like that could be why every sheriff in the eastern Sierras is here at our campsite and our theory is because some camper had a poopy problem in their campsite as there are no toilets open and that's just ridiculous! It's camping! Who cares if there is no electricity! That's why they call it roughing it!
If I had known there had been no bathrooms at this campsite I would have brought my wag bag collection, leftover from all the time I didn't summit Mt Whitney. Seriously does Mt Whitney not want me to climb her or what?
Wildfires
Massive winter snows
earthquakes, plus rockslides
And now a pandemic
I did manage to summit Mt Whitney during a pandemic a few weeks back but man, that mountain just wants to throw every challenge at me! Not being able to summit Mt Whitney successfully was a problem for me, but I made it happen for my fortieth birthday. Is having too many apples ever a problem for anyone? Here back at home in Big Bear Lake, away from the challenges of Mt Whitney and the challenges of having no power in the eastern Sierras we have one hell of an apple harvest this autumn. I find myself just constantly trying to come up with new apple-filled recipes. Or we can just feed them to baby.
Every day when we go for our after-lunch walk we feed Baby the Burro one apple. Baby is in her twenties now and is on a diet and she is only allowed one apple a day. Twenty years ago she was one of the donkeys rounded up when she was just an adolescent donkey. She had been hit by a car and it was touch and go for a while but now she is part of our neighborhood. Every day at around eleven a.m. when we come around the corner on Maltby Baby hee haws so loud, I feel like the whole neighborhood can hear her!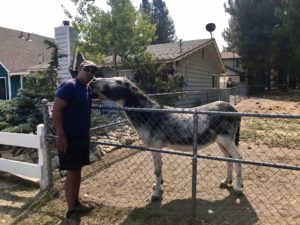 After a donkey filled afternoon walk, I'm usually thinking about what dessert to make for the evenings. This time of year all of those deserts center around apples as we have a plethora of apples fresh from the garden. This is a fantastic vanilla ice cream topper or is a great addition to any autumn inspired cheesecake and a great idea to use up some of those autumn apples if your apple crop was as massive as ours this autumn. I prefer to use Granny Smith apples or Pink Ladies.
Caramel Cinnamon Apples
2 cups apples, peeled and cut into small pieces
1/4 cup butter
1/4 cup caramel sauce
1 teaspoon cinnamon
Combine all in a saucepan for six minutes o until the apples are softened.