These days it's not out of the blue for me to drive 800 miles a week round-trip between work, work and commuting to work, working my four-day weeks 20 hours total has me driving quite a bit.
After experiencing the Hells of Southern California freeways four days a week it's no wonder on our one-week vacation we chose to barely even leave the resort for seven days.
In the last eight months since I've learned to swim, I spend about as much time in pools as I possibly can, luckily taking vacations every few months makes that easier.
This last week as we vacationed at the Welks resort in Escondido, even on the days when it's raining and foggy we spent a couple of hours at the pool. This way I can practice my pathetic doggy paddle and breaststroke for a few hours even as it's sprinkling on us this October day.
Even though we spent one of the first weeks of the fall vacationing at a resort in the pool and going for runs by the gorgeous Pacific Ocean in Del Mar, I was still tempted to come up with some fall recipes.
When we returned from our glorious relaxing week at Welk's Resort I was reading for some fall trail running. I met up with my friend Lesandra and we went out on a sunset run which turned into a mushroom foraging run. We found the most glorious beautiful shrooms on the trail after all that rain soaked our mountains last week! Of course keep in mind we did not find any edible shrooms. We did not come across any morels, which would have been the edible ones. Keep in mind when running or hiking trails… Do not eat any mushrooms you find as there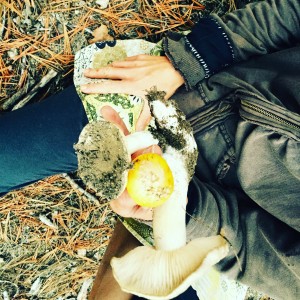 are over four hundred species in most areas and you need an absolute expert to separate the edible ones from the ones that one bite can kill you.
After the fun shroom filled night I was craving mushrooms big time. And pizza. I was totally ready to demolish a pizza.
Another recipe for pizza? Seriously Amber? Yes (hangs head in a carb filled shame) I love pizza and I am the pizza queen. I try to stay away from those terrible carbs but I run so many trail miles that sometimes I tell myself I deserve a cheese covered carb oozing pizza. Days when I run ten miles I so deserve a brie and mascarpone covered pizza.
Brie, Mushroom and Mascarpone Puff Pastry Pizza
1 portabello mushroom, chopped into bite size pieces
2 large oyster mushrooms, cut into bite size pieces
1 teaspoon butter
1 tablespoon fresh thyme, chopped fine
1 tablespoon dry vermouth
2 tablespoon chicken stock
1/2 cup brie cheese
1/2 cup mascarpone cheese
1 puff pastry, pizza crust
1/2 cup mozzarella cheese
Roll out the pizza crust as thin as you can. Preheat your bbq to as low a setting as you can get it.  With the second teaspoon of garlic oil use a pastry brush to put some oil on one side of the pizza dough. Sprinkle some cornmeal on this side. Set the oiled side of the pizza dough down ward on the grill. Close the grill for about two minutes. Open the grill and if the pizza crust has set on the downward side than use the pastry brush to spread the remaining garlic oil on the other side, followed by the remaining cornmeal. Flip the pizza crust over. Close the lid and let bake two more minutes.
Remove the pizza crust from the bbq. Set the crust on a cookie sheet and set aside while you make the mushroom sauce.
In a sauce pan heat the butter. Add the mushroom pieces. Cook five minutes until tender. Add the vermouth to deglaze the pan. Let cook one minute. Add the chicken stock and let cook a minute or two. Crumble in the brie and keep stirring the brie in (If it's still in pieces and does not melt down all the way that is okay.) Stir in the mascarpone cheese.
Place the puff pastry on a cookie sheet. Bake the puff pastry at 325 for five minutes. Remove from the oven and top with the sauce and then the grated mozzarella cheese.
Raise the heat on the oven to 350 and put the pizza bake in for 7-10 minutes until the cheese is melted.