Rainy days were meant for blogging in front of a roaring fire.
This been a pretty phenomenal rainy day. All day long  as I sit in my cabin in front of a roaring fire enjoying this amazing fall weather, friends and family have been texting to tell me they saw my column in the local newspaper.
Yes, that's right. After more than four years of blogging I have my own column. I became a real writer today. My grandma was so shocked when I told her to turn to page ten she gave a little yell. ( It was very cute, in a Jewish grandmother kind of way) My grandpa was shocked,
"I had no idea you could write!"
Its been a really good relaxing by the fire, snuggling with happy kitties and catching up with family kind of day.
When the rain turned to snow my day got even better. I threw another log on the fire, cranked up the Patty Griffin and started peeling acorn squash.
For two days my cabin has been full of the most magical BBQ pork smell. I have had a fire going in my little wood burning stove almost twenty-four seven but for the life of me I couldn't figure out where that magical aroma was coming from.
I was working my way through an agonizing six-mile run this morning, pounding out the miles up hill in the fog when the answer came to me. A week ago I made a pizza with BBQ sauce, frozen veggie riblets, pineapple and goat cheese. I had thrown the cardboard piece that had come with the pizza crust in my wood stove for the next fire. It had a great big BBQ sauce smear on it. Now this had been perfuming my house for the last twenty-four hours!
Finally, the mystery of the delicious pork smell was solved!
On to a delicious vegetarian recipe! You can do a vegan version of this recipe by substituting the Greek yogurt for soy sour cream
Acorn Squash Curry Fries with Tahini Dipping Sauce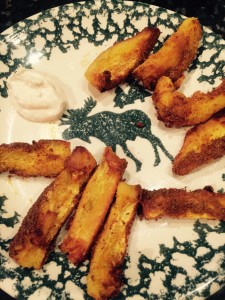 1 acorn squash
4 tablespoons coconut oil
1 tablespoon madras curry powder
1/2 teaspoon turmeric
1 teaspoon garlic salt
1/2 teaspoon chili powder
Cut the squash in half and wrap in plastic wrap. Cook the squash in the microwave for four minutes.
Let the squash cool slightly and use a knife or a vegetable peeler to cut off the skin.
Sprinkle the spice mixture on the squash.
Heat the coconut oil and fry the squash well on each side in the coconut oil. Serve with the tahini sauce.
Tahini Dipping Sauce
1/2 cup tahini
1/2 cup Greek Yogurt
2 roasted garlic cloves
1/2 teaspoon chili powder
Juice of half a lemon
Combine all tahini sauce ingredients in a blender.
On this glorious fall day I am linking up once again for all the weekend writing fun over at Yeahwrite.me