It was 82 degrees and humid and I was pretty sure I had multiple bugs stuck and squished in my hair and in my sports bra.
I had been running for two miles and I had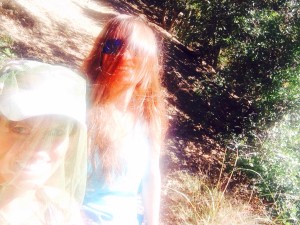 ate three bugs already and had a fourth go up my nose.
I wanted to cry but at least I didn't need lunch.
It must be the El Niño; I don't know how on Earth otherwise the bugs could be this bad. Last time I saw bugs this bad I was on my way to the North Slope in Alaska and being bitten by biting black flies. Living in Southern California I have never in my life come across bugs like this!
Two days later I was hiking in Forest Falls with a friend and thank God I brought my mosquito net hat that time because once again the bugs were beyond terrible! We were literally hiking through clouds of insects! It was unbelievable! My friend Mary did not grab a mosquito net and actually had to walk with her hair over her face the bugs were so bad!
The hike and my run both days ended up being shortened as the bugs were just to bad to continue. So it was home early for me to prepare some amazing gluten-free, low carb pizzas for happy hour!
I made these Zucchini "Pizzas" the other night when we had friends coming over for happy hour and had no food in the house and I was scrambling to make a healthy appetizer. I had no nuts (Which is why I did not add pine nuts or walnuts to my pesto) I actually did not have mozzarella either and ended up just slicing up string cheese!  We did not have any garlic, but we did have garlic chives left over from our CSA produce box. For making these with minimal ingredients they came out absolutely amazing!
Pesto Zucchini "Pizzas"
2 large zucchini
5 garlic chives
1 cup fresh basil
1/4 cup olive oil
2 tablespoons cream cheese
1/4 cup pecorino romano cheese
1/4 cup shredded mozzarella cheese
In a food processor combine the garlic chives, olive oil, pecorino romano cheese, cream cheese and the basil. Combine until smooth. Cut the zucchini into three long pieces, like boats.
Spread each zucchini boat with the pesto. Top with mozzarella and bake at 350 for thirty minutes until the cheese is brown and the zucchini are slightly brown.