The fishing at Jenks Lake today was tremendous!
I concentrated on my strengths;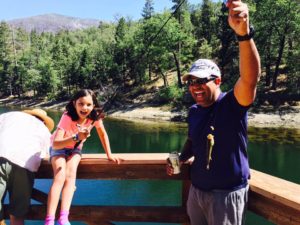 Making cocktails and walking the dogs while two ten-year old girls caught all the bass!
We may not have caught any shrimp but this right here is an amazing shrimp ceviche recipe that's very fruity and refreshing for the summer months and is great taking on a picnic or on a fishing trip.
The best thing about this Mango Ceviche; It's easy in the summer time and you don't even have to turn on the oven!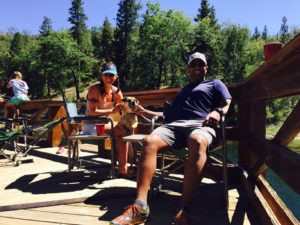 Mango Shrimp Ceviche
1 whole ripe mango
1 bag uncooked shrimp, peeled and chopped into bite size pieces
2 limes, juiced
2 tablespoons cilantro
1 teaspoon salt
1/4 red onion, diced
2 serrano chilies, roasted and chopped thin
2 avocados, pitted and chopped.
In a bowl drench the shrimp with the lime juice. Mix it up with a spoon and let sit in the fridge for ten minutes. While this is sitting mix the rest of the ingredients. Add to the shrimp and serve with tortilla chips or over a bed of chopped red cabbage.