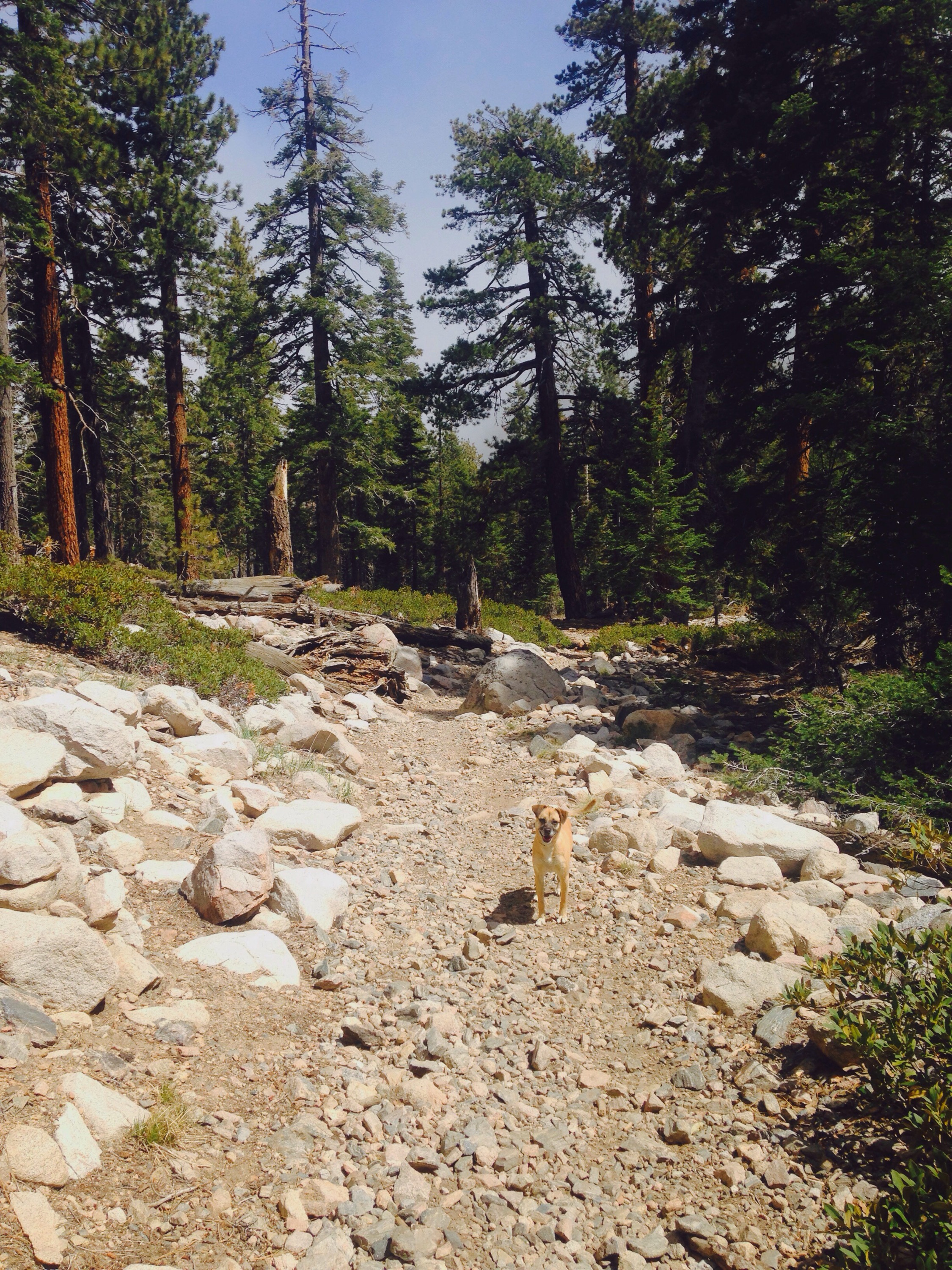 If there was lesson to be learned from today's adventure in the forest it was always get a wilderness pass even if you're taking a familiar trail and you think that you know the wilderness well.
This morning's plan with the pups was to do a simple loop of Lost Creek Trail. It should have been an easy six mile hike but what we didn't count on was the recent windstorm knocking over tree and completely losing the spot where he meet up with the trail again to complete the loop. We also didn't plan on Taylor having to practically carry her 120 pound Rottweiler puppy over each and every creek crossing. Today we discovered that Jetter the Rottweiler is not a water dog. (And I am obviously not a Dodger's fan and have no idea if I spelled that right or not) Carly, my pup for the day, loves the water, as in she loves the water way to much.
We began the hike at Camp Chai in the Jenk's Lake area (We have spent so much time on these trails this winter and spring that Carly actually recognizes Jenk's lake Road and as soon as we turn up it she starts whimpering. ) Even though it's May here and damn it, yes, it is spring time, it is supposed to snow today and for the next twenty four hours. Where we began the hike we were at about seven thousand feet and we could see dark, foggy clouds in the distance but we were hiking in cold spring sunshine.
I thought the cold spring sunshine would keep Carly out of the freezing creek water.
I was wrong.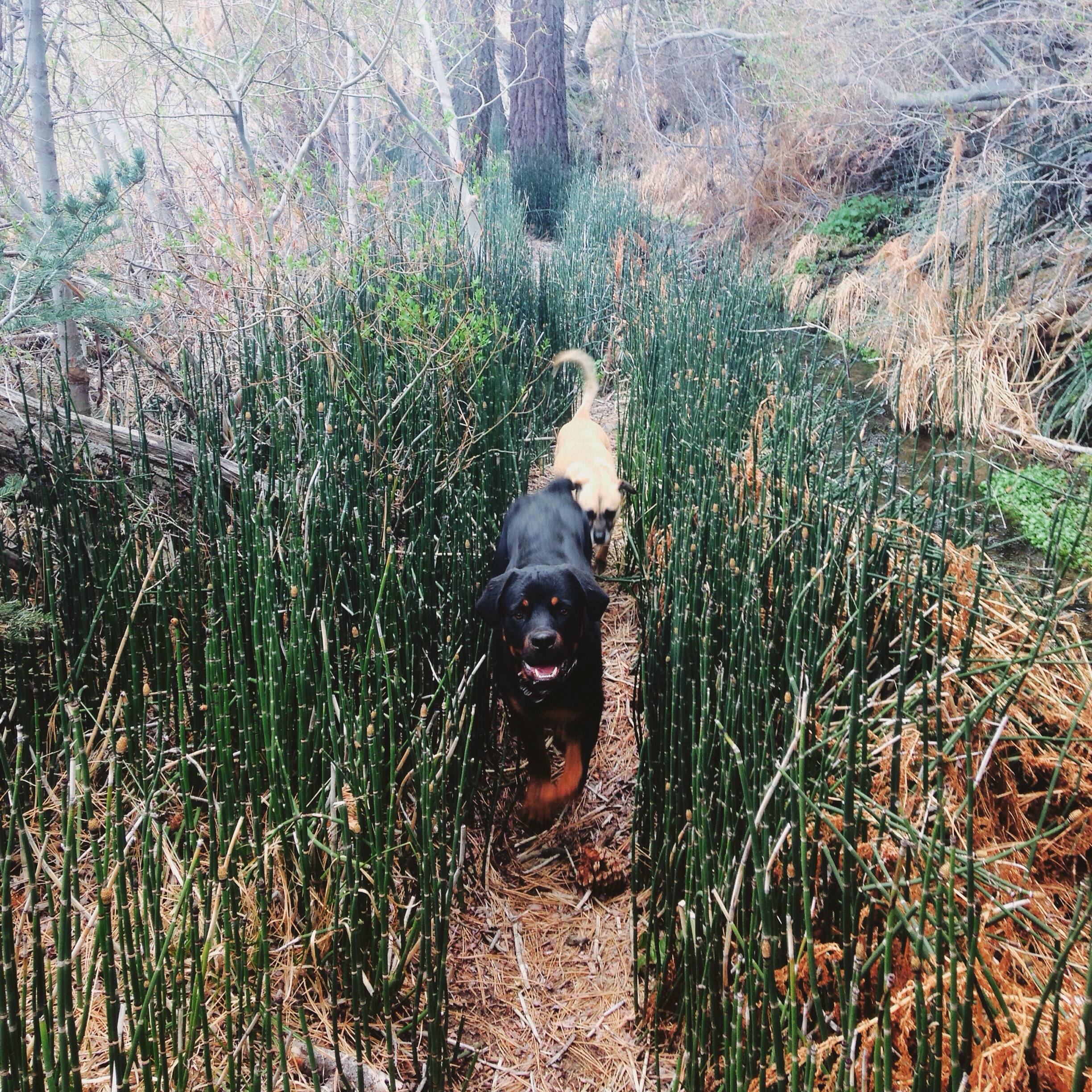 As soon as we were on the trail on the ridge line and we could hear the rushing waters of Lost Creek down below Carly became a maniac. She started completely freaking out. At first we thought she smelled an animal and that was what the issue was, but no, she heard the creek and was just so excited because she loves the water just so much.
As soon as we finally approached the waters of Lost Creek, right at the Wilderness Permit sign, Carly was going in for a swim. Keep in mind it was about forty degrees at eight thirty in the morning at this point. Carly was having such a great little swim that she didn't even realize at first that there was a drake, a male mallard duck in the creek right next to her! As soon as she realized she was swimming with a duck she jumped through the water and tried to catch it as it flew away. I texted my boyfriend and told him
"Carly almost caught us dinner"
No joke, I think Carly will be dreaming about that moment with the mallard for the next five years!
After Carly went for her freezing cold swim (seriously it was so cold I could see her breath when she got out of the water but she just would not stay out of the creek!) We continued South towards South Fork Trail which eventually leads to the top of San Gorgonio. The trail was so gorgeous on a spring morning; wild geraniums were just starting to sprout everywhere as well as prim rose on the banks of Lost Creek. This was truly a very beautiful spring morning with some incredibly happy pups and good friends in the San Gorgonio Wilderness.
Which leads me back to the fact that when traversing in the San Gorgonio Wilderness you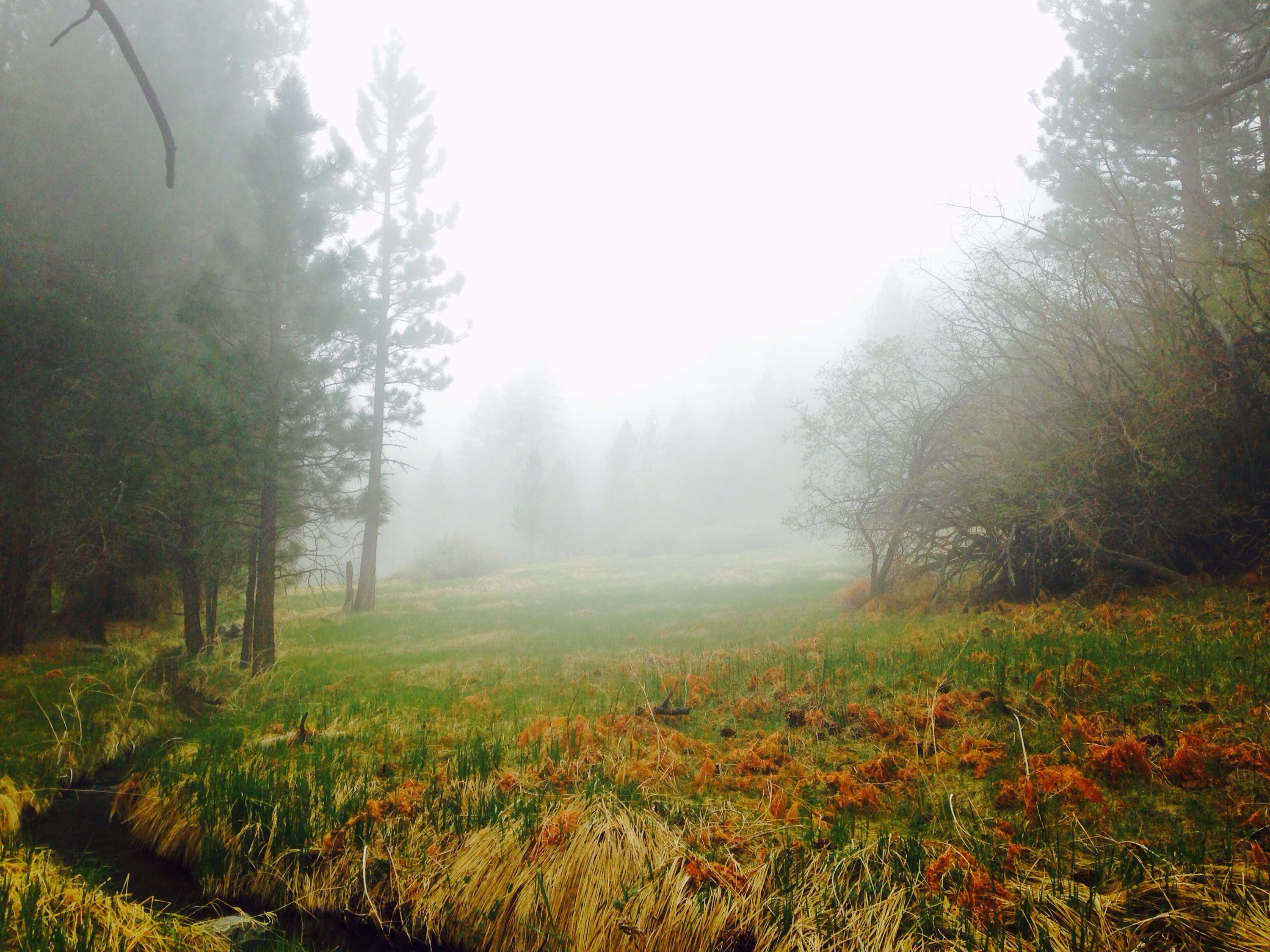 need to pick up a Wilderness Pass from the Mill Creek Ranger Station. The forest rangers want to know who is out hiking in this vast area at all times. Every spring and summer hikers get lost. It happens a lot.
For the first three years we hiked in the San Gorgonio Wilderness we got a wilderness pass every time. Than it became winter and we never saw rangers, so we got lazy with stopping to pick up the past.
It's spring time now and I had just commented to Mary this morning as we went by the wilderness permit sign,
"You know we really need to start getting the permit again. The rangers will be out soon" Flash forward two hours on our hike, past our lunch break at the creek when the pups ALL tried to steal our food and Carly shook freezing creek water all over us and our lunches. We were on our way back to our cars at the trail head, well, eventually. We were taking a slightly longer route along one of the creeks, a new trail that I had discovered just the week before.
Now the problem here is we got slightly discombobulated as in the wind storm last week about thirty trees fell at a certain part of the trail and we lost the junction to the creek trail. I could see the creek though, so we just trail blazed across the logs and sticks and such and started following the creek.
We started following the creek the wrong way.
After half a mile I had a feeling we were going the wrong way. Nothing looked familiar yet and it should have. The trail we were on was so gorgeous though, none of us wanted to turn around! Plus we were heading in a direction where we would have to cross the Lost Creek Trail we had taken up into the wilderness in the first place.
All of a sudden to the right we saw this absolutely amazing green meadow! It seemed to go on for miles! It was foggy and cold at this point as the storm was rolling in (And yes, Carly was still in the creek) What is so crazy about this meadow is that south of the meadow just beyond the treeline was South Fork Trail; a trail we have hiked maybe thirty times. All those times we could never see this incredible meadow through the trees!
As Mary and I were pondering this, Taylor thought we were lost for sure. Mary and I knew that no way were we lost. We had South Fork trail on the other side of the meadow to the south of us. If we continued east we would eventually hit Lost Creek and the trail we took up, and if we decided for some crazy reason to go north, we would eventually hit Highway 38 in Jenk's Lake.
We kept following the creek as it made its way through the meadow, horse tails growing tall on all sides of us. After what felt like forever, yes we did cross Lost Creek again and made our way back to the car eventually.
Moral of the story, that is why you get a Wilderness Pass; so you don't get lost at Lost Creek!
When we returned from our adventure at Lost Creek I came up with this truly amazing Mexico inspired Cesar Salad.
Cilantro Cesar Salad Dressing
1/2 cup olive oil
1/2 cup red wine vinegar
1/2 cup mayonnaise
1/2 cup cilantro
2 Anaheim chilies, roasted in the oven
1/2 cup pepitas (roasted pumpkin seeds)
1 garlic clove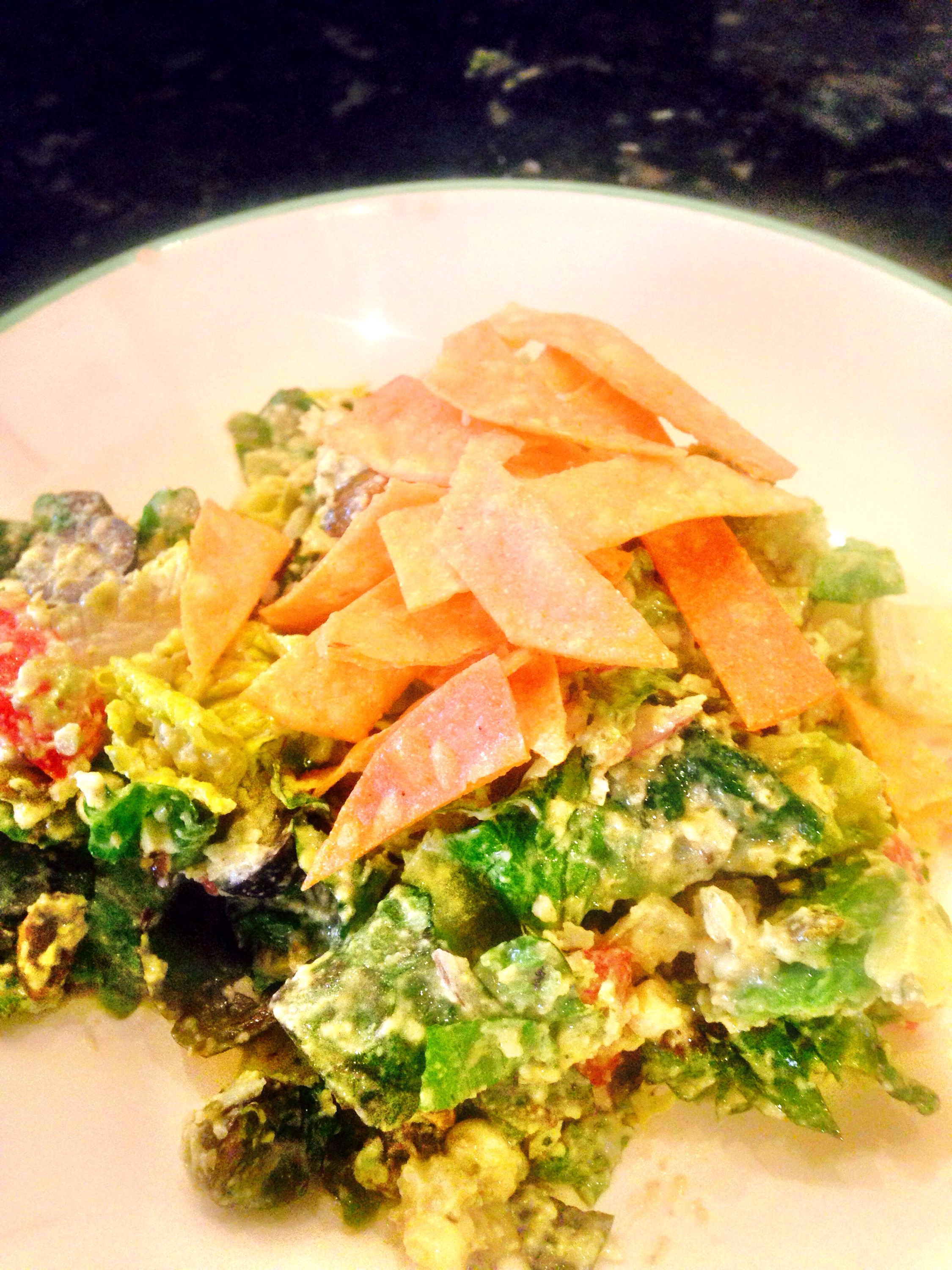 1/2 cup grated pecorino romano cheese
1 head red leaf lettuce
2 ears corn, roasted on the grill and cut off cob
2 avocados, cut into chunks
1 small can sliced black olives, drained
In a food processor combine the roasted chilies, garlic, cilantro, pepitas, half the cheese, olive oil, red wine vinegar and mayonnaise.
Combine until smooth.
In a large salad bowl layer the lettuce, corn, avocado, olives and the rest of the cheese.
Toss with the salad dressing.
You can also add extra pepitas or crumbled tortillas to the top.