I never thought I would be that stranded stressed out motorist that you see on the news in a rainstorm who slept in her car because the rural mountain road washed out. You know the ones I'm talking about during the great blizzard of '06, shivering in her car and wondering if she's going to run out of gas and just when this mountain road will be cleared of mud, downed trees and other debris and she can get home to a dry house, a roaring fire and a whole hell of a lot of wine. (And her cats obviously)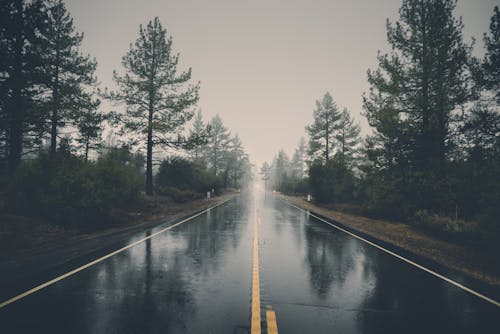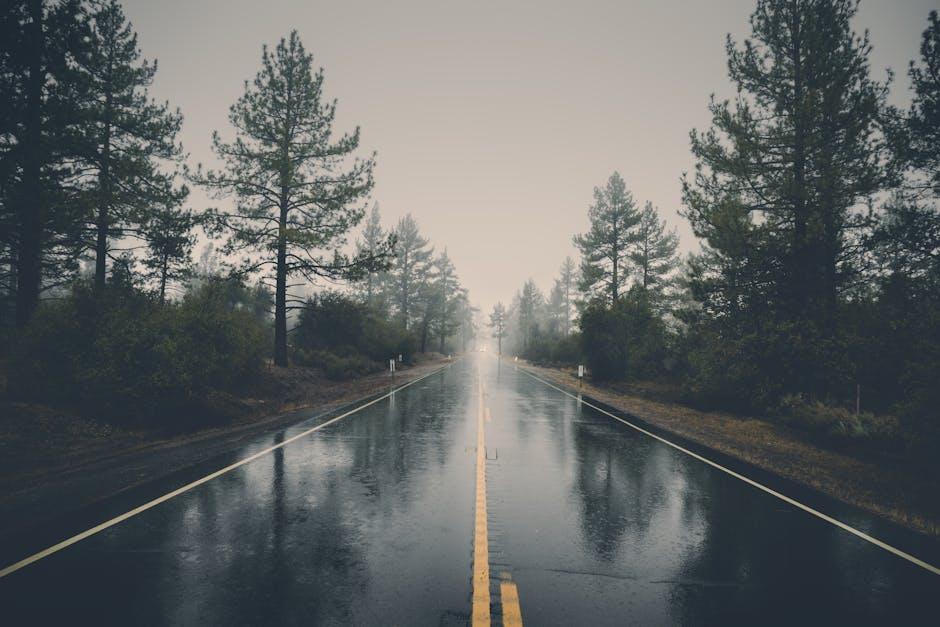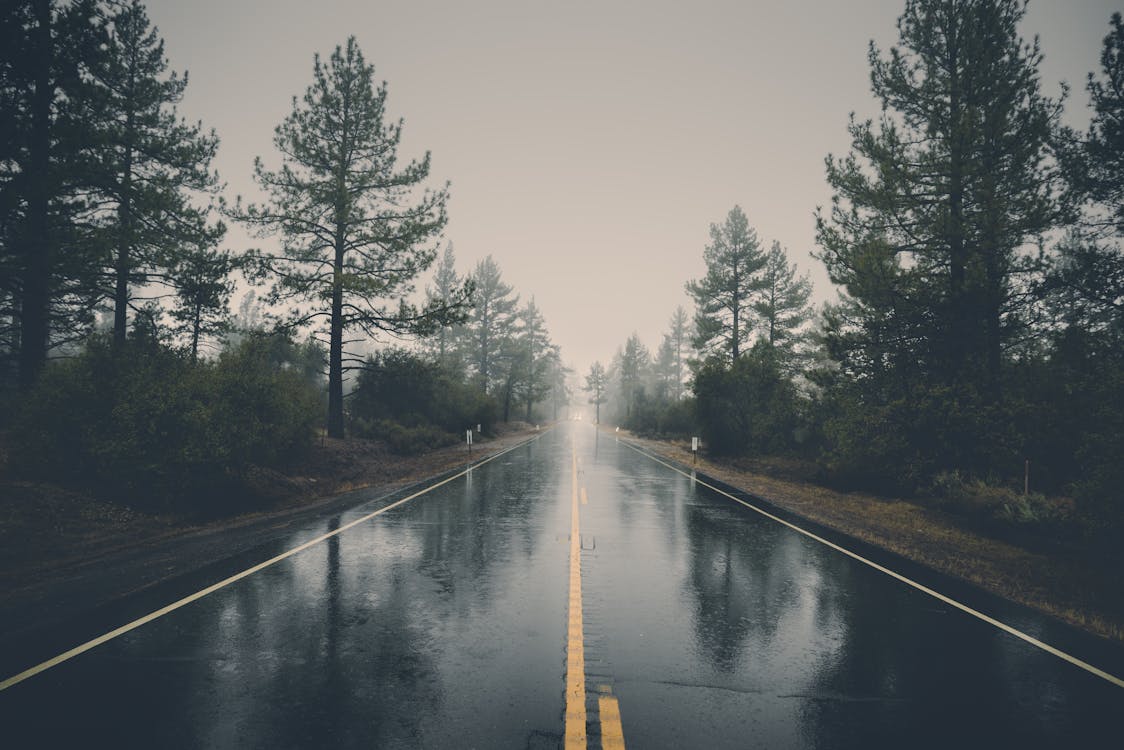 I also never thought that I would really yell at a bobcat operator to "Calm down while I throw my Starbucks cup of pee away and put my pants back on." But alas, I did all these things last week. Our rural mountain town amongst the pines sustained nine inches of rain in one stormy Valentine's Day, hurricane force winds and more downed eighty-year-old Jeffrey Pines then one can easily count. Valentine's Day usually brings wine, chocolate and snuggle wuggles but on Valentine's Day 2019 it brought a shit ton of winter weather in one tropical storm to our ski town in the wilderness of southern California. And I had a coffee cup full of urine to prove it.
     It was supposed to be a gag gift
It was a Thursday in the middle of winter, in formally drought-stricken sunny Southern California. It had been raining, pouring really, like cats and dogs since the middle of the night. I had never in my life seen crazy heavy rains like this. Unfortunately, on that soggy morning, I attempted to drive to work in a crazy tropical monsoon moisture Pineapple Express Storm. My drive was actually going just fine, I was complaining about all the slow people in front of me that were about to poop themselves because the roads were so scary, but I was fine in my warm Subaru, blasting country music and randomly yelling at slow drivers like Dolly Parton with
Tourette's.  Then, suddenly fifteen miles before the end of the winding mountain roads part of my commute, suddenly the road was completely closed down in front of me.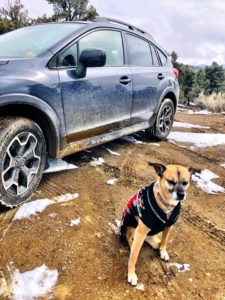 Yep, there was a swift water rescue up ahead around the very next corner and that road was not passable whatsoever, and honestly would not be until this to crazy rain storm stops, possibly tomorrow. I tried to turn back around and drive back up the mountain back to my home and a roaring fire in the hearth and possibly a cappuccino spiked with Baileys Irish Cream, but the highway was now washed out going northbound as well with a massive old pine blocking the highway. There was no way out. I was going to be stuck on the side of the road for possibly hours. I turned off my SUV and settled down on the shoulder of the highway to wait it out. I was thankful I had a cooler full of food (I was headed down to work in Los Angeles for four days and always, always meal prep my healthy lunches, dinners and salads ahead of time) a bottle of water, a warm winter coat and an emergency blanket in the back of my vehicle.
Days lik this I am so glad that being an outdoor person, long-distance hiker and camper when it comes to be stuck in my car and stranded on a mountain road for hours and hours and hours at a time, I am prepared. I have to say most people would be going stir crazy after three hours sitting in the car with this kind of traffic delay. After three hours I was still enjoying watching the rain absolutely pour down around me and starring at the gorgeous green pine forest outside my Subarus windows. My bladder however was another story altogether. My boss called me at hour three of being stuck on a rainy, flooded mountain highway and at this point, my bladder was feeling extremely full. As I sat there in my SUV, doing the peepee dance, he just wanted to confirm,
"That yes, I will be able to for sure get off the mountain and down to work tomorrow " as a certain VIP guest would be at the race track the next day and I was specifically requested to host the group for the day.
I told him "I might be stuck in my car, a torrential rainstorm for hours and hours but at least I have cell phone service and therefore I can watch TVG (Horse Racing TV Madness) and gamble away a few dollars while I'm stranded on a mountain." Technology! Of course, after I was alive in the first leg, the first race in the pick 5, that is when I realized yes, my bladder would not last another two hours of this rainy madness. Thank God my sister in law gave me a Go Girl for Christmas a few years back as a gag gift, and also that I threw it in my emergency box in the back of my car.
I was not quite so thankful for the bobcat operator who pulled up next to me in the downbound lane and stared down at me as I was in the middle of trying to line up the Go Girl and an empty Starbucks cup. Seriously that had to be the worst timing ever. I mean, I had been sitting there in my car with my pants on for three hours before this random two minutes of pantsless-ness on a mountain highway. It may not have been my finest hour, but at least I no longer had to pee.
So you find yourself stranded on a mountain highway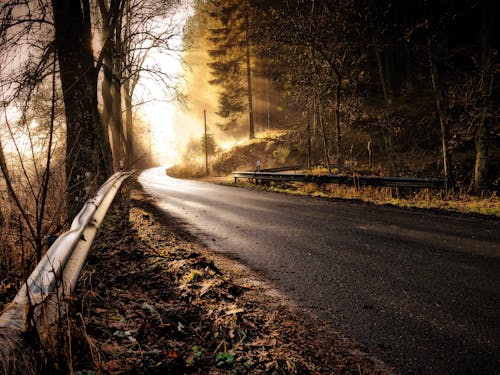 What essentials should you keep in the car for winter emergencies? (I mean, besides a Go Girl and an empty Starbucks cup)
A warm blanket or sleeping bag is essential to always have in the back of your car when commuting snowy mountain roads. In two days and nights of crazy storm delays where I spent a total of eight hours stranded in my freezing car with temperatures as low as seventeen degrees, I was able to turn my engine off and conserve gas while the Snow Pigs in cars around me were running their engines, heaters and googling the fact that the nearest gas station was 25 miles away. (Oh and the guy in back of me in the Tesla ran out of juice altogether. I told him he can have his car towed to the Lake Arrowhead Resort 50 miles away to get it charged up)
I always try to keep a supply of extra water, and some protein bars or healthy snacks in the car just in case of emergency like this. (And yes, also because I'm always hungry)
When traveling to the mountains, always, always carry snow chains between Halloween and Mother's Day. Mountain storms build faster then one would anticipate and places to buy winter weather chains for your car may be hard to find when remote mountain towns can be twenty plus miles apart.
Keeping a single wide candle in your car for emergencies takes up very little room and the flame from one candle can keep you warmer then you would expect.
A phone charger is an item most people already have in their vehicle but having a fully charged phone wont just alienate boredom when stuck on a mountain road for hours and hours at a time but could come in handy if you have an accident in the middle of nowhere or have to walk to the nearest town if your car is broken down somewhere remote. (And want to do it with a charged phone)

Being delayed on a mountain highway for hours and hours is no ones favorite way to spend Valentine's Day but the good news is eventually the road opened back up and I was able to somehow drive my Subi through multiple mudslides and flooded roads to make it back home. I was extremely lucky; some of our mountain highways were damaged so badly by the rivers running through them that they may be closed as long as six months! I will never forget this crazy rain storm Valentine's Day 2019 as I have never witnessed crazy weather like this ever in my life. What with the mudslides, the damaged roads, the swift water rescues, the flooded houses and the massive downed trees, this is a storm Big Bear Lake will not forget any time soon.  It kind of sucked to spend most of my Thursday stranded, lonely in my car when I could have been with my boyfriend or out hiking trails with my boyfriend  but I made the most of it. Oh, and the first thing I did was ask my boyfriend for a snorkel for my Subaru as a Valentine's Day gift.
Find this story helpful? Don't forget to pin it!