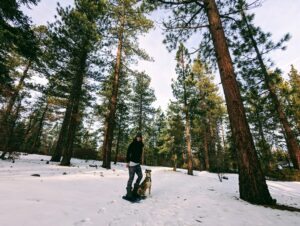 Ho ho ho and happy holidays. Now can we move on to my favorite winter squash salad? There might be snowshoes on my feet and snow on the ground but I still prefer salad for lunch. Truth be told, I eat salad for lunch at least five days a week. If I have a busy workday I usually pack a salad to bring with me in between my busy day of being Big Bear's best hiking guide. Although I will say, this squash salad is great leftover the next day, but I prefer to heat up the leftover squash in the microwave for the next day's lunch. It's just not a great to-go salad in my mind. But if you are scouring the internet for a great to-go salad for your wintertime lunches, try my BLT Salad with Meyer Lemon Dressing. But back to this zesty cold-weather squash salad; It has a bit of a winter solstice touch thanks to the addition of your favorite winter squash!
The best squash salad for your winter season
Now, this might be one of the most unique vegan vinaigrette you have ever made. Cashews, coconut milk and cinnamon? What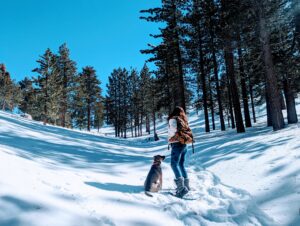 kind of a salad dressing is this in a world where most 'Mericans just love ranch dressing? Yes, Bob, you can make a delicious salad dressing without animal products!
Here in our family in southern California, we are enjoying a slightly vegan-uary. So, yes, vegan and vegetarian salads have been popular in our household.  My food-allergy-ridden body is so much happier when I personally stay away from animal products in general. But  I can never stay away from bacon for very long. This past January 2023, I really tried to not pan-fry some smoke-cured bacon and I mostly succeeded and this delicious squash-studded salad made my pork cravings a lot easier to deal with.
This squash-studded salad is so refreshing after a morning of snowshoeing with my favorite new rescue pup. It might be 36 degrees and snowing sideways into my face but Luna the English Foxhound does not care. I might be soaked solid and dreaming of a salad stuffed with roasted delicata squash but Luna just wants to stay out in the rain and hail all day.
I highly prefer this squash salad made with delicata squash but you can substitute acorn squash or any other favorites from the squash family.
Winter Arugala & Squash Salad with Cashew, Coconut Milk and Cinnamon Vinaigrette
Your favorite dried berries or raisins (I prefer dried blueberries)
3 cups arugula
1 Delicata or acorn squash
For the Cashew, Coconut Milk and Cinnamon Vinaigrette
1 teaspoon cumin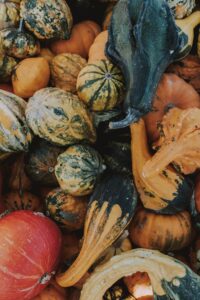 1 teaspoon coriander powder
1 teaspoon salt
1 teaspoon olive or avocado oil
1 teaspoon white pepper powder
1 clove garlic
1/2 cup coconut milk
1/2 teaspoon paprika
2 teaspoons maple syrup
2 teaspoons apple cider vinegar
1 teaspoon white pepper powder
1 teaspoon cinnamon
1 teaspoon salt
1 teaspoon nutritional yeast
Mix the cumin, coriander, 1 teaspoon salt and white pepper. Cut the squash in half, and scoop out the seeds. Slice into very thin rings. Drizzle with olive oil, then the spice seasoning. Bake at 400 for 20 minutes. Flip the squash rings and bake for another 20 minutes.
While the squash is baking make the dressing. To finish the squash salad, in a NutriBullet combine the coconut milk, nutritional yeast, cinnamon, apple cider vinegar, garlic, paprika, 1/2 teaspoon salt, and coconut milk.