My boyfriend and I have stayed in hundreds of hotels around the world. We have never had so many issues from what was supposed to be a contactless check-in to our toilet flooding our entire suite at this Doubletree in Del Mar, California. Our stay at the Doubletree in Del Mar was nothing less than a shit show. Literally.
It started at check-in. We were staying the day before in Rosarito Beach Mexico at the AWESOME Rosarito Beach Hotel. This place is a world-class resort, and for a beachfront suite, we paid HALF of what we paid at the Doubletree in Del Mar. If you would like to stay at an awesome and classy beachfront hotel, book the Rosarito Beach Hotel here. We checked out at 7 a.m. on Thursday, Thanksgiving as we received a text from the Doubletree of Del Mar saying our room was ready. We were looking forward to our stay in Del Mar California and a Thanksgiving day out at Del Mar Thoroughbred Club.
Our morning started out great, despite a quick window of being lost in Tijuana. Our wait to cross the border was an insane only twelve minutes and we were soon back in the grand old U.S. of A and cruising up the 805 towards Del Mar. Then we arrived at the Del Mar Doubletree and the shit hit the fan.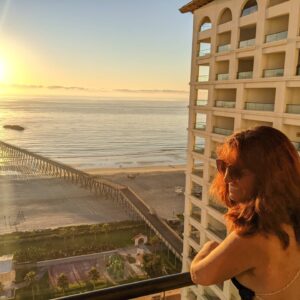 We got to the Doubletree in Del Mar California at 8;30 a.m. and were told, no your room is not ready. The girl helping us was not nice, did not apologize whatsoever. We argued that we checked out of our other hotel with the lovely beach view early as we got this email saying our room was ready! I could have been sitting on our balcony overlooking the beach still drinking coffee. (Because our hotel in Mexico actually had a coffee maker) The Doubletree employee did, not happily and with no apologies for the mix up find another room for us.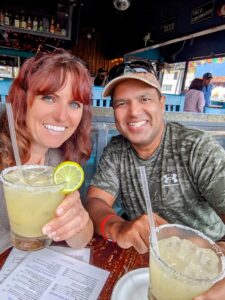 We traveled up to the 5th floor to "Our" room. The first thing I noticed when I opened the door was that the room stunk. It was very farty. Then I noticed an unmade bed and other travelers' luggage. It was 9 a.m. someone else was staying in this room! We could have walked in on people sleeping or scared some elderly people! I backed out of there FAST before the people came back to the room and yelled at us. Not only that, what does this say for the security of this hotel in Del Mar California if anyone can walk into anyone else's room? If this had been our room, someone could have nabbed our passports or laptops! Aside from that, this was through contactless check-in. What exactly is contactless about walking into someone else's dirty room? Thank God we didn't pick up Covid from our "contactless" stay at this crap hotel in Del Mar California.
We went back down to the lobby, told the staff what had happened. THEY DID NOT EVEN APOLOGIZE whatsoever. This hotel is so ass-backward when it comes to customer service. They did finally put us in a different room. We were super annoyed at this point. We had been driving all morning to get to Del Mar California. We were starving. We just wanted to check into a clean room that had no other travelers in it! And it would be nice if it didn't smell like other people's farts.  This was no way to start our Thanksgiving! We have stayed in Hilton's so many times, we are Hilton's Honors members. Is this how returning guests should be treated? Finally, we left the hotel, thank God, and went to have Thanksgiving dinner with friends.
We got back to the hotel at 11 at night and stopped to talk to the hotel manager who told us that she has been checked into hotels owned by Doubletree all over the place multiple times and had herself walked into other people's rooms! She looked at us, like why do you even have an issue with this? So apparently, this is a normal issue at Doubletree Resorts! How is the hotel manager in Del Mar California not concerned about this? My boyfriend and I have traveled all over the world. We have stayed in hundreds of hotels. We have never had this SNAFU happen to us before! The hotel manager did not apologize about the issue ever. I asked, are you not concerned about someone walking into a room with elderly people sleeping and giving them a heart attack? Are you not concerned about this huge security flaw? This made me feel unsafe leaving my luggage for the day in our room. Maybe I'm a paranoid weirdo, but I wouldn't want some stranger walking into my hotel room I had checked into, especially during a global pandemic!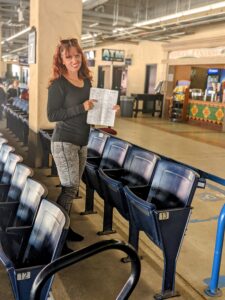 We finally made it up to our room and discovered our room did not have a microwave. We booked this hotel specifically for three things; Their shuttle to Del Mar Racetrack, which was not running right now but is listed on their website. 2, a room with a refrigerator. 3 having a microwave in the room. We knew traveling, staying in a hotel on Thanksgiving no restaurants would be open. We needed a hotel with a microwave and fridge for food options. We went to microwave our leftover thanksgiving food at after 11PM; No microwave. I mean, it was so late at this point. We called the lobby and they said they could bring one up eventually but we were tired, we didn't want to wait an hour. We ate our cold food and went to bed.
So of course, when I woke up in the a.m. I could not brew up our organic instant coffee we brought. This crap hotel in Del Mar California had no coffee maker in the room, obviously. I mean what DID this almost three hundred dollar-a-night hotel have? That is when our toilet started overflowing. Yup, I had no coffee yet and there was raw sewage going everywhere in our room soaking the carpet. My boyfriend said the shut-off valve on the back of the toilet was broken so he could not shut it off. Of course, it was. At this point, nothing at this crap hotel in Del Mar California would surprise me.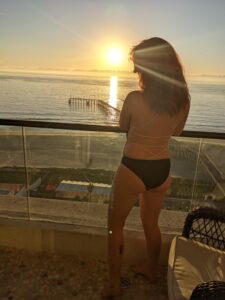 We called the hotel lobby and reported the toilet backing up and flooding the room. Then we waited. We waited about twelve minutes and no one showed up. The room was flooding with raw sewage. I had to wade back into the bathroom to get my toiletries. I hadn't even brushed my hair or my teeth. I would really think that if a guest calls and says their hotel room is flooding from a toilet, the hotel staff would send someone up asap.
We paid almost three hundred dollars for this one-night stay at this literal shithole of a hotel. Walking out to our car with our luggage, I told the hotel manager, why would you not send someone up asap to deal with the toilet overflowing? She said she would get right on it. And I just said, are you serious? We are leaving! We can't even walk into the bathroom to brush our teeth or shower! This is ridiculous! We had plans to go out for s nice breakfast in Del Mar but we were gross, had dirty teeth, hadn't showered and my boots smelled like raw sewage. The staff at this hotel in Del Mar California acted like we were a huge nuisance for complaining about all this. Now I have to have my designer boots dry cleaned after trudging through raw sewage. Happy Thanksgiving to me. I'm Thankful I'll never stay at the Del Mar Doubletree again.