I don't know why hikers and other outdoor adventurers don't talk about scenic Yost Lake out of June Lake. Maybe it's the insane amount of altitude gain you hike upward in the first mile of this race up to resort level and the meadows. When I started this upward journey up above silent blue June Lake this morning I was powering up the switchbacks in the shade as fast as my tired hiker's legs would carry me.
I was tired and yet super conditioned for these kind of trails, considering that I had been hardcore training for Mt Whitney for the past six months. Our summit of Mt Whitney was planned for last week.
Then this happened.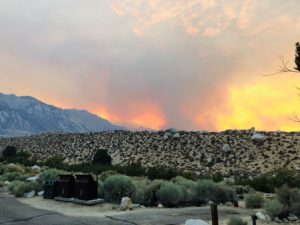 Yeah, that's a firestorm; Something we just can't seem to escape on this month-long journey through the eastern Sierras. The Ferguson Fire near Yosemite has burned well over 21,000 acres and the smoke billowing into June Lake and Mammoth Lakes has just been terrible the past three days. It seems wherever we go on this road trip/ camping/ hiking/ fishing vacation that wildfires follow us up Highway 395. It started even before we left home in beautiful Big Bear Lake, California. Unfortunately, three days before we left for vacation a wildfire broke out next to the highway, no doubt a result of someone throwing a cigarette out of their car window. Luckily our local firefighters got a handle on that one pretty quickly but we just couldn't escape fire season in California. After months of training no sooner had we picked up our permits to summit Mt Whitney then they closed the road to the Whitney Portal for a week as the George's Fire burnt through the Alabama Hills at the base of the mountain.
Well, poop. At least I was well trained for some badass hikes in the June Lake area, where we were camping for eight days. One thing about June Lake, all the hikes in this area have about a mile of at least a thousand feet of altitude gain in the beginning stages of the hike. Hiking in June Lake is not for beginning hikers, that is for sure.
You would think that researching hikes in June Lake would be easy with this area being such a mecca for hikers, backpackers and mountain bikers, but when I tried to research Yost Lake and Yost Meadows, I found almost no details online. As in just trying to find info on how long the hike was, or photos of the actual lake or how much altitude was involved in the climb, was limited at best. WTF Yost Lake?
The funny thing about my journey to Yost Lake is that it took me three separate days to summit to the actual lake. The first time I tried to summit earlier in the week after a few too many glasses of wine the night before and I went the "Easy way" up Fern Creek Trail. This route to Yost Lake bypasses the meadows but cuts out miles of hiking. Oh and did I mention the hike is almost straight uphill until you branch off from the Fern Lake trail and start to head close to Carson Peak?
So the first extremely early morning that I attempted to make it to Yost Lake I made it as far as maybe a mile up the extremely steep trail and I threw in the towel. It was just after 6 a.m. and I was tired and dizzy. I was done. But I was not dissuaded as I drove back to our campsite at Shanty Town USA RV Park. Driving back I saw a June Lake trail that I had never noticed before on the right-hand side of the highway; Hillside Trail. That looked promising.
The very next day I was at the trailhead at 6 a.m. ready to try again. Look out Yost Lake; I'm coming for you! I made it up the switchbacks, sweating, wheezing and feeling exhausted and just past that I ran out of time and had to turn around. We had a full day planned, of fishing at Silverlake and I needed to be back in camp by 8 a.m. I ran almost the whole way down the steep trail (Which only took me 30 minutes! Crazy! Remember when I used to be able to run uphill?) and was kicking myself for not making it to at least the Yost Lake Meadows.
Wait, did I make it to the meadows? I was honestly not sure. Some of the areas at the top of the switchbacks were sort of, kind of meadowy.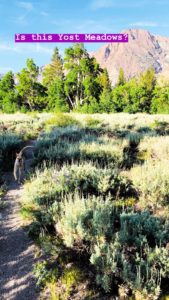 When I got back down to our tow car, I looked back up those switchbacks at that mountain I had just run down, and I thought, shit, do I need to run that again?
Well, yes, I did, actually. Two days later I once again got up just after dawn and found myself in the parking area just before 6 a.m. I had until ten a.m. to get back to the car for kayaking. I had time to find these ridiculous meadows and Yost Lake today. Let's do this!
I powered through that first mile so unbelievably fast; I mean, it was well before 7 a.m. I had only had less than one cup of coffee. I really don't know how I went so fast, but I did, and before I knew it, that first, terrible mile of switchbacks was behind me and here I was, gasping for breath, five hundred feet above June Lake and at 9,000 feet elevation. How the hell did I just power through that on one-quarter cup of coffee?
Before I could even take a moment to enjoy the fact that I was miles above the mile high (And then some) lakes below me the trail was continuing on into an aspen glen and views of June Lake Resort's meadows were ahead of me.
Wait; Were these the Yost Meadows?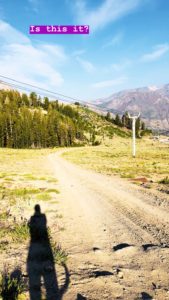 It was so confusing. Where is Yost Meadows?
Is this it?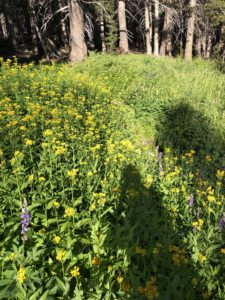 Once you make it up that first terrible mile of switchbacks the hike gets so much easier and you can actually enjoy hiking again. And these truly gorgeous alpine meadow views. Although which ones are the Yost Meadows, I was really not sure. Once you cross June Lake's resort property and head towards the base of Carson Peak the views across to the mountain peaks framing June Lake are just incredible. The trail meandered closer and closer towards the base of Carson Peak and I found myself thinking, okay, so I never found the meadows, am I going to come across this actual lake eventually?
And just like that, an incredible buzzing filled the air. What the hell was that? Well, it was the majestic bird of the eastern Sierras. No, not one of the three bald eagles we had seen in the last few days, but swarms of mosquitos so thick I could barely stand to look out at one of the most majestic alpine lakes I had ever seen in my life.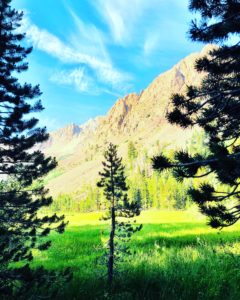 In between swatting at my face and my neck and wondering why I had left my lemongrass oil in the RV, I tried to snap just a few photos before I ran away from those meadows and that majestic lake as fast as I could.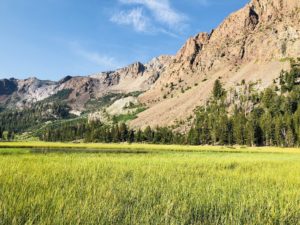 Perhaps this is why no one talks about Yost Lake?