If I'm going to do a hike that damn near kills me, you better be live I will celebrate afterwards with some Valentines Day chocolate mousse. Valentines Day means chocolate, and for me and the pup, maybe a side of hiking too.
I don't know how many times I've spoken the words
"Well I survived that hike"
Today is Valentines Day. I survived the hike (again!) and I am feeling loved.
Today I'm thankful for dry warm feet (finally!) freedom flowers and a boyfriend who wants to make Valentines Day great again.

'Mercia!
Before I received these lovely God Bless America roses first I had to survive the hike.
I've never been as annoyed with myself as I was this afternoon about the hundredth time ( and no im not being factious this really, literally happened to me at least one hundred times today) my foot post holed four feet deep into a snow bank and into the creek below.
As I pulled out my dripping wet snow boot from the cold rushing creek waters I cursed myself for not bringing the snow shoes and doing this ridiculous hike in just my now soaking wet snow boots.
I was literally in tears multiple times between start time of this hell of a hike (8a.m) and the time I drug my exhausted work out body back to my Subaru chariot (1p.m.) Any car would feel palatial after five hours dragging oneself up and down snowy mountains, into and out of creeks, and wondering if this would be it finally… The time I would have to call search and rescue.
Luckily for myself, my aching body and our local SAR team; I did eventually make it back.
As for my dog…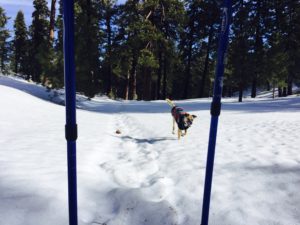 Well… That last mile as I postholed nearly every step and with every step further down the trail I hoped and prayed would lead us to a road that would lead us back to the road the car was parked on, my little dog…
Chose to slide down the mountain on her back like she was actually sledding down the mountain.
I was near tears with exhaustion, my bad shoulder was singing with pain, I had even poured out all my extra water to lessen the weight in my pack…
And this idiot is going sledding like a tourist!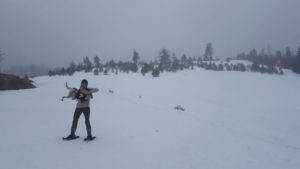 My Valentines Day chocolate craving adventure did not begin with hanging out with my flatlander dog, sobbing my way though the forest lost and in pain and wondering just how many miles and minutes ( and hours) it would take me to find my car again.
It began with Carly and I practically skipping up Mill Creek Road and I wondering why I had not worn my running shoes.
The road was actually plowed ( shocking!) and absolutely free of snow. I didn't even need my crampons! We ran into a friend who works at Camp Ositas just up the road and he told me the road to Bluff Lake (our daytime destination) was packed down and clear.
I wouldn't even need snowshoes!
Ha.
Famous last words. We began hiking up the glorious snow free road. It was slightly muddy but free of snow and ice. It was so nice, I could have actually worn my Asics running shoes! As we approached the turn off for Bluff Lake I could clearly see the road was not plowed and I would have to go over the snow berm and then attempt to hike up the trail towards Bluff Lake. Besides one snow machine weeks ago tamping down the trail, the trail was not tamped down at all. Without having snow shoes this hike would be nearly impossible. Still, I thought I would give it a try and gave up quickly two hundred yards in. It was nearly fifty degrees even this early in the a.m. and the snow was melting fast. If it was a normal February day we would have a high of thirty and the snow would be frozen and this would be do-able.
Instead I went back out to the road and continued up towards the camp. I figured we would cut cross country towards the Pine Knot Trail. Pine Knot is super popular with snowshoers and had to be tamped down after the last weekend. It would be about a mile of cross country travel on top of four feet of snow but it would be pretty short, is what I was thinking.
I swear this mile and a half section took me about an hour of hiking. By the time I reached Pine Knot Trail it was almost ten thirty and I had only been hiking for two hours (And had barely hiked two miles… pathetic how slow I was without snowshoes and the right equipment for the snow!) Even though I was exhausted after this short and extremely hard section it seemed like I had barely done any mileage on this day when I meant to do a "big" hike.
So I decided to keep going up to Grand View Point. I felt pretty good about myself at this point. I had made it to Pine Knot Trail, although very tired. The trail was slightly earlier here, but really not by that much. It was such a warm morning I was still post holing but not as much as earlier. I was still in a pretty positive mode.
Then I lost the trail completely. I was so close to the summit at this point; I had to be maybe half a mile away. I found some snow mobile tracks and started walking in them, hoping they would stop me from breaking all the way through the snow. It kind of worked. At this point the trail was almost straight up hill (Easy on a snow machine; but killing me, so exhausted and post-holing every other step.)
This is when I was ready to cry, but I could literally see the summit! I couldn't turn around at that point!
The only thing I could do was just blindly dig my boots into the snowy mountain and keep reaching upwards with my poles.
Because I needed to eat my tuna sandwich at the summit.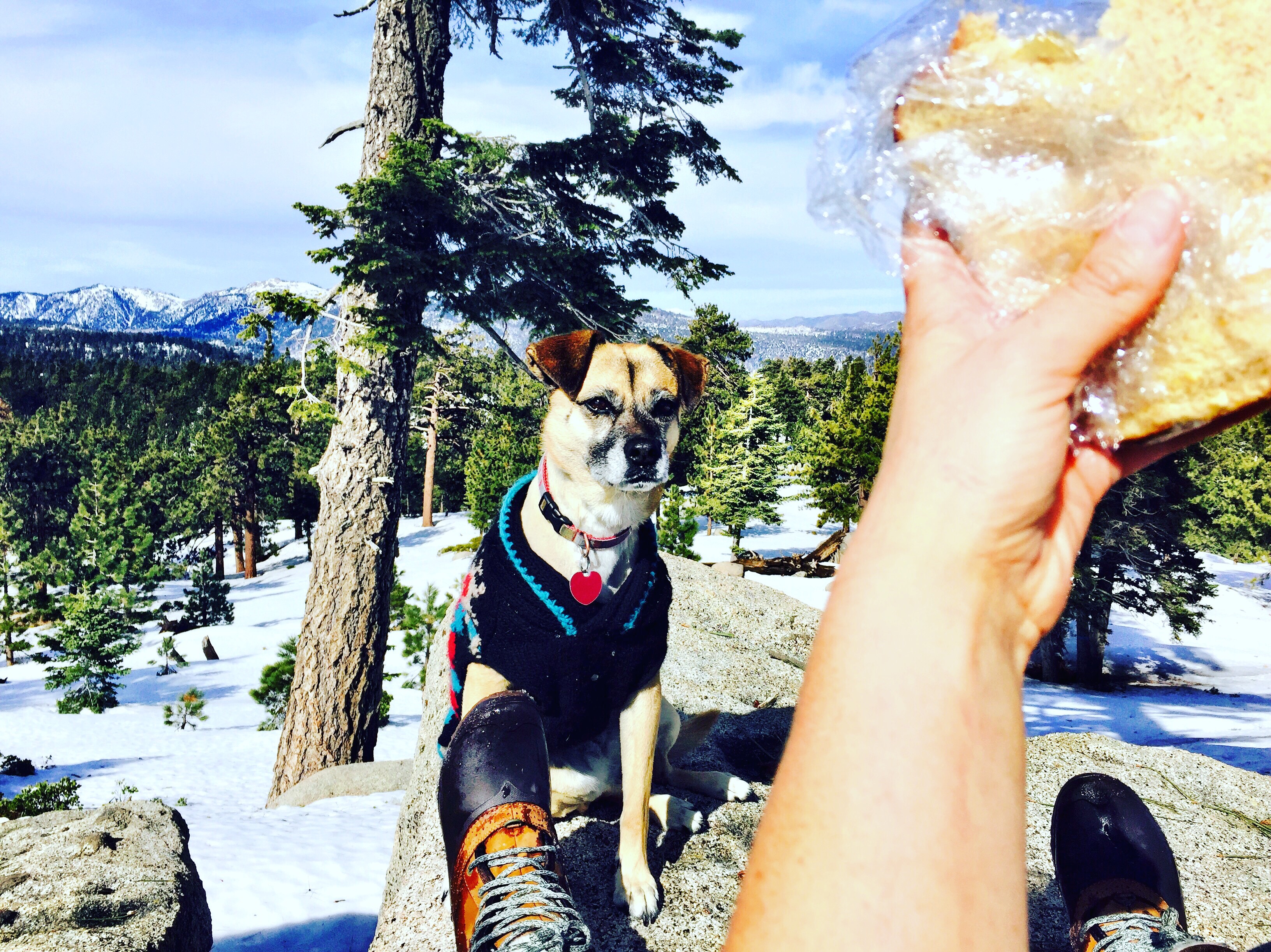 I don't eat carbs very often but damnit, I deserved some carbs today.
Even though we summited one bitch of a mountain today I did not share very much with Carly, even though she looked so regal, posing at the top of the mountain in that sweater.
It was seriously a hellish hike but the views from the top of Skyline Trail were absolutely incredible this morning. As I inhaled my sandwich and gazed across the Big Bear Valley at Butler's Peak to the north and Mt Baden-Powel behind it in the distance, and San Gorgonio and San Bernardino Peak to the west, I felt so gracious for every day I can hike mountains like this.
Than I looked down towards somewhere in the Big Bear Valley where my Subaru was waiting and began the super easy ascent back down to my Subaru.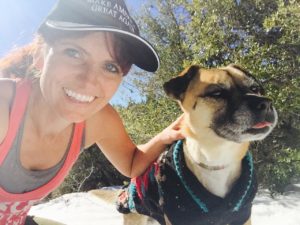 Except that is not exactly what happened.
At some point Pine Knot Trail; You know the super popular trail for snowshoers, went completely in the wrong direction and I was miles off trail.
Oh poop.
I was beyond exhausted at this point and so far off from where I needed to be.
Add to that the fact that it was approaching noon; the sun was hot (For a February day) in the sky and the snow was melting fast. I was sinking in the snow to my knees with almost every downward step. I was now off trail by miles, in the middle of the forest and my boots and leggings were soaked almost to my butt as every step downwards into the snow had me landing up to my ankles in a creek of rushing water underneath the snow. It was ridicules.
Meanwhile this little idiot was going sledding! I watched my little doggy sliding down the snowy mountain on her butt. I wish I had taken a video of it now but I was just so tired and dishearten at the moment.
I needed some Valentines Day chocolate mousse to cheer myself up and quick! Unfortunately though my kitchen was two thousand feet down below us in the snowy forest.
As I stood somewhere in the Big Bear Valley on a snowy mountain in my soaking wet and squishy snow boots I glared downwards into the forest of beautiful pine trees and I felt so extremely frustrated with myself. Why on earth had I not brought the snow shoes this morning when I started gallivanting through the forest?
There was only one way to go and that was down. Feeling very depressed and pathetic as my feet sank four feet deep in snow with every step closer to town, roads and actual houses I began to drag my exhausted body down the mountain and slightly to the northwest.
Finally, nearly five hours after I started this hike I saw a home down below me. There has got to be a street down there with no snow on it! I thought giddily and actually found myself speeding up a bit, then alot as I hastily cut across someone's private property afraid they were going to come out and yell at the girl in the Make America Great Again hat.
Luckily that did not happen and I found myself on the pavement on the street and only a mile and a half from where my Subaru was parked. Considering what an exhausting soul crushing morning it was I can't be live I only hiked seven miles!
PS I love winter snow hiking!
Why do I hike for miles through three feet of snow with sipping wet boots?
Because chocolate. This Valentines Day chocolate mousse is super easy to put together and best of all, it's amazing!
Valentines Day Three Ingredient Dark Chocolate Mousse
1 cup dark chocolate (broken into pieces)
1/2 cup mascarpone cheese
Zest of half an organic orange
Melt the chocolate over a double boiler.
Let cool slightly.
Woo the mascarpone and the orange zest.
Fold in the melted chocolate.
Chill for at least thirty minutes and serve.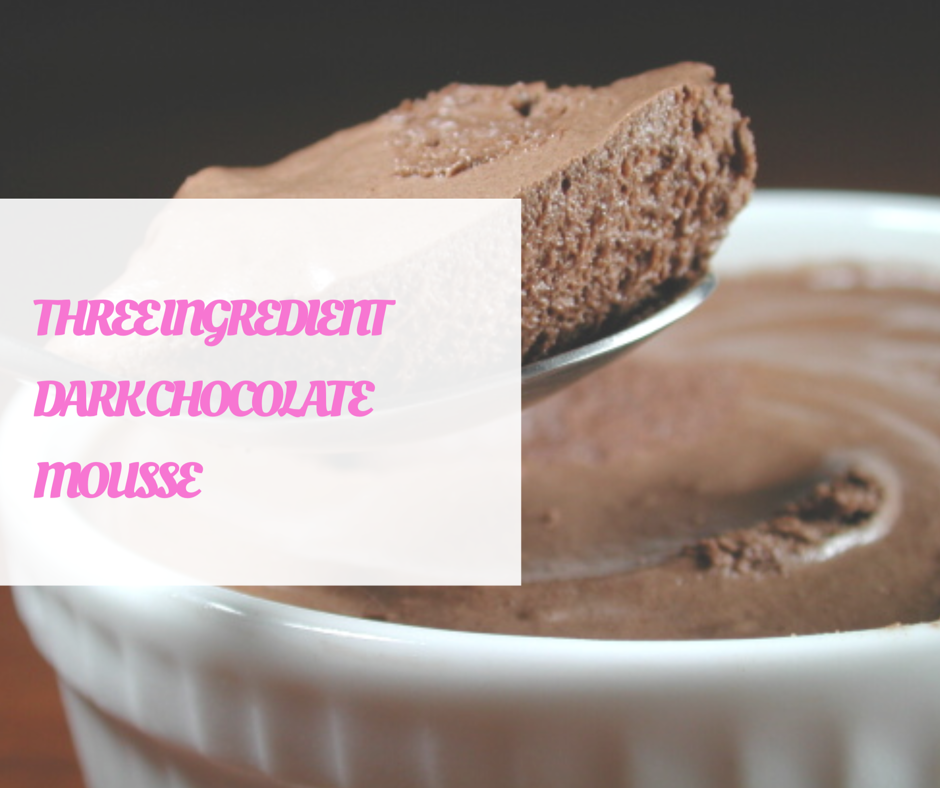 If you love these recipes don't forget to pin me!