So today we did a thing. The pup and I went out adventuring at dawn and hiked into more than we could handle. Six a.m. on the trail above June Lake and we were past that first mile of murderous straight uphill. The sun was rising over the Owen's Valley two thousand feet down below us and the temperature was a chilly twenty-three degrees.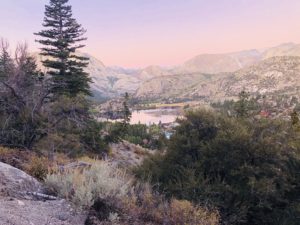 Obviously, the pup was sporting her brand new squirrel patrol sweater on this chilly eastern Sierra morning as we went on an early morning walkabout towards alpine Yost Lake.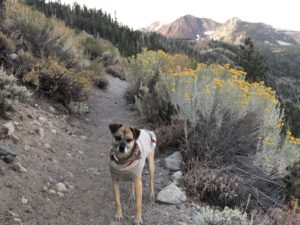 Vacation. The fun never stops. Until a coyote eats you
The alpine hamlet of June Lake was at least a thousand feet down below us as the pup decided not to listen to me and chase the six tagged does we saw down the rabbit brush-covered mountainside. It would become a morning of her not listening to me. As we moved away from the ridgeline and further into the pine forest there was just silence and no one else on the trail anywhere for miles on this Saturday morning. I was shocked there were not any leaf peepers out and about on this autumn morning. The aspens on the trail to Yost Lake were definitely turning and all shades of yellow, orange and pink.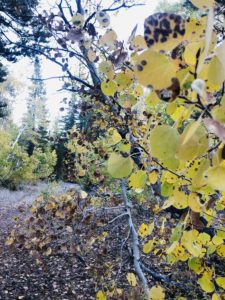 Did I mention there was no one around for miles and miles? I was hiking with the pup, I thought, just behind me, when I realized I hadn't seen her in a while. I stopped on the trail, turning around… to find her literally nose to nose behind me smelling a giant coyote's beautiful face!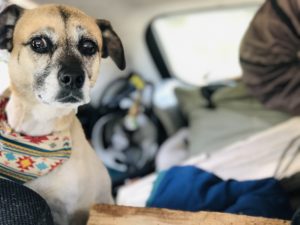 This would be the reaction one should have when meeting a coyote in the forest. He was literally the biggest coyote I have ever seen in my life, around the size of a big brown husky. Shouldn't my dog realize this smelly forest dog is not a friend?
We were in a mad rush to reach Yost Lake at this point in the early, early morning as last year when I hiked to Yost Lake I did the whole hike in two and a half hours. In the fall of 2019, it took me two hours just to reach Yost Lake. I was pretty slow. Until I had to defend my dog's honor because she started making googly eyes at a smelly forest dog. Luckily when I saw her trying to kiss the coyote on his beautiful mouth I screamed her name in my angry mom voice and she decided to come back to me, with the coyote right on her heels.
I grabbed the biggest stick I could find, way bigger than a two by far and started waving it at the coyote, screaming at the top of my lungs. (I literally had no voice after this debacle for the rest of the day) This is when I realized that when I angrily yell at a coyote who has befriended my dog I get a random Montana accent. I think I have been watching too much Yellowstone. The coyote spent the next hour stalking us as we continued towards Yost Lake, Carly on a lease now, no longer a free-range dog as she still really wanted to play with the damn coyote. I honestly think the only thing that saved her life was her ridiculous sweater. I don't think the coyote knew what to make of Squirrel Patrol.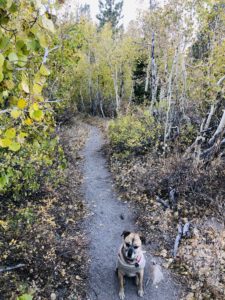 Who then spent the rest of the hike whining that I wouldn't let her go play with her new smelly forest friend. "I don't know why mom is so mad at me. My new friend seems like a very sweet forest dog. Mom says I'm no longer a free-range dog until I learn to make better friends"