Who doesn't love new clothes and a snazzy new wardrobe but let's face it; Most of those trendy Forever 21 dresses were made in a sweatshop by factory workers toiling to earn four dollars an hour if they are lucky. Don't get me wrong, I love my comfy UGG booties but I love them more because I purchased them secondhand and that makes me feel just a bit less guilty about my personal carbon footprint. When it comes to my closet I have two rules.
Try not to support criminally cheap fashion production
Buy secondhand to reduce my carbon footprint and help all those skinny jeans not end up in a landfill.
When you make criminally cheap clothing choices you support the vicious cycle of garments made by workers in sweatshops being exploited. I personally just feel a little guilty shelling out hundreds of dollars a year to company's like Forever 21 for fast fashion that will end up in a dumpster in no time at all. Spending my hard-earned dollars to support villainous companies like this just does not sit well with my conscience. According to the California Department of Labor, eighty-five percent of the clothing factories aka sweatshops in Los Angeles had labor violations in 2020 and you know those racks of cheap clothes are heading right towards your local malls. This even as fast fashion companies like Forever 21 continues to open stores in big-name shopping centers across the country. Not only do I feel bad for the warehouse workers sore callused fingers sewing these garments but I want to take steps personally to curb my carbon footprint.
Three years ago I started thrift shopping and gave up weekly trips to Nordstrom and my closet, conscience and paycheck have never felt better. In the U.S. we have 2,000 landfills currently open. It saddens me to say I know so many people who don't make any effort every day to recycle one bit filling these landfills day by day. That is just ridiculous and so uncaring to this green planet of ours. The United States throws away over 11 million worth of recyclables each year. We can do better.
How do I live life a little greener?
Reducing your carbon footprint can start today with being proactive and leaving our planet a little nicer and a little greener for the next generation. (You know the ones who just threw their White Claw can out their car window?) Over 11 million tons of perfectly recyclable clothing, shoes and textiles make their way into those aforementioned landfills every year. That is just such a staggering amount of waste and there is just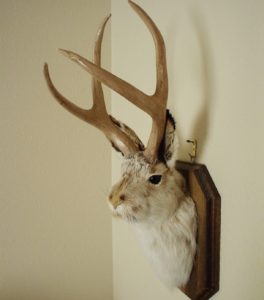 no need for it. There are ways to live your life just a little bit greener, it starts with recycling all those White Claw cans Karen and not littering.
Where I grew up in the rural southern California mountains at six thousand feet we had a local thrift store, yes, located at our dump, called Another Man's Treasure. My mom absolutely hated when my dad would go to the dump and then bring home yet another used bar-b-que or fake plants for the front yard or a stuffed jackalope. As a child, I loved going to Another Man's Treasure with dad as he would always let me buy a book and I could usually find a Stephen King novel I had not read yet. (Twelve-year-old girl, plus all the Stephen King books in Lake Arrowhead plus a jackalope and you can see why I may have had nightmares as a child) Jackalope and used books set aside this was my first adventure in thrifting and as I entered my thirties and realized I wanted to live my life a lot more sustainably thrifting became a pastime.
And that is how I found myself reselling my second-hand clothes on websites like eBay and Poshmark. Enter the year 2020 and we are right in the middle of a pandemic and like millions of Americans I have been furloughed until God knows when. Aside from selling the odd sundress on Facebook groups, I decided to get serious about this whole reselling second-hand fashion as I have to find a way to make some extra cash. And I seem to be a pro at thrift store fashion at this point.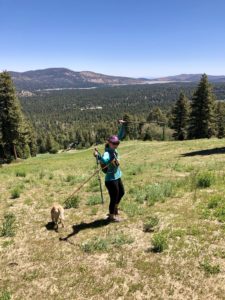 As an outdoor enthusiast, I truly love this gorgeous planet of ours. I want to take the steps I can to wear ethically responsible clothing items. I basically only buy hiking boots and bras brand new with the tags on them these days. Even my hiking buddy, my pup has items in her closet purchased from our favorite thrift store. I have proudly rocked my favorite Under Armour second-hand windbreaker on the top of Mt Whitney, the highest peak in the continental U.S. (I love this baby; It has so many pockets!) All of my favorite outdoor hiking gear was bought responsibly from the local Goodwill or Savers mega thrift.
Half of my blogging I do at Hungry Mountaineer is about cooking the latest and greatest usually healthy recipe. Buying my clothing second-hand makes me feel less guilty when I get grease stains on my favorite blouse. Yes, I own a fantastic vintage apron; No I never remember to wear it before slaving over a hot wok and preparing my famous Bangalore style I Can't Believe it's Not Butter Chicken. Aside from giant grease stains, see how many great reasons there to shop more sustainably?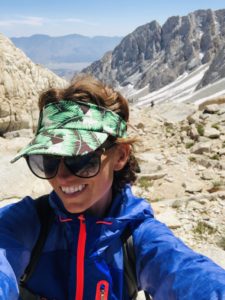 It all starts in my closet
It may seem impossible to resist for any savvy shopper but come on Karen there is a price to pay for that eighteen dollar sundress. A step towards sustainable fashion starts with thrift fashion. And I'm here to share with you a few gently preowned boutique pieces I have for sale each month. Each of these pieces comes clean, lined dried and from my smoke-free home. All my secondhand clothing is well-loved and gently used.
What is thrift up 8,000?
I live in a forest at 8000 feet and nearly eighty miles to the nearest shopping mall. Shopping malls have become less and less relevant in my life as I got older and decided to try to reduce my carbon footprint. The first step in that direction for myself is buying only gently used recycled clothing. The amount of Forever 21 rompers and crop tops that end up in dumpsters is quite staggering and here in the year 2020 I would like to make a little bit of a difference. Many people like to purchase secondhand clothing online from sites like eBay, but perhaps more would be inclined to do this if they knew about the additional savings to be found on Raise – go to this site to get access to discounts and promo codes that will knock even more money off your purchase!
Forever 21 and other criminally cheap clothing brands take advantage of their employees in these sweatshops all over the country and millions of trendy shoppers don't have a problem purchasing these cheap goods but I do. Ethnically shopping and living a more sustainable lifestyle is important to me. I love this planet and I am willingly taking a big step in the right direction to keep it green.
Let's get shopping; Recycled clothing from the Hungry Mountaineer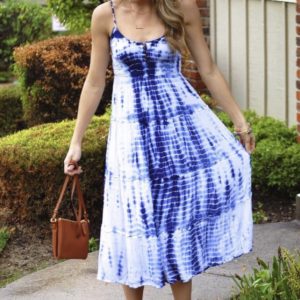 If you are interested in certain garments please feel free to reach out to me at hungrymountaineer@gmail.com
I can answer all questions on the same day. If you are interested in having pieces shipped to you, I offer inexpensive shipping rates and ship your gently worn pieces out into the mail on the next business day available. I also ship internationally for an additional cost.
Pay through Venmo here! Pay here via Venmo!
Summertime 2020
Cute summer dresses and vintage sandals!
This summertime I offer a few select items from Abercrombie and Fitch, Brandy Melville, Boutique U Los Angeles and Joe's Jeans. Okay after all those rants about that fashion devil Forever 21 I do have a few Forever 21 dresses for sale but I did must stress I did buy these pieces second hand.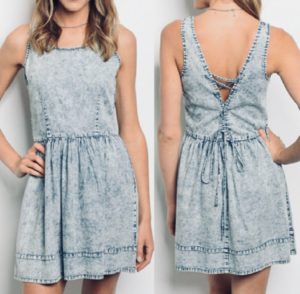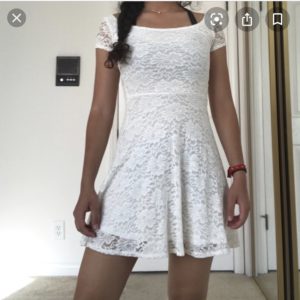 Abercrombie and Fitch lace sundress.
Size small
$15
Vintage Charming Charlie zip-up sandals
Size 8. Zipper works great.

Office wear is always on sale!
Like so many other Americans, The COVID-19 pandemic has left me furloughed at the moment. I personally do not expect to go back to work until late September. At the same time, I have a whole closet full of gently used office wear just sitting on the hangers. Please help me find these pieces a loving new home.
Like these Old Glory Jeggings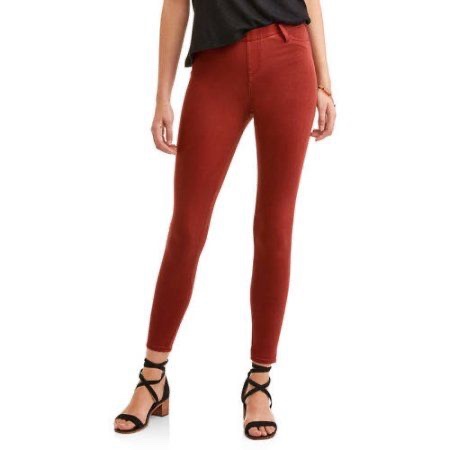 Size small
$10
Fall office wear and boots perfect for cooler autumn days!
Who doesn't want new gently used stylish clothing for the office? The good news is Safe at Home (Here in California) is almost behind us and all my friends all over the Southwest are returning to their actual offices. When I left my work office on March 6th, 2020 I had no idea I would be self-quarantined at home for the next four months.
I walked out of my office in my favorite Nordstrom BP leggings and Topshop pea coat; I mean it was basically still wintertime! And now that like millions of Americans we are returning to our, not at home offices with our at-home coworkers, I mean pets. Let's face it. I don't need to dress fancy to hang out with my cats all day so some of these pieces must go.
Some of us are back at work now and craving summertime work outfits; Like this awesome
New York and Company button-up dress
$10
All buttons work. Comes to above the knee. Perfect for any office.
Vintage grey blazer with lace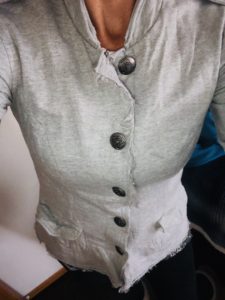 Size small.
Has charming silver buttons, all work.
The perfect look to complete your autumn office outfit.
Faded Glory ankle booties
Size 9. Zippers on both sides, both work. So comfortable to walk in. These look great with shorts for autumn days.