There is nothing more American than Buffalo Chicken Dip.
Besides maybe apple pie, cowboy hats and baseball.
Happy Fourth of July (This post totally gets away from the theme of sandwiches, but whatever)
I will be spending my fourth in a pool, waving a flag, on an inflatable whale while drinking a margarita and wearing a cowboy hat.
"merica!!!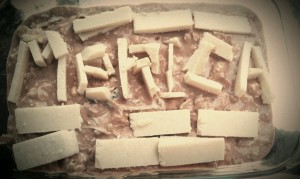 Buffalo Chicken Dip
2 chicken breasts
1/2 cup blue cheese, crumbled
1/2 cup sharp white cheddar cheese
1/2 cup cream cheese
1 bottle Whole Foods Buffalo chicken sauce
1 cup sour cream


Poach the chicken until cooked. Shred the chicken.
In a dish layer the chicken, cream cheese, blue cheese, Buffalo sauce,half the cheddar and sour cream. Put the rest of the sour cream on top and bake at 375 for twenty minutes.

Serve with celery sticks.