I am not in shape today to do a twenty-mile hike. But when the eastern Sierras call out your name and you have a week off work and wanderlust coursing through your veins, just what is a hiker babe to do? Hike those high country trails of course! The trek up to Thousand Island Lake is not for the faint of heart, or lungs or for those with weak calves. It's never an easy twenty-mile slog up into the ten thousand feet elevation crags of the Ansel Adams Wilderness. This has to be one of my favorite all-day treks into the wilderness near Red's Meadow.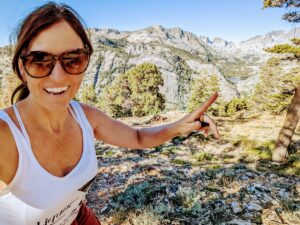 Banner Peak that mountain monstrosity at almost 13,000 feet sits just above the crystal clear waters of one of the finest lakes this side of the Inyo National Forest. That would be Garnet Lake. There are numerous if not a thousand reasons I love this countryside.
Whenever I hike this beast of a trail, as I cross the John Muir Trail and the Pacific Crest Trail sections I always chat with backpackers and those athletic soles who are through hiking the JMT and the PCT and they are always shocked that a day hiker and her adventure mutt are attempting this massive section of trail.
This last Sunday was the fifth time I have trekked to Thousand Island Lake and it won't be the last but it will be the last for the next year. The Red's Meadow area will be closed for the next year for road construction. And that bums me out but I was blessed to be able to trek to Thousand Island Lake and Minerat Lake both twice in the tale end of the summertime season. I had high hopes to come back to Red's Meadow in early October and trek to Thousand Island Lakes with all the fall colors the eastern Sierras have to offer but the Red's Meadow closure and my crazy busy work schedule make it seem unlikely to happen again in 2022. The road to Red's Meadow will close this year for the season on October 11th.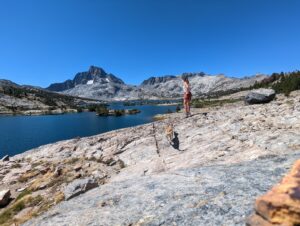 Bob the show jumping mule
My trail pup and I seem to find adventure everywhere we go and of course, that had to be true when we camped for just one night at Agnew MEdaows before our ascent to Thousand Island Lake. Life got interesting when we made a new friend in our campsite, Bob the show jumping mule. Have you ever in your life known any mules to be show jumpers? I have a lot of friends spread out in the equestrian world. I've watched the Olympic show jumping events and I've never seen equestrians riding a mule for show jumping.
Mules are well known to have wacky personalities. A fun fact mules are also known to hate dogs. U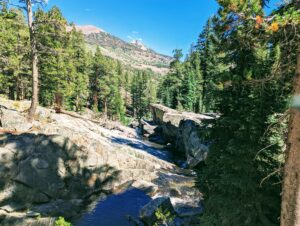 nderstandably as some dogs can be assholes. Like this one. On our one-night stay at Agnew Meadows campground, I had just set up camp and was organizing the campfire supplies as it was getting cold and fast. This was my first time camping ever in Red's Meadow and considering it is lower in elevation than Mammoth Lakes, I expected it to be the same weather forecast as Mammoth Lakes or even warmer. By the time the sun was dipping below the Nipple Rock Ridge, it was getting very cold very fast. I dressed the pup in her warm sweater and out her to bed in her bed next to the campfire. That is when I looked up to see we had a visitor.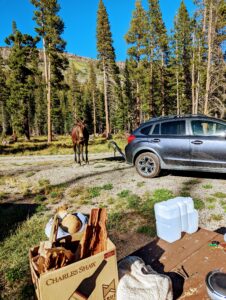 I had chosen this campground to be close to the Agnew Meadows Trailhead for our morning hike. And also because as I pulled in there was a big grass pasture just starting to turn all magical fall colors and it was full of mules and horses. Just the kind of neighbors I like. Also, even though this was a Saturday, there were two other campers in the entire campground. It was so strange. Even in those last few weeks of summertime Mammoth Lakes tends to be so busy with campers and tourists. I mean as a traveler who loves ignoring the masse and the crowds you here no complaints from me about being the only camper.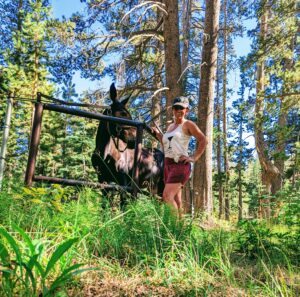 I was relaxing by the fire with a Corona Lite and a good book when I realized I was being watched. Bob the mule was standing ten feet away staring at my sleeping dog like he had never seen a ridiculous dog in a sweater before. Of course, my twelve-year-old adventure dog is deaf at this point and she had no idea she was even being watched. As the sun went down over Red's Meadow and it got really freaking cold I had a good time just hanging out with Bob as my company. I did go give him a snuggle at some point (And my dog slept through that too)
It was almost dark when the park ranger wandered through the campground to give me my change. Literally, ten minutes prior I had watched Bob jump the fence and rejoin his pack. Did you know equines are herd animals? Bob may have been the troublemaker in the herd but he knew once the sun went down it was time to be with the herd for safety reasons. I was talking to the ranger about Bob hanging out with us all evening and he said there was another mule hanging out with campers just down the road and they had no idea how the mules kept getting out. I swear he did not believe me when I told him Bob jumped the fence.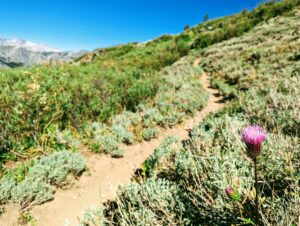 That was the begging of my freezing cold stay at Red's Meadow. The low in Mammoth Lakes was not supposed to get below forty-four my entire camping trip so I packed accordingly. When I woke up in the morning there was frost on my tent and I could see my breath so it must have gotten down to thirty-three or so. I was wishing I had packed my camping jacket but after a brutally hot summer in southern California, I was enjoying the autumn chill just a bit. You could even see the makings of orange and yellow fall colors up on the hills around ten thousand feet.
Good morning Bob
I was definitely looking forward to the morning trek to Thousand Island Lake, especially as I was taking a new to me route, via the Pacific Crest Trail North. But before I could trek eight miles to Thousand Island Lake, I first I had to pack up camp in the cold. I usually watch a youtube video before camping so I can recall how to put my pup-up Coleman tent away but I forgot to download the video this time and cell service was limited so I just guessed. Which turned into a wrestling match with my tent. I had just shoved the tent in the back of my Subaru, pretty successfully when I looked up and saw that Bob was standing right next to my Subaru watching me. The whole thing would have been so hilarious if I had caught it on video.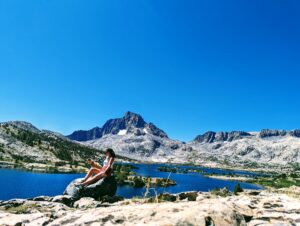 As much as I would have loved to have snuggled with Bob a little more that morning, I had a hike to Thousand Island Lake calling out my name. One last snuggle-wuggle for Bob, my vacation pet (And that is when my adventure pup snuck up behind Bob and was smelling his hind quarters. That was almost her last vacation! important note! Never, ever walk up behind a mule or a horse!
So how was the hike?
My trail dog managed to survive snuggling a mule and me yelling at her to get in the fucking Subaru and then it was time to drive the very short distance to Thousand Island Lake Trailhead. We started uphill north on the Pacific Crest Trail and I was so happy to find this whole trail section was in the shade. Yay!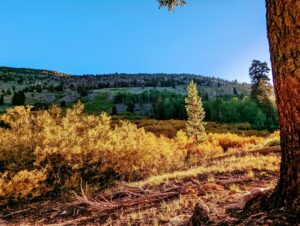 This version of the hike to get to Thousand Island Lake was so easy compared to the way I went last time via the River Trail which last time I said was the easiest way I had ever trekked to Thousand Island Lake. I am so bummed this whole section is closing early for the season in October! The fall colors were already changing in the first few miles of the trail and the trail was just gorgeous as we hiked past meadows and along the ridgeline. This entire section of the trail hugs the ridgeline with the River Trail and the San Joaquin River down below.
I would say seventy percent of this trek was an easy hike along the ridgeline. When we got past the junction to Clark's Lakes there were a few uphill sections and we did run into some backpackers. This was such a strange Sunday trek in the Mammoth Lakes/ Red's Meadow Resort area and we saw so few hikers for the first four miles. Past the River Trail junction, we actually saw a pair of bonded grouse pecking around on the forest floor. Grouse are so rare and when you see one their mate is usually nearby. They also tend to nest in the same area year after year so if you hike a trail like this a lot it would b common to see them in the same spot. The only other trail I have ever seen grouse on is on the Mt Whitney Trail.
I can not believe how easy this v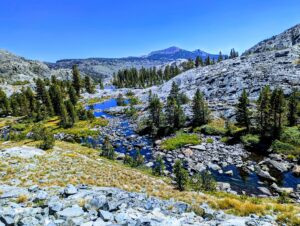 ersion of the thousand Island Lake Trail ended up. My pup and I were just getting warmed up by the time we made the descent into the little valley where the lakes are situated. We had a quick snack of the most delicious Ginger Banana Muffins ever and then we were headed uphill towards Garnet Lake.
It may have been a bit of a chilly start to our day at Thousand Island Lake but what a fantastic early fall day to explore a new route (To me) to get to Thousand Island Lake in the high Sierras.