I've sweated and struggled up the railroad tracks of scenic Agnew Pass in the Ansel Adams Wilderness more times than I can count. I always have that crazed day hikers goal of Thousand Island Lake eleven miles ahead of me. This massive strenuous hike starts in the full sun if you don't start at 6:00 a.m. which is what I usually do to avoid the agonizing heat going up the rocky switchbacks. Summiting Thousand Island Lake from Silver Lake is an unbelievably hard goal. The first five miles of this trek seem like it's nothing but rocky shale switchbacks straight uphill and most usually in the sun. But saying that I have summited via this route at least twelve unbelievably times, sometimes even with snow!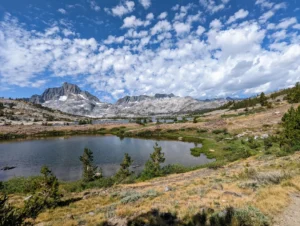 I had so many hikers over the years tell me that visiting the Thousand Islands Lakes via Agnew Meadows is so much prettier of a hike. I honestly never did believe them because once you get up those miserable switchbacks Bloody Meadow and the Clarks Lakes are just so unbelievably beautiful as well as the view over sparkling Gem Lake. How on earth could this scenic hike be more beautiful than that? I've always wondered?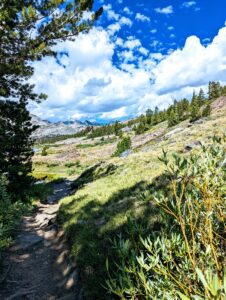 That world-famous scenic photographer, Ansel Adams himself said "Sometimes I arrive just when God's ready to have someone click the shutter." That was exactly how my day at Thousand Island Lake via the River Trail felt. I've been fortunate enough to trek to this scenic lake above ten thousand feet many times and every time, I think to myself this is the most spectacular alpine lake I have ever seen.
The most spectacular lake in the most spectacular sierras
Let me tell you about my full day on the trail under those storm clouds brewing heading up into the Ansel Adams Wilderness and God's country. Going via Agnew Meadows, starting the trek at over 8,400 feet, it's not better than the Silver Lake trail version; It's just different. I started out hiking up the River Trail that goes to the right of Oleane Lake just after 6:00 a.m. It was a perfect time to start because this River Trail was in the shade I would say sixty-five percent of my hike. I also chose the most amazing day to hike because there were thunderstorms building all around me basically from eight a.m. The grey thunderheads building over Mt Ritter in the distance had their ups and their downs. I would have liked to have spent hours swimming at Thousand Islands Lakes and Garnet Lake at over 9,710 feet when I finally made it to these backcountry lakes, but I felt like thunderstorms were coming at me from all sides. I love hiking under cloud cover and I'm so happy to be on a hike on a cloudy day, but it's a little bit terrifying hiking back in a thunderstorm with lightning striking all around me.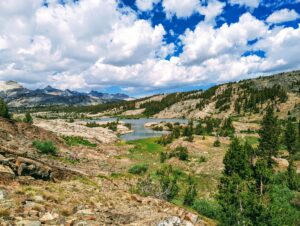 Hiking with active thunder in my vicinity is something I honestly never need to do again in my life. As I began my trek up the River Trail the wildflowers were in bloom absolutely everywhere with purple wild thistle, orange sierra lilies and delicate yellow golden buttercups in bloom along the creek beds. Or maybe it was a river. I'm not sure? On the map, it looks like it's marked as Reds Creek, but I would definitely refer to this swelling crashing body of water as a river. Also, there may have been stinging nettle around because at the end of the hike my calves were on fire and not just from the high-altitude trek. One way or another about 8:00 a.m. it was a fantastic place to take a swim with my pup before we started the final ascent up to Thousand Island Lake. At just before two hours into our trek up to Thousand Island Lake we were both ready for a swim at this point.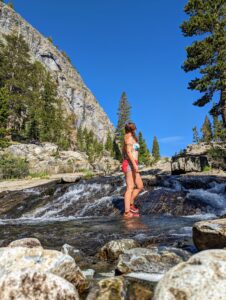 After a quick dunk in this scenic creek/river, the pup and I were on the trail again heading upwards into the alpine glen with the mosquitos of the eastern Sierras and past meadows of wildflowers. At this point I was like, okay this trail is pretty enough but nothing compared to the Clark's Lake route. But man, was it easy compared to the trudge up the Agnew Pass above Silver Lake. The cross-hatching on the limber pines marked our trail as we made our way uphill at a pretty leisurely pace compared to what I was expecting. So many hikers, okay mostly backpackers over the years have told me how much prettier this route is than the Silver Lake route. At eight a.m. I was not at all convinced. It was sounding like fake news, but the trail was quite easy so I was still pretty content with the hike. This trail was first formed leading up to Thousand Island Lake by explorers in 1896 and these days it's rare to see day hikers trekking up the River Trail. This trail is almost exclusively used by overnight trekkers.
At this point, I still had so much energy, that it was ridiculous. I think I already hiked at least five miles uphill and I wasn't even hungry. When we made our swimming stop at the creek the pup and I finally enjoyed a duck egg each. I contribute my crazy energy levels and not really being hungry to the ridiculous healthy duck egg snack I insist on taking with me hiking. Boil up some duck eggs the night before, peel them, add salt and bing bang boom, you are ready for a healthy trail snack chock full of vitamin B12. Did you know that mosquitos hate the way your blood smells when you ingest a lot of B vitamins before a trek? One more reason duck eggs are always in my pack while trekking in the eastern Sierras in July. Duck eggs also have fifty percent more vitamin A than chicken eggs. Their rich yellow yolks are full of antioxidants that help my recovery for my strained hiker muscles.  If you do not already har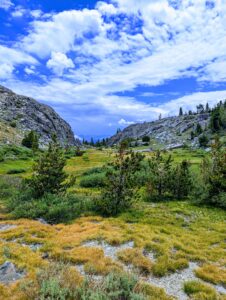 d boil duck eggs for your long hikes, I one hundred percent recommend it. Duck eggs have so much more protein than regular eggs and they are full of omega threes.
I did this entire hike all twenty-point five miles of it on lots of water and one duck egg. It's extremely rare for me to be able to hike like that without being hungry.
I didn't even eat my pasta salad studded with marinated mushrooms, feta and bell peppers I brought with me in a plastic bag (With a fork) for easy snacking on the trail.
To Garnet Lake, we go! 

My original plan on this late July day was not even to make it to Thousand Island Lake. I was planning to hike to Garnet Lake which I'd never been to before but I actually passed the cutoff for Garnet Lake by accident. At that point, I was only three miles from Thousand Island Lake. It was only 10:30 in the a.m. and I still had a ton of energy. I thought what the hell, let's do this! Looking at the map I could always check out Garnet Lakes on the way back. When I was a mile below the junction that leads you to the Clarks Lakes and Silver Lake Pass Trail, I ran into a woman who told me Garnet Lake was not pretty at all it was all rocks. And that was a little disconcerting but I decided to make my way there anyway. I figured I would do a slightly longer trek but this would be instead of doing something I had partially done before.
I'm so extremely happy I decided to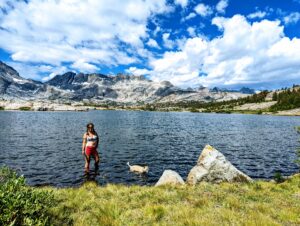 add the Garnet Lake loop onto my trek because after a break to swim at Thousand Island Lake we were back on the trail making our way just a bit uphill past Emerald Lake and Ruby Lake which was beautiful in itself. I was dying to spend more time exploring Thousand Island Lake! I would have loved to spend a few hours here picnicking and swimming but those thunderheads on the eastern Sierras horizon towards Yosemite National Park were building fast! I thought I would be so lucky to make it back down to Shadow Lake at 8,770 feet before I was drenched in thundershowers. The views of Mt Ritter at 13,143 feet and Banner Peak at 12,936 feet in the distance were just awe-inspiring with the thunderheads on the horizon.
I ran into some other day hikers, the only other day hikers I saw on this July morning and they were going to trek back via the Pacific Crest Trail. I actually met up with them in the parking lot after my glorious 20.5-mile trek through some of the most gorgeous lakes in the Inyo National Forest. I feel like that version of the hike might have been a faster version but doing the loop via Garnet Lake's was just so unbelievably scenic.
When can I do this high-altitude hike again?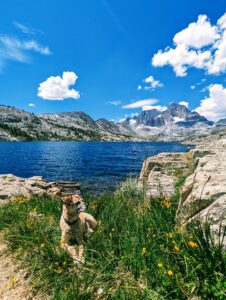 I don't think I will make it back to Thousand Island Lake until next summer which is just fine with me because to me this is a summertime hike. The whole swimming at Thousand Island Lake and Garnet Lake made the hike for me. I wish I had more time for more than just a quick dip in Emerald Lake and Ruby Lake along the way.
After a very quick swim in Ruby Lake and some fresh lake water for the pup we were on the trail again, trekking towards that fabled Garnet Lake. This is when I started to think, okay this hike is very pretty. I found it just as pretty as the Silver Lake version. It is an easy, alpine lake studded 2.35 miles trek from Thousand Island Lake to Garnet Lake via the John Muir Trail with many John Muir Trail thru hiker-friendly faces. I ran into two dudes who were trekking the JMT from this point to Mt Whitney. They only had seventeen more days on the trail until they got to the Mt Whitney junction! Some people might think that is quite the trek but I think how blessed they are to have seventeen days of adventures in these beautiful mountains. Good for them, but meanwhile I'm going to my favorite spa in Silver Lake to take my first real shower in days. I simply adore the Double Eagle Spa in June Lake.
But before I relaxed at the spa and cleaned up and was not a dirty hiker, I had to trek out 8.5 miles back to Agnew Meadows crossing the wooden bridge at the tail edge of Garnet Lake. That is where we met up the John Muir Trail for a few miles and trekked up and up and up to the top of the pass at over 10,110 feet with awe-inspiring views of Mammoth Mountain and the Red's Meadow Resort. You gain almost five hundred feet of altitude in this section and I honestly found th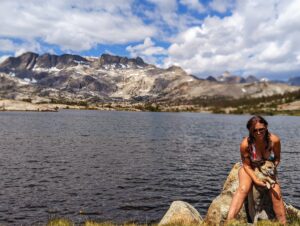 is to be one of the hardest sections of the hike, probably because at this point, I had been on the trail for over six hours and still had over three miles of downhill trekking past Shadow Lake in my future. And I was dying to head to the spa and my favorite eucalyptus sauna.
These views were just phenomenal. I took over two hundred and sixty photos on this twenty-plus-mile trek and trying to decide which fifteen snaps to use for this blog was a challenge!