It's ten a.m. on these deserted mountain trails. I've been on my feet in these North Face snow boots for hours now and the trail is not getting any less steep, even as most people I know are just getting to the office on a Monday morning. I love my Monday mornings trailside, whether I'm hosting an easy hike with my Big Bear gals hiking group or solo hiking straight up a snowy morning with my four-legged friends at my side. Mondays in January are meant for spending on snowy trails; Not behind some document covered desk working for the man. Technology, it's still morning here on the snowy slippery paths of the San Gorgonio Wilderness. I've been hiking nonstop up brutal gorgeous snowy mountains since just after sunrise. Four hours and 4,000 feet in elevation gain later its time to have second breakfast and wave goodbye to San Gorgonio's bald snowy summit.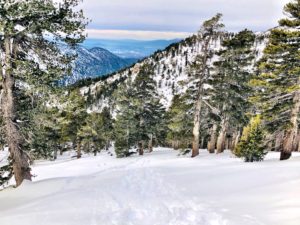 How did I power up 4,000 feet in the snow when most people are just getting into the office on a Monday morning? This butt busting uphill hike was powered by Seafood Ghee Roast with Greek Yogurt. It's my special power breakfast, reserved for days when I burn over two thousand calories in a morning and yes, I think can justify drinking clarified butter for breakfast.
Because I just hiked up a mountain bro!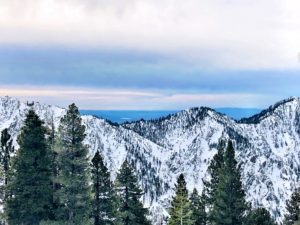 Actually drinking clarified butter for breakfast is better for your body then you might think! Ingesting ghee first thing in the morning forces the body directly into a fat busting metabolic state. That's why tons of health conscience people swear by adding ghee to their coffee! Which I do some days, but some days I like to have my ghee with a side of spices and shrimp and a big helping of fat-free Greek yogurt on the side.
Not only is ghee delicious especially when added to Indian spices and shrimp, but it helps rid the liver of toxins to ingest ghee first thing in the morning, as well as supporting the health of all that bacteria in your stomach. Ghee encourages fat metabolism and weight loss. A seven-hour hike up an almost 12,000-foot mountain also does that though. According to the ancient Hindu Times and Kortney Kardashian, a tablespoon of ghee in the morning can really kick-start your fitness goals for the new year. And then you will be as happy as this dog! And as smart as a Kardashian!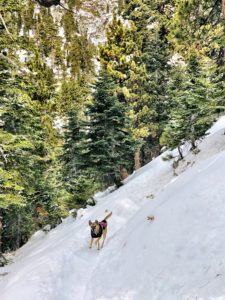 Are you planning on summiting a mountain this week? We normally have this Ghee Roast for dinner, but I love to save leftover Ghee Roast to enjoy on a chilly winters morning right before I summit a badass challenging mountain peak like San Gorgonio or Mt Baldy.
This dish originated in Mangalore, India at the foot of the majestic Western Ghats. One thing about mountain towns, whether it be in southern India or here in our own rural Big Bear Lake, we can come up with some of the spiciest and most delicious meals to warm up on a warm winters morning! Like this delicious ghee roast with fragrant spices roasted in delicious ghee.
Seafood Ghee Roast with Greek Yogurt
1 bag frozen mixed seafood (I like to use shrimp, calamari and scallops)
1/2 cup ghee
1 cup fat free Greek yogurt
1teaspoon turmeric powder
1 teaspoon lemon juice
3 dried red chilies, chopped very small
2 onions, chopped fine
1 teaspoon minced garlic
1 teaspoon minced ginger
1 teaspoon coriander seeds
1 teaspoon cumin seeds
1/2-1 cup water
The most important part of cooking ghee roast is to roast the spices so well. Let's start with the onions. Grind the onions in a nutribullet or blender and then cook in the ghee for at least ten minutes until brown. Once the onions are brown add the ginger garlic, the turmeric, the cumin, coriander and the red chilis. Cook and stir, cook and stir for at least ten minutes. Do not let it burn! If it gets to dried down, slowly add water. Add in the seafood and finish cooking. serve with a spritz of lemon over the Greek yogurt.
Then go on a badass hike!
Love this delicious spicy recipe? Don't forget to pin it to share with friends and family!