I live in a sushi-free world. There are acres of scenic trails for my pup and I to run. There are tall alpine mountains for us to climb. We even have azure blue waters to kayak all summer long. But there is nowhere in a hundred-mile radius to get a good sashimi lunch.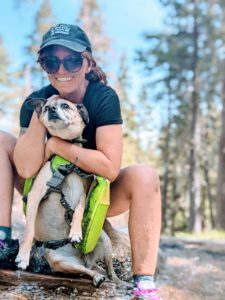 I might make it seem like I live in the middle of nowhere but we are just one hundred miles as the crow flies from Los Angeles in this Jeffrey pine-filled national forest. It's an awesome place to reside year-round, except for one simple fact; We live in a secluded mountain hamlet with no Japanese sushi restaurant. It's a truly lovely forest that smells like juniper and sage from all the two-hundred-year-old trees growing along the trails in this alpine forest. But there are no Catapillar Rolls to be found for one hundred miles. Supermarket sushi does not count. That is something you order when you are desperate, having fresh sashimi withdrawals and have not had fresh Hamachi in almost a year. And all of this sushi-free lifestyle is happening because you are staying safe at home during a global pandemic.
If you ask me what I miss most during this pandemic, well hugging my grandma is number one. Going to work at my awesome marketing job where I get to pet racehorses every day is a close second. Shoving dragon rolls coated in eel sauce in my mouth juice might be third. Or maybe hanging out with my degenerate gambler friends at the track and playing the ponies as the snow sparkles off of the San Gabriel Mountains in the distance. Santa Anita Park in Arcadia California is a fantastic place to work year-round but especially in the winter when the weather is temperate and even my family comes out for a day watching the fastest Thoroughbred racehorses in the United States stretch their legs.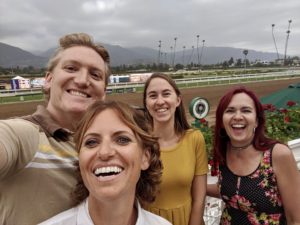 Yes once upon a time here in southern California we could do all that crazy stuff like hug family and inhale a baked crawfish roll at our favorite hole-in-the-wall sushi bar. Three years ago my family came out to the race track to visit me at work, all dolled up in fancy dresses and we watched our world-famous thoroughbreds run around the Santa Anita oval. I had no idea, just no clue, that this would basically be our last family gathering for a year. This would be our last mask-free photo for a whole year.
But I'm addicted to oatmeal!
Being stuck safe at home during a global pandemic is a great excuse to start eating healthier or get serious about keto like we are in our household. My mom always tells me she can't do keto because she can't live her life without oatmeal. Yes, oatmeal of all things. For me I love this keto lifestyle but damn it, I need some sushi. It's hard enough being so far away logistically from sushi but also sushi being one of those off-limit items that will send you right out of ketosis, well it kind of sucks when you are a sushi-a-holic. Until now. Because I just invented the Sarah Palin Roll.
My favorite keto sushi roll I like to call the Sarah Palin. It's my version of a keto Alaskan roll. What's the difference between a keto Alaskan Roll and a hockey mom? Lipstick obviously. Or maybe lox? That joke might be thirteen years old but these keto sushi rolls are fresh and delicious even if you do live in a tiny mountain town!
Sashimi is one thing, I miss so much living over one hundred miles from a good sushi restaurant. The last time I actually made it off the mountain to a somewhat decent sushi restaurant, well the sushi was honestly just mediocre but I was happy to see they actually had some keto options on their menu! As much as I adore sticky slightly sweet from the rice vinegar sushi rice it's a big keto no-no. Thank God I've got some high-protein fish-flavored supplements to get my at-home sushi fix and not plunge me out of ketosis.
A Spicy Fishy Keto Tomato
1 piece of ahi, sliced thin, sashimi-style
1/2 cup good quality crab
just a squeeze of lemon
3 teaspoons good quality cream cheese
1/2 teaspoon sriracha
Mix the crab, cream cheese, lemon juice and sriracha. Make little balls with this. Wrap a piece of the ahi sashimi around each little ball.
Keto Crazy Alaskan Roll (Feel free to call it the Sarah Palin)
2 Persian cucumbers, sliced thin with a vegetable peeler
1/4 lemon, sliced thin, skin on
1 avocado
1/2 a pound of lox
3 teaspoons good quality cream cheese
1/2 teaspoon sriracha
2 teaspoons Eel sauce
Mix the sriracha and cream cheese. Take the stripes of cucumber and lay three down overlapping over each other. Add a slice of lox, a thin slice of avocado and a smear of the cream cheese. Roll up and garnish with just a dollop of eel sauce.
Jalapeno Sushi Bombs
3 jalapenos
2 teaspoons good quality cream cheese
1/2 teaspoon sriracha
2 teaspoons sriracha mayo
1/4 cup good quality crab
1/4 cup ahi, cut up very small
1/2 a green onion, chopped thin
1 teaspoon soy sauce
1/4 teaspoon grated ginger
1/4 teaspoon grated garlic
Mix the ahi, soy, grated garlic, grated ginger, green onions cream cheese and sriracha. Stuff the pepper with this. Top with the crab. Bake at 400 for 20 minutes. Drizzle with the sriracha mayo and bake for 5 more minutes.