As an outdoor adventurer, you would think carbs would fuel my super active lifestyle as I trek beneath the pines of southern California. The outdoor wanderer in me has been way more obsessed with climbing mountains recently than obtaining ketosis. That is all going to change this fall. I've been blogging about keto this and that for years. My Keto Chili Rellenos are one of my favorite low-carb dinners. My Bacon Wrapped Jalapeno Peppers are a low sugar Bar-B-Que sauce wonder of a keto appetizer. But I never truly understood ketosis, words like urinalysis and ketones until I decided to get crazy about keto for two weeks before Thanksgiving. This hungry for carbs mountaineer had a lot to learn about ketones, carbohydrates and eating grass-fed butter for a snack like it was fancy French cheese.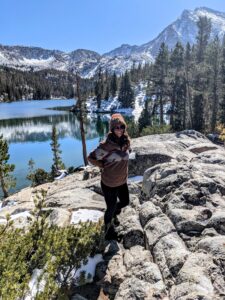 Last month as my boyfriend and I trekked to some of the furthest outreaches in the Sierra Nevada mountains. Taking a break against a boulder I happily consumed a milk chocolate coated Stinger protein bar for breakfast on the trail. My man had a bag of almonds and a boiled egg for breakfast. Now I never have a protein bar that is basically a candy bar for breakfast, unless I'm planning to trek up a ten thousand foot mountain that morning. My boyfriend on the other hand has been hardcore on keto for over two months now and has lost close to twenty pounds. One thing he has told me about keto is it's so hard to find the energy to work out when you have so few carbs a day. Of course, as I shoved a chocolate bar in my face as I scrambled up a mountain like a hyper chipmunk I couldn't possibly see where he is coming from.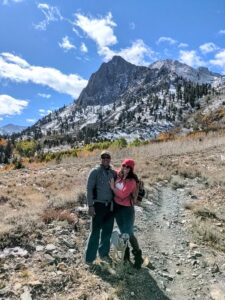 That is one of the biggest reasons I decided to challenge myself to a month of just keto living and eating. I wanted to see what this ketosis was all about. And maybe, just maybe lose a few of these Covid fifteen lbs. That was my last breakfast candy bar, or my last sugary treat until Thanksgiving.
The Hungry for Carbs Mountaineer, Can she do a month of keto?
Can I last a month with no roasted sweet potatoes or banana almond butter smoothies? How hard is it really to say no to a pumpkin spice latte in October? And can I give up drinking margaritas and sauvignon blanc for forty-five days? Giving up Baileys and coffee for two weeks seemed like it wouldn't be too hard to do but I had no idea when one is trying to get into ketosis they are supposed to consume upwards of seventy percent fat from total daily calories! I needed to start putting grass-fed butter in my coffee asap! As great as I am at coming up with what I felt were healthy keto recipes, man was I not adding enough fat to my meals! Most of my keto labeled recipes had a lot more protein than is needed for an actual keto diet. There was only one thing to do. I needed to eat more bacon…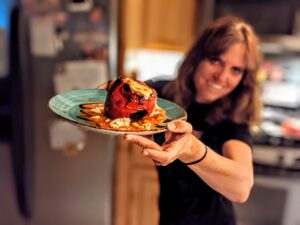 As an outdoor adventurer, I feel like I really do eat pretty healthy. ( I mean when I am not scaling ten thousand foot mountain peaks with a chocolate bar in my mouth at nine a.m.) I hardly ever eat processed foods. I have a banana nut butter smoothie almost every day for breakfast. I have salad almost every day for lunch. And my boyfriend and I have a keto, low-carb high protein dinner almost every evening. Add that to a lifestyle that is not sedentary whatsoever, tons of cardio, and bing bang boom, I should be in amazing shape, right?
Fighting that fabulous 40's flab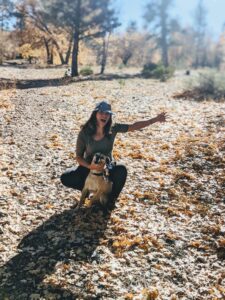 One would think so but when we all reach that age of forty years old our metabolism tells us we can no longer have desert, well pretty much ever. Carbs were something we enjoyed in our twenties and do I really have to switch to light beer?  As you age your metabolism tends to decrease by five percent every year after you reach 40. It's really no fun at all. Research suggests women in their 40's lose muscle mass twice as fast as men their age (How is that fair when we do all the cooking and the cleaning of the house?)
Joining
my boyfriend in his world of ketosis was a great way for me to personally try to lose a few Covid lbs and learn a little bit more about ketones and nutrition. And also the keto poos. It can be much easier than you would think to eat keto-friendly for a month. Do you love bacon and grass-fed butter? Then this world of keto living might just be for you! As someone who is desperately seeking ketosis, I have found that creating my own bone broth is the perfect way to start my morning on the way to ketosis. If it's a Tuesday morning in early November then you can usually find me chugging a bone broth beverage on a chilly morning while driving winding mountain roads on the way to meet my first group of tourists and hikers for the day. (A normal day for Big Bear Lake's busiest hiking guide) Would I rather be sipping on a pumpkin spice latte? Sure, but bone broth is a healthier fattier option and full of collagen. Yum!
How much butter in your coffee is too much butter in your coffee?
It's now been a week of keto for me and as much as I love putting butter in my coffee I am seeing no changes in my body whatsoever. The simple answer is I have not put enough butter in my coffee. You might be asking how much butter is too much butter in my coffee? When desperately searching for ketosis you need to be intaking 70-80 percent fat a day. Bring on the grass-fed butter, that salty Irish cheddar and bacon, yes pounds of bacon.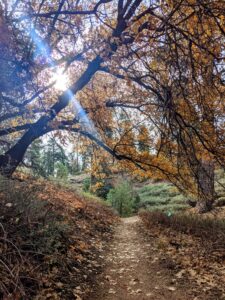 For example, this mornings breakfast included an omelet with asparagus, red onion and chanterelle mushrooms finished with goat cheese and hollandaise dripping with grass-fed-butter sauce (And obviously a side of bacon) The whole thing with keto is you are so damn full with butter and bacon all the time you can't even think about missing all the good things in life like wood-fired pizzas and cornbread.
Bacon; It's what's for Breakfast
No beans on toast for me for the month of October! Instead, I poached and hard-boiled a lot of duck eggs. Did you know duck eggs are higher in protein than regular eggs? They have a more rich dense flavor and I absolutely love them. A poached duck egg with a side of veggies and hollandaise sauce is my keto version of egg benedict. You can throw some fatty prosciutto in there as well.
When I'm on the ke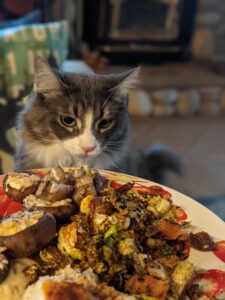 to craze I can't have my usual banana almond butter smoothie for breakfasts as I'm running out the door. Instead, I usually cook up a bunch of sausages ahead of time. I have small baggies of pork sausage and sliced sharp-aged cheddar cheese waiting in the fridge. I have these premade and ready to grab in a hurry on those early mornings when I am racing out the door to work.
Have I mentioned that I love bacon everything? Candied Sriracha Bacon Jerky has to be one of the best ways I have found to ingest bacon. If you make this original recipe just substitute the brown sugar for Swerve brown sugar and you are good to go. I like to make a big batch of bacon jerky to keep in the fridge for keto breakfast, snacks and it's amazing on a cobb salad for lunch. Candied Sriracha Bacon Jerky keeps me full, has plenty of fat, is downright delicious and has me on the road to ketosis.
Cheese is basically my favorite food group. Keto gives me an excuse to go to the cheese bar at Whole Foods and get nuts! Champagne Cheddar for twelve dollars a pound? I mean come on, half a pound of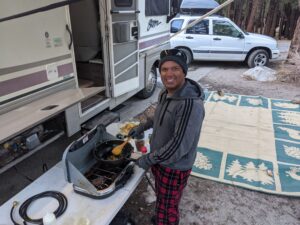 sharp cheddar and a handful of macadamia nuts is basically breakfast.t
Bacon; It's also what's for dinner
If you search keto on my blog, you come up with a lot of great family-friendly recipes. These Keto Sloppy Joes Stuffed in Bell Peppers are basically my favorite go-to dinner right now. I love this easy dinner too because you can assemble it ahead of time on a busy day, cover them in foil. Shove them in the oven twenty minutes before dinner time. These are awesome and fantastic if you stuff them in those tiny sweet peppers cut in half. Leave a bunch in the fridge in a Tupperware for an afternoon snack or even serve them as an app at a dinner party.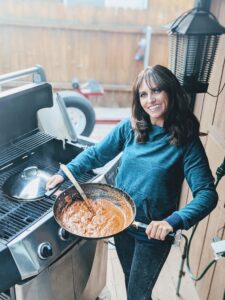 Basically, any curry without potatoes is a great keto Indian dinner. Obviously, a curry with fewer tomatoes is going to be lower in carbs. It kills me to skip the parathas with my curries but I make up for it by adding a scoop of my favorite Greek yogurt from Costco. One of my favorite low carb, high in fiber curries is this Paleek Paneer with Cashews
If there is one thing I crave while we are doing keto it's any kind of delicious meatball. I have found that crisping up the meatballs in my air fryer is so easy and gives the meatballs such a great crisp. I love this Spinach Korma with Lamb Meatballs. When I'm not making crispy veal or lamb meatballs on keto, I'm usually making my world-famous Lamb Protein Burger salad with Mint Chutney and Ztaziki. We use seasonally home-grown mint from our garden. I swear to know I never miss the bun, these burgers are so delicious. Basically, burger salad is a very popular dinner in our home while we are desperately seeking ketosis.
Electrolytes, yes, please
One thing I never knew before my journey into ketosis is that electrolytes are your friend while on keto. I enjoy one of these low sugar super immunity-boosting electrolytes beverages every evening after dinner. The two weeks I was on keto, I basically acted like this is my desert. Although strangely in keto times I was not craving sugar whatsoever. I was however craving beans, which, yes I know is very strange. I just want a good English beans on toast breakfast! Or possibly the best bean burger ever.
So what did I take away from my month of Keto? I found it not that hard to stay low carb. Even when I craved dessert at night, I shoved some salted pecans or macadamia nuts at my face. Sometimes I had a relaxing lavender tea instead of dessert and I really had no sugar cravings. I did find though, it was just pounds too much fat to ingest for my body. I ate so much grass-fed butter I felt sick and my stomach hurt.
To treat ourselves for being badass ketosis monsters for the last two weeks we are heading south Bienvenida a Mexico! We have three days planned in Baja Norte at Rosarito Beach and yes there will be more than a few margaritas after two weeks of barely having an alcoholic beverage. (And when I did, it was vodka, soda and lime)
I'm personally glad my hardcore two-week keto adventure is over. I'm ready to not put butter in my coffee and enjoy a sweet potato or two. Happy Thanksgiving from the carved starved mountaineer!