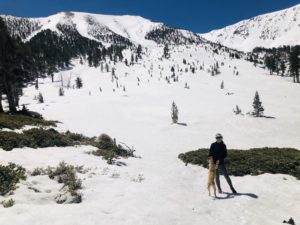 I had been hiking straight up a mountain since just before dawn when I came across Dry Lake at just over nine thousand feet. Trekking through a foot of snow for the last two hours had been rough and my calves and hamstrings were on fire as I finally took a break to catch my breath and take some photos at this gorgeous place, seven miles from my car parked two thousand feet down the snowy mountain. But this was not any snowy ascent up Mt San Gorgonio! Someone had actually built a snow house in the middle of the frozen lake! That snowy morning in February, that had to be one of the coolest things I had ever come across in all my years of hiking. And that's why I hike up mountains, some days for eight hours straight. Well and also so I can eat the most delicious sandwich in the world.
One thing about the Hungry Mountaineer; She is not a backpacker. I don't like to pitch a tent after an eighty hour or two-month straight hike to eat freeze-dried camping meals or nuts and granola. I'll take prosciutto and bacon on my fancy sandwich, please! Yes, PCT thru-hikers; I am looking at you!
This spring thousands of dirty, smelly, happy, hungry hikers will invade our mountain town of Big Bear Lake. Big Bear takes pride in the fact that the Pacific Crest Trail runs through, literally our backyard and we welcome PCT Thru-hikers( Badass hikers making their way cross country on the Pacific Crest Trail from the Mexican border to Canada, eh) each spring with open arms.
Why hike 2,650 miles for three months straight? Because every ten days or so, you can take a zero-day (A day where you hike zero miles on the PCT) in a pristine mountain town like Big Bear Lake and eat your way from the north shore to the south shore. I mean that's why they hike it, right? Or is it for sunsets like these?
You can tell PCT hikers by their Patagonia puffy jackets and their skinny buff legs, usually clad in shorts on a forty-degree morning. The dudes have long beards and protruding bellies from filling up one an avocado bomb or two at the Brewery in the Big Bear Village. (Avocado Bomb; Avocado stuffed with sashimi and deep fried; It is truly the best thing to eat on this mountain) and lots of beer.
I'm a long distance hiker although I have never powered my legs from Mexico to the Canada border. I do understand what these crazy hiker dudes are going through. When I hike up a 10,000-foot mountain or power through a twenty-mile hike, I want to eat all the foods. If it's a sunny April day you may find me attempting to ascend San Gorgonio's 12,000-foot summit and I guarantee you I will have a delicious Spicy Cold Cut Sandwich in one of my hands. When I hike up mountain peaks I get serious about my sandwiches.
The best spicy cold cut sandwich to power your long distance hike
Your favorite whole wheat bread (I recommend the fresh baked 7-grain bread from Von's/Safeway/ Pavilions) or Costco's fresh baked multigrain)
Chipotle Gouda cheese (I buy mine from Von's or Sprout's
Prosciutto
spicy salami
Famous Dave's hottest pickles
Peppercines rings
yellow mustard
mayonnaise
sprouts
Layer all the sandwich toppings between your favorite bread. Wrap in plastic wrap and since this sandwich does have mayo on it, eat it early on into your hike.