"Hey, Fred! Who is that ugly ass dog?"
"I'm really not sure Bob" This is the Monday morning conversation I was imagining between the two adorable marmots who yelled at my dog this a.m. on top of a mountain near the Nevada border. Mt Tallac had to be the best hike I did during my five days in south Lake Tahoe by far. Mt Tallac may have been one of the best hikes I did my entire month adventuring in the eastern Sierra! The views from the top of Mt Tallac of the entire Lake Tahoe Basin are just out of this world incredible. Also hanging out with marmots made my day, obviously.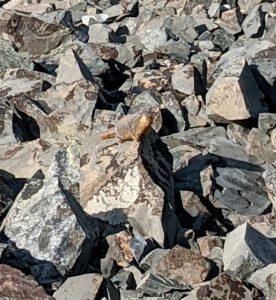 "…the Lake burst upon us—a noble sheet of blue water lifted six thousand three hundred feet above the level of the sea and walled in by a rim of snow-clad mountain peaks that towered aloft full three thousand feet higher still!"
That right there is a quote, no not from a friendly marmot named Bob but from Mark Twain, Samuel Clemens himself from his first visit to Lake Tahoe in 1861. Are you a history buff visiting Lake Tahoe for the first time? One of the most unique adventures you can have in Lake Tahoe is an evening with Mark Twain, an Airbnb experience. When Mark Twain trekked through Lake Tahoe in 1861 during his time working as a gold miner in the Nevada Territory, he called Lake Tahoe his gold standard in his famous book Roughing It. Twain wrote that the topaz blue Lake Tahoe was "The fairest picture the whole earth affords"Anyone who has trekked or kayaked the azure waters along or over Lake Tahoe can surely attest that is still true to this day.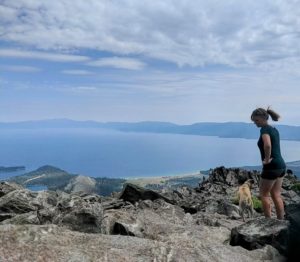 The same air the angels breathe
I mean, I'm not an expert on angels but that is what the greatest humorist the United States has ever produced had to say about Lake Tahoe. And anyone who has set foot on her shores can see in the crystal clear waters of Emerald Bay just what a pristine place of alpine beauty this is.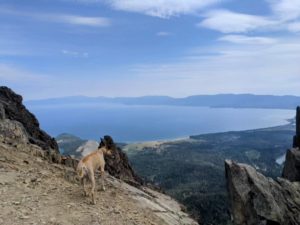 When we planned to spend five days in Lake Tahoe, I outlined some epic hikes in the Tahoe Basin to trek with my favorite vacation dog. What I didn't realize going into this outdoor adventure was just how enormous the whole Tahoe area is.  The whole area from north to south Lake Tahoe is just so much acreage and so overwhelming; I had no idea where to start! I made our reservation for our 34-foot motorhome late and just lucked into getting a four-night spot at City of Lake Tahoe Campground. If you are traveling in an RV or fifth-wheel camper I highly recommend staying at City of Lake Tahoe Campground. This is a very convenient location for all the good hikes in south Lake Tahoe. It's also within walking distance to Whole Foods. I loved staying at City of Lake Tahoe Campground because the location was just so convenient to all the things we wanted to do. I'm coming back to Lake Tahoe in August and have a booking at Zephyr Cove Campground. Now that I have been to Lake Tahoe I know that Zephyr Cove is on the Nevada side, away from the good hikes, Emerald Bay for kayaking, etc. I've also read alot of recent reviews of Zephyr Cove saying there is a lot of trash on the beach in this area.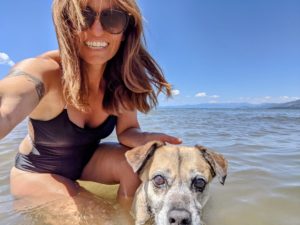 One thing about Lake Tahoe; The good campsites sell out almost a year in advance.
If you want to stay somewhere great, book early!
And if you decide you actually want to stay on the south shore of the lake two months before your planned venture, good luck finding an available campsite!
Staying on the south shore was perfect for our group of travelers. The south shore was closer to the hikes I had planned in the Desolation Wilderness. Plus every evening for happy hour, I literally walked across the road every evening to watch that famous Lake Tahoe sunset and it was heavenly.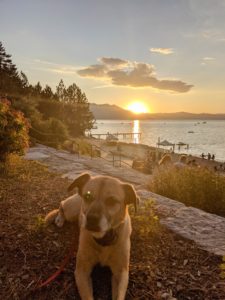 This was my first time (Really) venturing to Lake Tahoe so I did a lot of research in preparation and I knew that Mt Tallac in the Eldorado National Forest and the Aloha Lakes were the two big hikes I needed to do. What is so crazy is in all the online research I did on Lake Tahoe no one mentions all the marmots at Mt Tallac! I honestly thought the marmots were one of the best parts of the hikes so I was so surprised no other hikers talk about them! I wonder if it is because the marmot population of Mt Tallac was very upset about my pup in their territory? I did not see any other trail dogs on this eleven-mile hike and maybe the marmots only made themselves known when they were insulting hikers' dogs? The upper portions of the trail up to Mt Tallac had some crazy rocky shale sections.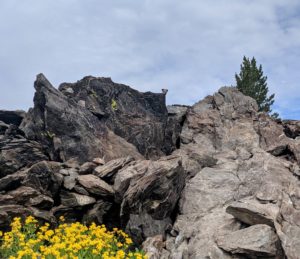 Don't forget your hiking poles if hiking Mt Tallac!
The views of Lake Tahoe on this hike are out of this world but the summit is not easy to get to, especially without hiking poles. I, unfortunately, left my hiking poles in my SUV when we began the hike. Do not attempt this hike without poles. The rocky shale mile or so is flat-out dangerous without poles and you will have to hike very slow to be safe. Unless you are a mountain goat like my dog.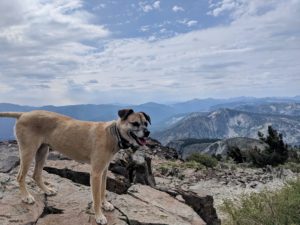 I think most hikers with trail dogs in the Lake Tahoe area probably try other hikes. Not every dog is part mountain goat-like Carly and can skip up these loose shale trails. (And not every pup got to check out twenty or so super cute marmots!) Mt Tallac (Or "Big Mountain" as the native Washo people named her in 1877) did not disappoint this outdoor adventurers wanderlust.
Marmot Manor
The number one thing you need to know about this hike is that there are marmots everywhere! All the reviews you read online don't say anything about the super cute marmots! I don't know if I saw more marmots than usual because they were yelling at my dog or what but the multiple marmot sightings made the trip for us. (Yes, both of us) Once you trek to just over 8,000 feet and the summit of Mt Tallac is in sight, this alpine high area gets just out of this world pretty with fields of wild yellow Arnica and purple fireweed. I had to stop and take many photos of my favorite fleabag in the meadows of lavender Fleabane.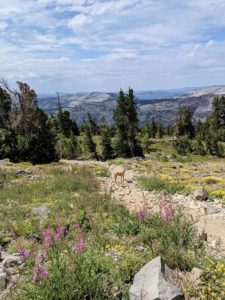 South Lake Tahoe or north Lake Tahoe?
When planning your trip to Lake Tahoe this is a big question and one I didn't realize was so essential. Did you know Lake Tahoe is the largest alpine lake in north America? It is the second deepest lake in north America after Crater Lake in Oregon! That is a lot of shorelines to decide on the perfect campground for your upcoming Lake Tahoe vacation!
Lake Tahoe is seventy-one miles round and it takes over two hours to drive around the lake (If you don't stop to kayak and hike… Well everywhere) A lot of campers also choose to stay in nearby Truckee when visiting the Lake Tahoe area. If towing a big ass motorhome complete with a tow car like us, that is a lot of weight to tow up the very steep state Highway 207 also known as the Kingsbury Grade. This 11-mile section of alpine highway has a seven to eleven percent grade depending on what section of it you are driving on. It can be stressful for those hauling a fifth wheel or motorhome from the Carson Valley down below.
Luckily the Truckee area is only eighteen miles from the Nevada side of Lake Tahoe. If staying in Truckee I highly recommend for the motorhome traveler looking for full hookups, Truckee River RV. This RV park is located just steps from the scenic Truckee River amongst tall pine trees and clear blue skies. If traveling to Truckee from Reno or Mammoth, towing your fifth wheel or your camper to Truckee is all freeway driving and not winding mountain highways, like the sketch Kingsbury Grade. Much easier driving when towing a fifth wheel or a motorhome with a tow car.
So what does the north shore of Tahoe have? Well, they have smoky casinos.  They also have the whole Zephyr Cove area which is so popular with tourists. The gondola at Heavenly is basically on the state line, near north Tahoe and is a very scenic way to enjoy views of the Tahoe Basin without trekking all the way to the top of Mt Tallac.
North Lake Tahoe has so many miles of scenic biking trails also which is great for road biking and so much fun if you are into E-biking. Pack a picnic lunch for your E-bikes saddlebags and check out so many miles of north Lake Tahoe's shoreline from Zephry Cove to Incline Village.
Lake Tahoe or bust!
Getting to Lake Tahoe for our family turned into some kind of adventure. It started with a two-night stay beforehand in Bridgeport where we learned that because of this ridiculous California drought, the Bridgeport Reservoir was basically a marsh. No swimming, no fishing and no kayaking were easily available. It was also the middle of a heatwave and although we did have full hookups our RV's front air conditioner was not doing a great job of cooling down our rig. Only one full day in Bridgeport (With a side trip to Twin Lakes) was all we could take. Luckily we were able to snag the very last spot at Tahoe Valley Campground.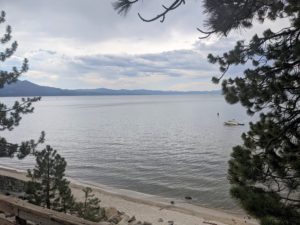 Which I would not recommend. The sites are all very close together and it's in a seedy neighborhood of south Lake Tahoe.
What else do I need to know about planning a visit to south Lake Tahoe?
The restaurants are overrated. We spent an evening at "The best" restaurant in south Lake Tahoe, The restaurant at Edgewood. It was just eh. I could easily cook better lamb.
Try to visit mid-week. South Lake Tahoe gets so busy during the summertime. We had a great time visiting mid-week not dealing with crowds.
Mt Tallac Trail Report
Marmots!
Marmots everywhere!
Of course, you have to hike four miles straight uphill to get to the scenic spot in the Desolation Wilderness where the marmots scurry.
Bring hiking poles; The scree is no joke on this trail.
Enjoy a leisurely lunch with great views and many selfies at the top.